Strength behind the scenes
Melissa Meyer
Guest writer
Point Magazine // May 2021
---
Imagine you are a parent of three young children. Not only do you keep track of your family's schedule, maintain the household and run all the errands, but you also open your home for numerous meetings of a small group of people helping you start a new ministry. You recently relocated your family, so you're helping your children navigate the adjustment to a new home, a new school, and a new town. Oh, and you are the main support of a spouse being pulled in a million directions by a long to-do list.
Congratulations! You're the wife of a church planter.
Converge has an ambitious initiative to plant 312 churches in the United States before 2026. The success of this mighty goal relies not only on those called by God to become church planters, but it also hinges on the efforts of the church planters' wives.
And while the work of a church planter's wife may happen behind the scenes, the importance of her contributions is significant to the young church's success.
Dr. Melissa Patton and her husband, Stanley, planted Victory Church in Melbourne, Florida. Victory Church is multicultural and multiethnic and celebrates diversity and oneness in Jesus Christ.
Melissa left her career as a tenured professor to begin Victory Kid Sports, a youth sports franchise that uses sports leagues, sports camps and after-school programs to teach children the value of teamwork and fun. The Pattons used Victory Kid Sports to fund the planting of Victory Church.
Pamela Thompson and her husband, Brian, planted Easel Outreach in Washington, D.C., to rebuild communities for creatives looking to be healed from anxiety and stress. Their ministry meets via Zoom every Sunday with 25-35 artists. Easel Outreach also empowers members to fight injustice and racism while restoring integrity to the church, the body of Christ. Each Sunday, Brian preaches before attendees share life situations and testimonies.
Jen Schifelbine and her husband, Casey, planted Hub Life Church in Marshfield, Wisconsin. They relocated from Kronenwetter, Wisconsin, with their three children and launched less than two years ago.
When first starting their church plant, the couple faced more than their share of obstacles. Both family cars broke down and needed repairs. The house they moved into had multiple issues to be taken care of. Casey broke his leg. Persevering through their bumpy start, the Schifelbines have seen God do incredible things in their ministry and in their town of 11,000.
The role a wife plays in a church planter's ministry can be overlooked or misunderstood. The lives of church planters' wives are all unique. But no matter their life situation or location, there is an unspoken sisterhood among them. The biggest common thread through these three church planter wives is that they are all essential to a church plant's successful launch and outreach.
Talking it through
All three church planters' wives take very seriously their role as a support for their husband. Patton makes sure her communication with her husband is a priority and intentional.
"Stanley and I are trying to get in the habit of connecting on a level where we're just together," Patton said. "We have conversations about how we're feeling and how we're doing. Almost like a check-in."
The couple talk about what is and isn't working in their ministry and about the work they see God doing.
Schifelbine knows when her husband talks about the challenges of church planting, he mostly needs a listening ear. She then reminds him of all the positive work God is doing, which balances out the negative things they encounter.
Thompson supports her husband through encouraging words and helping him see difficult situations from another point of view. "When Brian gets discouraged, I say what I have to say. Then I remind him he needs to talk to God about it." And she gives him the time and space he needs to bring his prayers to God.
The importance of teamwork
Church planting is never a solo endeavor, of course, so a couple's teamwork is a big component of the process and another common thread between these wives.
"Jen is with me for the ride," Casey Schifelbine said. "Our goal has always been to keep pursuing what God has called us to do together. The key word is together. Let no man separate what God has joined together. Even in ministry. We go to him in prayer for the strength and the words we need to personally hear from him."
Brian Thompson said about his wife's role in Easel Outreach, "We are one. When people see me, they see her. We need people to see us as one, so that no one tries to come between us. People need to see husbands and wives as a team. It's not just the pastor ministering, with his wife labeled 'first lady.'"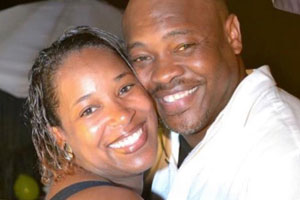 Pamela Thompson added, "Someone can't come to just one of us and ask us to commit something to our schedule. Brian will always tell them he needs to talk to me first. We had to learn that. When it comes to the ministry, we cannot make individual decisions. Decisions have to be made by both of us."
Time with God in prayer
All three women stressed the importance of a regular prayer life and reading God's word. Not only do prayer and Scripture help them maintain focus on the Lord and not just on the church planting process, but they also help the ladies avoid burnout.
"Church planting is hard," Jen Schifelbine said. "It's not for the weak or those who give up easily. You have to get in the word, pray and reflect on what the Lord is telling you."
Thompson added, "I try to keep in the word and study. Just life itself can be hard. But add in a ministry, and you have to take the time to read the word every day."
What a church planter's wife really does
Sometimes a church planter's wife's actual role and the role others assume she has don't line up. All three women spoke of misconceptions people may have about what the wife of a church planter does.
Patton serves as the chief operations officer at both Victory Church and The Victory Corporation. When it comes to her role as a church planter's wife, she said, "I am someone who can lead, someone who can direct, someone who can create opportunities. People just want me to be me. They want me to be real. They want me to be open, and they want me to be available. And that's what I try to represent."
Thompson believes it's important as a church planter's wife to use her gifts and not sit on the sidelines of her husband's ministry, making no impact. She strives to use her skills and capabilities through God's strength.
"Everybody has a gift, and God will use it to reach his people," she said.
Schifelbine added, "My main ministry is in my home, with our children. But I still work hard behind the scenes at Hub Life Church. People don't know everything I do throughout the week to get to Sunday, to sit in the church."
Everyday women
The perceptions church attenders may have of a church planter's wife can be slightly askew. Sometimes people put a pastor's wife on a pedestal, as though she has no problems or has life figured out.
Patton spoke of a particular Sunday morning when one of her children was slow to get ready for church. When they finally left the house, the child had dressed in dirty clothes, and Patton had to turn back home.
She was late for the service and quite frustrated about how her morning turned out. Another woman overheard her telling a church attender her frustrations, and was so surprised to discover the pastor's wife has the same struggles she does on Sunday mornings.
Realizing the women's reaction, Patton said to her, "Listen, if you don't hear anything I say, remember this: I do everything you do. I'm a mom, the exact same as you. So, whenever you need some sort of confirmation I'm like you, just call. Because I can share with you how real my life is."
Slaying the dragon of discouragement
Many wives of church planters have multiple responsibilities in their support of the ministry God has called their husband to. Many have children, some work outside of home, some homeschool and all are the stability for their family if the family relocates. Sometimes the wives serve within the church's ministry groups. And most important, they are the main emotional support and sounding board for their husband. Naturally, discouragement and burnout can come along quite easily.
Whatever you do, work heartily, as for the Lord and not for men (Col. 3:23, ESV). This is the verse Jen Schifelbine keeps in mind when she gets discouraged or feels the stress of many responsibilities.
"This Scripture keeps me from getting bitter and overwhelmed," she said. "God can't use me for his purpose if I'm complaining. So, this verse helps me to remember who my work is for when my plate gets full."
Supporting a church planter's wife
There are many ways a Christian can support the wife of a church planter.
"Love us church planters' wives where we are in life," Schifelbine said. "Come alongside us and treat us as a friend, with no agenda. Experience life aongside me. Grab a cup of coffee with me to check in. And most important, pray for me. We are often under spiritual attack."
Thompson echoed the same sentiment when asking for prayer as a pastor's wife.
When you pray, things happen. So, support us by keeping us in your prayers.
"When you pray, things happen. So, support us by keeping us in your prayers."
Serving with a purpose
The nitty gritty of what a wife of a church planter does comes down to the goal of serving Christ. It is the main objective of all three women, which is the final thread that binds them together.
"My job is to bring the community to victory," Patterson said. "So, when I can actually see that full throttle, it's awesome. It gets me really excited. It makes me feel all of the work I've done was actually for a reason ― more people are going to know Christ through it."
---
Melissa Meyer, Guest writer
Melissa Meyer is a freelance writer from Hudson, Wisconsin. She is also the administrative assistant to Converge Great Lakes' executive director of Church Planting.
Additional articles by Melissa Meyer
---