Planting across Providence
Ben Greene
Pastor & guest writer
Point Magazine // May 2021
---
The sidewalks in Providence, Rhode Island's, West End neighborhood look and feel the same as sidewalks most anywhere.
Rainwater settles in evenly spaced, shallow grooves. In the deep winter, water freezes and thaws, cracking and angling the concrete.
Curb cuts appear with seemingly random alleys and driveway after driveway after driveway. Weathered brown telephone poles rise out of the stained, silent gray.
Homes, usually two or three stories tall, peer down, a hundred years of history shading the sidewalk's edge.
John Ames sensed something more beneath his feet as he walked the West End.
He was walking and looking and listening. He was seeking God, hoping to find some partners on a path, people eager to express the love of God.
Whenever he was in a multicultural neighborhood, recalled Ames, "My heart would sing, saying this is where you need to be."
Eventually, seven of Providence's under-resourced neighborhoods became groups of people Ames was passionate to serve. But one neighborhood — the West End — was where the Lord wanted Ames' ministry to begin.
"God was already here, and already working," he said. "I was drawn to the West End neighborhood."
The West End homes — two- and three-story houses known locally as double- or triple-deckers — don't physically link to the rest of the city. Route 10 and a railroad sever the streets and sidewalks. In the past, the West End had a strong manufacturing economy. These days, the neighborhood is separated from Providence's financial vitality.
The architecture of such homes and the community's potential stimulate discussion again and again about historic preservation and redevelopment. While Ames, the son of Converge global workers John and Karen Ames, was growing up in Cote D'Ivoire, Providence residents lived among decades of transportation changes, industrial closures and cultural upheaval and transition.
His parents were focused on indigenous leadership groups and movements. Their goal was to help raise up more leaders so that more churches would be planted.
The young Ames couldn't have anticipated how God was forming and preparing him. Like most teens and people in their 20s, he asked the major questions of life about work and the future God had for him.
Ames attended Gordon-Conwell Theological Seminary near Boston, studying specifically at the Campus for Urban Ministerial Education. God was arranging one learning, growing opportunity after another to equip Ames to start churches in Providence, even if he was unaware.
He started attending a new church in Brighton, Massachusetts, his first time at an American church plant.
"What I had seen of the American church was an established and comfortable gathering of believers, but not necessarily congregations that were on an evangelistic mission," Ames said.
"It was exciting to get experience with being a part of that church plant."
The Brighton church planted another congregation in Waltham, a blue-collar city in Massachusetts. By that point, Ames was almost certain of his call to Providence. But a chance to finish seminary and serve in another church plant was a great invitation from his pastor.
Ames and his wife, Jenny, moved to Waltham, serving five years as the new church's young adults pastor.
"Even in Waltham, the Lord kept pulling me toward ministry in the housing projects, working with the families there," he said. "And the Lord just kept pulling me to Providence and kept me restless for it," he said.
Ames finally came to Providence in 2015 and realized God's plan when, on a prayer walk, he met some Christians in a West End park.
They were from the suburbs, but were partnering with the community to serve children. When Ames met them, they were conducting a free vacation Bible school.
Through that connection, Ames met volunteers from New England Urban (NEU) Church Planting. The organization aims to empower more and more ministry in under-resourced urban neighborhoods in New England.
Based in Providence, the NEU Church Planting staff had been praying for a church planter for five years. They knew of some families who wanted to connect to gospel-preaching churches. But they needed a church planter to pastor them.
In God's timing, Ames became that pastor and was the first church planter in Providence in what he trusts will be the beginning of several churches.
"Our church started with a small missionary team of five people who connected with these families NEU had been praying for," he said. Over time, the families connected with more Providence families.
God has continued that work: Faith Community Church — which God has grown since its inception as West End Church in 2015 — and prepared them to start another church.
Pursuing the vision for reaching more of Providence
Ames' long-term vision is to see a church planted in seven of Providence's under-resourced communities.
He is a specific kind of church planter: His call and approach reflect that of the Apostle Paul. Ames senses God's plan for him is to start a church. Then he invites more and more people into service and contribution to the church's life.
"We try to find people's spiritual gifts and release them into the church, even if they were brand-new baptized believers," he said. The church helps them mature spiritually and develop into worship leaders, children's ministry volunteers, announcement presenters and more.
One example of developing church leaders is Rosa, a young woman who became the church's hospitality coordinator. She makes sure that at Faith's multigenerational, intercultural fellowship lunches after church, all the right food is there — and served the right way.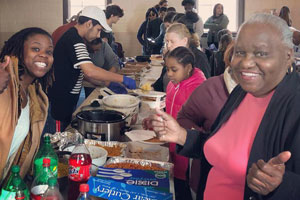 The partnership among servant-leaders includes a more focused, years-long effort of mentoring and discipling people to become elders and, for some, eventually pastors.
A member of the mentoring and discipling group is Dexley Dorcely, now Faith's associate pastor. Dorcely is a second-generation Haitian American and engineer who felt called to ministry.
The 27-year-old grew up in Fall River, Massachusetts, where his pastor connected him to Ames to help with occasional preaching. So, Dorcely heard Faith's vision to create more churches to serve seven of the city's under-resourced neighborhoods.
And one day, Dorcely asked Ames about joining the Faith team, eager to join the effort to serve Providence. Ames welcomed him as associate pastor. "Dexley is a gift from God to us," Ames said.
"The flames are continuing to burn really strongly for church planting in Providence and specifically in under-resourced communities," he said.
How one church started planting a second
Converge has a goal of planting 312 churches by 2026, a passion that Ames and many at the initial Faith Community Church share. They are about to plant a church ― Faith Community Church Olneyville ― in Ames' vision of another movement of God.
About a year and a half ago, Faith reached into and served more and more people in the Olneyville neighborhood. Ames has a beneficial partnership with the director of the Olneyville Neighborhood Association. He meets with the director every week to pray together.
Out of these conversations, several ministry ideas to meet community needs developed. For example, many in the Olneyville community are first-generation Providence residents who need help to learn English. And many second-generation residents have learned English and some American culture.
"Rather than have people from the outside come in and plant in these communities, there needs to be a collaborative effort to engage with these communities already forming," Ames said.
So, Faith volunteers listened to the neighborhood association staff and started an English-as-a-second-language class with an optional Bible study. The group immediately had 30 students for the language class, and about half stayed for the Bible study. They split the language class into intermediate and beginners' level classes to best serve the people.
"We were finding success in that, and it was great," Ames said. Then another opportunity to serve appeared. Childcare during the classes would help the students learn.
Other churches in Providence partnered with Faith to start a gospel kids club. And they were building relationships with teenagers who were ready to form a group of their own.
Weeks later, the impact of COVID-19 restrictions and concerns gave the ministry a whole new challenge. Then, Providence city regulations banned in-person gatherings like those of the ESL class and the teenagers' gathering.
What about distractions and unforeseen challenges?
That didn't stop Ames' team, though. They shifted to Dunkin' Donuts, meeting one-on-one or in three-person groups to help make disciples.
While at Dunkin', eating doughnuts and drinking Coolattas, they study passages of Scripture. Faith leaders required the teens — who are Dominican, Puerto Rican and Guatemalan — to explain each Bible reading in a sentence. Plus, they had to hash out the application to their lives.
Not long ago, in the church van, a teenager asked Ames and Faith leaders a pivotal question: "Can we get our own church?"
Ames knew then the desire of his heart was present; the moment was forming to begin serving another community.
"We're very much planting but planting in as much capacity as we have," he said of the Olneyville church. In May, they resumed their youth activities with groups as before. And he's going to try to launch a Sunday evening service. "We have a solid group of people living over there," he added.
This summer, Faith's team and a missions team from South Carolina will partner on a week of service and outreach in Riverside Park in Olneyville.
"Church planting can still happen during a pandemic, and we're finding a way that's going to work," he said, referring to the neighborhood relationships and community partnerships.
Making the community and the church inseparable
When Faith Community Church originally started as West End Community Church in 2015, they chose to invest their resources in buying property to minister in the community. They received a grant from the Converge Cornerstone Fund that helped them purchase a building. Little did they know that three years later, another church would give them a building and a parsonage.
West End had soon realized that even when someone lived in Providence's West End neighborhood, their friends or family or co-workers probably lived in another neighborhood.
"Our church was becoming more than just a church for the West End neighborhood," Ames said. At the same time, he was doing collaborative kingdom ministry with a church only a stone's throw away.
That church merged with West End, giving their building to the church plant. Their generosity and kingdom-first mentality was a blessing to West End.
Renamed Faith Community Church, the church is increasingly part of the vibrant cultures of the city's diverse population. Even though Ames is white, he has intentionally sought God's help in planting a church that reflects the community.
There are Dominican, Puerto Rican, various African nationalities, Cambodians, Blacks and Haitians with access to Faith. These are groups full of vibrancy and life.
On the sidewalks of Providence and in homes, Ames encounters constant movement, passion and enthusiasm, laughter and joy among his church. Birthdays and quinceaneras, hospitality and helping those in need all stream through the life of the communities Faith serves.
"There is beauty in the laughter and the joy you see," Ames said. "There's beauty in the fellowship gatherings you see. These parties go all night. Even if it's a birthday for a 6-year-old, it's going to midnight or one because it's a party in a culture of celebration."
No matter how the city's under-resourced neighborhoods discover an economic future, their social and spiritual future shines with a light in the darkness.
There are a fellowship and a faith, something different on the Providence sidewalks as God makes his love known.
---
Ben Greene, Pastor & guest writer
Ben Greene is a freelance writer and pastor currently living in Massachusetts. Along with his ministry experience, he has served as a full-time writer for the Associated Press and in the newspaper industry.
Additional articles by Ben Greene
---