Hope dealers
Troy Emenecker
Guest writer
Point Magazine // September 2020
---
Being the church, as opposed to going to church, has been a phrase used by many pastors in recent years. But never has its truth and importance been so apparent, so absorbed, as in these past six months. Months of services, small groups, summer programs for kids and worship sets — all online — have reminded churchgoers that God's Word remains "alive and powerful, sharper than any double-edged sword," (Heb. 4:12). The medium may have changed, but the pursuit — leading others into the Kingdom — continues.

Regardless of any success experienced during this recent digital age, churches of all shapes and sizes have had to rethink how they are being the church. More specifically, they are having to discover how to maintain an intimate and loving culture that nonbelievers feel is safe, though in an online setting.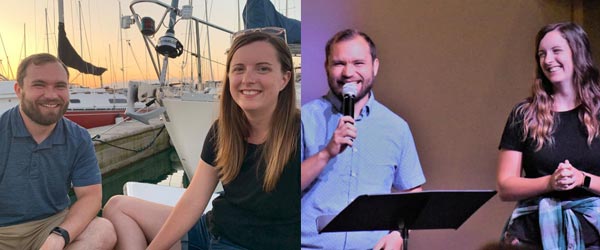 Enter Nick and Hannah Brzozowski, a young couple in Champaign, Illinois, a city dominated by the University of Illinois, one of the nation's largest schools. It was in that college town where the Brzozowskis launched Anchor Church.

In June.

Online.

In the middle of a pandemic.

After countless students had left the city when in-person classes were canceled.

Traditionalists would say the Brzozowskis planted a church at exactly the worst time possible. But, at the heart of it all, Nick says, was a calling to be a safe place for others.

"We want people to feel like the church is their home," he said. "There are so many people who need to hear about the hope of Jesus, and I've always been passionate about evangelism and reaching as many people as possible."
Growing up in chaos and sharing the hope of Jesus
Nick's interest in church planting can be traced back to growing up without a father and living with a mother who struggled with drugs and alcohol. Despite this, he began attending church at Immanuel Kenosha Church in Kenosha, Wisconsin, where at age 6 he accepted Christ and later served as youth pastor for many years. His chaotic upbringing, he believes, along with the mercy of a loving, accepting God, has always fueled his desire to seek out those like himself.
"I've always seen my life as 'the exception,'" Nick said. "I don't know why God chose me to be in his family. There are so many other people who need to hear about the hope of Jesus."
Which is why the Brzozowskis left their friends and families in Kenosha in October 2019 and headed 200 miles south to Champaign, a city where 65% of the residents have no religious affiliation. Eager to build relationships in their new community, Nick and Hannah essentially took on the role of "door-to-door salesman," joining various Meetup groups, connecting with the local Chamber of Commerce, Young Professionals groups and the Rotary Club and meeting over countless cups of coffee and meals with people from all walks of life.
We want people to feel like the church is their home.
Nick Brzozowski
Nick and Hannah hosted 32 people at Anchor's first "event," a Christmas party, and in January, the first Anchor Group began meeting in their living room.

"Nick has a real willingness to enter into an environment and into relationships with people, as opposed to just coming in and announcing his arrival," said Mark Albrecht, pastor of NorthBridge Church, about 20 minutes southwest of Kenosha. "I think people have responded well to that, particularly young people."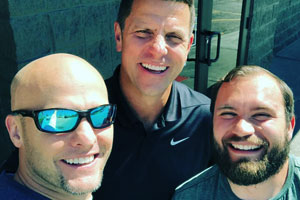 Albrecht has been one of Nick's coaches from the beginning, and Northbridge is one of Anchor Church's financial supporters. Danny Parmelee, Converge MidAmerica vice president of Church Planting, had introduced Albrecht to Nick months before the Brzozowskis began in Champaign. Before leaving Kenosha in October, the couple visited Northbridge and did so again in late December, when Nick preached there.
Breaking down walls and building an accepting environment — in-person and online
Albrecht believes the couple is creating the type of environment that a diverse college town like Champaign needs.

"They've latched onto the idea that people want to feel a sense of belonging to the group before committing to Christ," he said. "People who are looking, but don't necessarily know what they are looking for, are finding a home with Anchor in the circle the Brzozowskis built."

Nick and Hannah's first group represented that strategy of building relationships and breaking down walls before building them back up.

"They didn't go looking for a bunch of Christians to have a Bible study and talk about launching a church together," Albrecht said. "Most of the people were nonbelievers, and Nick and Hannah created an accepting environment for them to ask questions and explore.

"Then COVID-19 hit, and these people are still joining them in the online format."

Anchor Church had planned to host a preview service in May and a grand opening in September 2020. Once the pandemic took hold, everything changed. Launch dates were postponed. Plans for renting a facility fell through.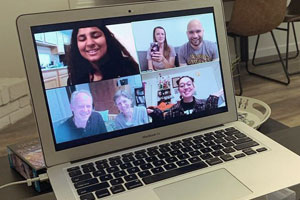 And the lifeblood of Nick and Hannah's mission to establish their presence in Champaign — the roughly 10 community events a month and daily coffee meetups — turned into Zoom and Facebook Live gatherings.


They didn't go looking for a bunch of Christians to have a Bible study and talk about launching a church together. Most of the people were nonbelievers, and Nick and Hannah created an accepting environment for them to ask questions and explore.
Mark Albrecht
"It was a little disappointing, to be honest, even though we knew God was working through COVID-19," Hannah said. "We really began leaning more into our groups at that point."
Months later, in a still-somewhat new home and with social distancing becoming the new norm, Nick and Hannah, two extroverts in their own right, looked to grow their weekly — and now virtual — small groups, while also hosting virtual trivia nights, networking meetings and how-to sessions. Anything they could think of in hopes of maintaining that connection.
"Hang onto Jesus because he is our only anchor."
With guidance from Albrecht and Mark Carter, pastor at Fierce Church in Grayslake, Illinois, Anchor Church ultimately decided to move forward with a digital launch on June 14. Broadcast on Facebook, the 22-minute service was recorded in Nick and Hannah's living room and included two worship songs, a testimonial from a launch team member and a message from Nick.
During the opening announcements, Hannah invited the virtual attendees out for coffee by asking them to "like" a message in the chat room. At the end of the message, the viewers were prompted by Nick to type "Open Their Eyes" into the chat in a call-and-response-type format. More than 1500 people viewed the service.
During the next three weeks, small groups met weekly, diving into Nick's first message, Hope Dealers, at a more intimate level. Anchor's second service aired July 12 and followed the same format. Plans have been made once again for a preview service, this time in October, followed by a long-awaited grand opening next January in a rented facility shared with a Korean church.
We're not really surprised by where we are as a church. We had already stepped into the unknown, so we were, in a way, prepared for this.
Nick Brzozowski
Anchor Groups, meanwhile, have continued to flourish, expanding to four in July and creating opportunities to recruit and develop people to help lead them. Virtual group members include students from Kentucky, India and Asia, among them some with Hindu and Orthodox Jew religious upbringings, all a benefit of such close proximity to a diverse university.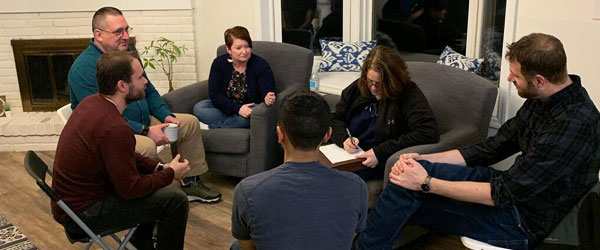 Hannah admits it took her a while to get on board with Nick's enthusiasm for starting a church.

"Nick would always say, 'Yeah, let's go do this!' and I would say, 'Wait, how are we going to do that?' But I realized I had to let go of my comforts and learn to hang onto Jesus because he is our only anchor."

Now, having lived in Champaign for about a year, the two seem unfazed by the whole thing.

"We're not really surprised by where we are as a church," Nick said. "We had already stepped into the unknown, so we were, in a way, prepared for this. The first time we drove into Champaign, we decided, 'This is it, this is for us,' and that has never changed."

"I used to think when it came to church planters, you look for people with leadership and teaching gifts," Albrecht said. "Obviously, those are important, but I have come to realize that church planters need the gift of faith. They have to see something that isn't there yet, and there's evidence of that in the Brzozowskis."
Join Nick and Hannah in their mission to reach Champaign, Illinois >
---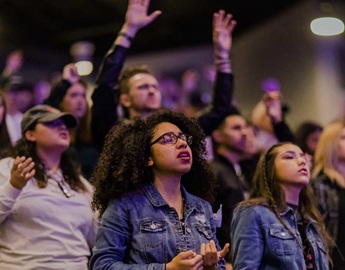 ---