Opening the door
Nate Hettinga
Regional President, Converge Northwest
Point Magazine // September 2018
---
One of the biggest differences between evangelical churches of today and 50 years ago is what used to be called "the invitation." It was the conventional practice of the past to give people the opportunity to become followers of Christ at congregational gatherings on a regular basis. After the sermon a response to the gospel was normal.
Today, that practice has all but disappeared. Most churches (including Cascade Church, Monroe, Washington, where I serve as lead pastor) rarely, if ever, offer a public opportunity to immediately respond in faith. One example of reintroducing a strategic gospel response proved to make an impact on our people.
Like most Converge churches, Cascade has been intentional about making disciples. We promote one-on-one witnessing. We pray for lost people. We build special events that give our people incentive to invite their family members, neighbors and friends. We offer pre-evangelism courses designed to touch felt needs, such as
Alpha Parenting
and
Financial Peace University.
But we still felt something was missing.
A sermon series that demands a response
In early 2016, my father, Dr. Jan Hettinga, who then was one of our pastors, wrote a book called Still Restless: Conversations That Open the Door to Peace. It's a study of how Jesus shared his message with individuals in one-on-one conversations. We decided to do a 10-week series of father-and-son messages based on selected chapters in the book and the scriptural stories they were based upon.
Alongside the ancient biblical conversations between Jesus and the people of his time, we told stories of similar seekers from our current generation. The material literally demanded a response. We needed to figure out what that response should be.
After prayer, discussion and brain-storming we decided to build a working full-size door on the stage. It was painted red, and a cross was frosted on the large window. It became a fixture on our platform for 10 weeks, with a spotlight focused on it.
And we asked our people to respond.
It did not feel unnatural. It felt appropriate. It felt right. Maybe it's time to open the door of repentance and faith more often in our churches.
At the end of each service I stood by the door and invited people who had never entered the kingdom of God at the cross to do so. I suggested a prayer of repentance and faith in line with the message before leading every-one through the door.
Then I said, "In just a moment, the service will end and people all around you will be leaving. If you prayed with me, I'm inviting you to join me on the platform and symbolically walk through this door. It is a way of telling Jesus you want his forgiveness and leadership."
The response was surprising. I expected a few folks to walk through the door. God had something much more powerful in mind.
People never responded immediately. They usually sat quietly for a while. Then they moved resolutely to the platform and with great soberness walked through the door.
Some came as couples. Some as families. Some as friends. Some left the building and then hurried back from the parking lot to respond.
In 10 weeks, over 350 people walked through that door as a way of expressing their response to the gospel. There was no pressure. No one was put on display. Most people never saw what was happening.
Our staff paid attention, but we let it be a private moment with no sign-up or recruitment. It did not feel unnatural. It felt appropriate. It felt right.
Maybe it's time to open the door of repentance and faith more often in our churches. Maybe creative public response has a place in developing a culture of evangelism.
---
Nate Hettinga, Regional President, Converge Northwest
Nate Hettinga is Regional President of Converge Northwest and former lead pastor of Cascade Church in Monroe, Washington.
Additional articles by Nate Hettinga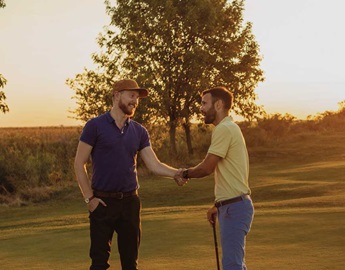 ---