The good news about evangelism
Ed Marcelle
Lead pastor of Terra Nova Church
Point Magazine // September 2018
---
Sanctify Christ as Lord in your hearts, always being ready to make a defense to everyone who asks you to give an account for the hope that is in you, yet with gentleness and reverence…
(1 Pet. 3:15, NASB).
Pick up your Bible and start reading, and you'll quickly understand evangelism is part of the life of God's people. It was in the seed of the first promise to Adam and Eve.
In Genesis 3:15, the promise that a child born of a woman would crush the head of the serpent is good news. The promise was part of Israel's identity. The Israelites were to be a light to the nations (Isa. 42:6; 49:6). They were to share the good news.
In his Gospel, John writes with a fisherman's simplicity and a poet's heart, describing Jesus as "the light that comes into the world." When the light came into the world, and God's people received Jesus, the word "evangelism" took on a new prominence.
The Greek words
euangelion
("good news," from which "evangelism" is derived),
euangelizo
("proclaim good news") and
euangelistes
("a proclaimer of good news") appear at least 133 times in the New Testament.
And, yet, many of us suffer from euangelizophobia. Don't search for it in diagnostic manuals. You won't find it, but we've probably all shown symptoms of it at times. It is a fear of sharing the good news.
For some, the fear is tied to a mix of motives. Pride, shame or obligation can push us into doing the work of evangelism, but without the joy. Others have been turned away by a method that seemed to work for some but felt forced, stilted or unsuited to their personality or faith.
Maybe we feel an insecurity about whether we are right for the job. We won't know what to say, or we can't answer everyone's questions.
What's a Christian to do? We are bearers of this good news. We are designed to share it, but so often are not sure how to begin.
The good news about evangelism is this: There is hope for us to share in a way motivated by our love for Jesus and for others.
We are the bearers of good news. We are designed to share it, but so often are not sure how to begin.
Holy, hope-filled and ready
In his first letter, the apostle Peter suggests there is a place for evangelism so powerful that we don't have to go out and find a stranger to talk to; people who know us will come to us. At least three components are present in this passage that can help us overcome euangelizophobia.
Holiness: hidden in Christ
First, Peter instructs us to live a life in which Christ rules. To "sanctify" or "set apart" Christ as the Lord of our hearts means he takes authority and ownership over all we are. We yield our desires to Christ. We conform our affections to what Jesus loves and refuse what he rejects.
Be careful. We are not trying to make ourselves more moral or in better standing with God. Neither is possible. We cannot make ourselves holy, but we can yield more and more of ourselves to Christ. In the wake of his victory lies the ruin of sin and the holiness of the Church.
The best way we can help ourselves evangelize without fear, guilt or weirdness is to do just what we do as Christians: love Jesus. That is the essence of setting our hearts apart for him.
Hope: secure in Christ
We should have a distinct hope. Our life in Christ is not just a story of the past.
True, when we accepted Jesus as our Savior, we changed. Many of us recall how we felt alive, clean and like our real selves for the first time. Our sins, our old selves, were put away. They were buried with Christ.
But the resurrection also promises a future — a promise not just of life more abundant, but of life eternal.
In some ways we live in two worlds — a world in which we stand on the history of the cross two millennia past and simultaneously straddle forward to a world in which the victory is won, the promises fulfilled and we are seated with Christ (see Col. 3:1-2).
Peter tells us that focusing on our hope to come is work (see 1 Pet. 1:13). It will change things. It will alter the way we see everything — our trials, our joys, our possessions and the people with whom we share it all.
When our lives are hidden in Christ, we have accepted another story, a better story. We have heard the good news, yielded to truth and found ourselves cloaked in grace.
When we focus on our future, we have less fear. We know we have nothing to lose. God has promised he will secure us. We will have nothing to prove. The Father set his love on us.
Ready: the story of Christ and us
Get ready. Peter says that if we live holy and hope-filled in this world, people will ask. We don't know the moment, but we need to be prepared. Christians must know how to give an account of their holiness and their hope. When someone asks about how or why we live as we do—how Jesus manifests himself in us — we need to be ready to answer the question.
Our stories are powerful. All of them. Don't hide our weakness and brokenness. They display the precious nature of our savior like black velvet reveals a diamond.
Former Indiana University basketball coach Bob Knight remarked that the will to win is not critical. Everyone wants to win. The critical element is the will
to prepare
to win.
As Christians, we need to be prepared to tell two stories. The first is the story of the creation, fall, redemption and restoration of the world and humanity — the story of the Bible. We don't need to know every answer about every doctrine, but we need to know enough to talk through and make sense of the story.
The second story we need to know is our own. We need to remember who we were before Christ (see Eph. 2:3).
We then need to remember and celebrate what happened — how we heard the good news, when we believed it and how Christ has changed us — so that we can share with anyone who asks.
Our stories are powerful. All of them. Don't hide our weakness or brokenness. They display the precious nature of our Savior like black velvet reveals a diamond.
Our lives are custom-made to smuggle Jesus into where we live, labor and leisure. Our family, neighbors, coworkers and friends are already near. Our life in Christ may be their link to Christ.
Do you remember?
Let's make this personal. How was it for you when you embraced the good news? Do you remember?
Do you remember the weight of conviction and the joy of forgiveness? Do you remember the love for Jesus you had at the start? Do you remember your surprise and joy that you loved the church and (perhaps even more shocking) that the people there loved you?
If you have gotten over your salvation, this article alone will not help you. You need to return to Jesus freshly, as a dead person who was just raised to life.
If, however, your love for Jesus keeps growing and you find unspeakable joy in seeing Jesus celebrated as he transforms another's life through you, you have begun to do what you thought you were too afraid to do. Keep going. Keep shining the light of the good news of Jesus so that people will seek to know him through you and your death-to-life story.
---
Ed Marcelle, Lead pastor of Terra Nova Church
Ed Marcelle is the lead pastor of Terra Nova Church in Troy, New York, and the senior pastor of the Terra Nova Network.
Additional articles by Ed Marcelle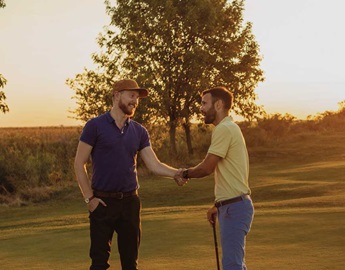 ---