From idol worship to gospel movement
Mickey Seward
Contributing writer
Point Magazine // September 2018
---
Notorious for being the birthplace of Voodoo, Togo is where more than a million slaves walked the road of no return and boarded ships to the Western Hemisphere. Religion runs rampant here and in neighboring Benin on the balmy West African coast. It is characterized by witchcraft. Black magic. Sorcery. Idols. Worshipers are enticed by a centuries-old python temple in the center of Ouidah, a city of 100,000 people in Benin. Ouidah literally means "the people who worship pythons."
"I've traveled around the world, and of all the places I've been and of all the spiritual darkness I've witnessed, I've never seen any place that is so aggressively evil," said Ivan Veldhuizen, Converge executive director of International Ministries.
"There are days parents won't let their kids go to school because they know Voodooism is looking for child sacrifices. Voodoo is integrated into almost everything."
But as false religion ruled by fear dominates the landscape in Togo, something amazing is happening among its Gen and Watchi people. A gospel movement is beginning to sweep through these formerly unreached people groups.
"Since my wife Melissa and I first arrived in Togo in 2009 as Converge missionaries, we have seen Jesus take hold of people's hearts and give a new sense of hope to many," JJ Alderman said. "We are thankful for what God is doing in Togo and Benin. And yet, we know there are tribes and people groups close to us that still don't have a gospel witness.
"We love being a part of God's great work here. But it's not easy."
A picture of hope in a world of fear
That work is bearing fruit. The Aldermans serve in Aneho, Togo, planting locally led, gospel-centered churches in the heart of Voodoo's birthplace. The churches are strategically located so that they can partner together for future ministry endeavors.
The church planting process in each new location begins with mobile camps, sports outreach, children's outreach and medical clinics. These provide opportunities for each young pastor to meet and disciple new believers in homes in the community.
A church is launched with a baptism celebration of new believers about six months after its initial outreach. Most church plants consist of about 90 percent new Christians.
Alderman displayed a photo of a group of people baptized in a recent celebration service at one church plant. He said each person came with his or her own story that displays God's incredible plans for them and their church.
Pointing to a group of young men in the back row of the photo, he said, "These were some young fellas who were part of four generations of new believers who came to that church plant in a nine-month span."
Next, he pointed to a young lady wearing a blue t-shirt, black capri pants and a smile that makes you feel like you are missing out on one of the best days of her life.
"Deborah has a second-grade education and can hardly read. But she was one of the first people in that church plant to recite 25 verses to earn her own Bible."
Then, he mentioned a woman in the front row holding a baby. "She is the daughter of a former sorceress. When her own mom trusted Jesus, she followed soon thereafter. Then on Christmas, she dedicated her child to God, which is the exact opposite of her entire family tree."
Simon wanted them to watch him toss into a blazing fire the objects he once worshiped.
Finally, he pointed out a couple on the edge of the photo, their arms wrapped around each other, waving at the camera, smiles beaming.
"On the right, you have DeeDee and her husband Abel. DeeDee trusted Christ just about a year ago. When she trusted Christ, she started praying diligently for her husband, who had abandoned her and her three young children. He was abusing alcohol and spending more nights away than he was at home.
"On Christmas Eve, we had an evangelistic campaign and a film. He stood outside the church walls because he was too ashamed to come inside. But afterward, he asked the pastor to come to his house.
"That Christmas Eve, he gave his life to Jesus. He woke up the next morning and said, 'I'm done with everything. I'm going to give the rest of my life to serve God,' and he started the process to begin the training to become one of our next pastors.
"This one picture represents total life change."
In order to broaden the scope and impact of life change the Aldermans recently formed the 6º Initiative through Converge. Within this church planting movement, the Converge missionaries are partnering with national leaders to plant churches in the region's least-reached cities. A concentrated church planting movement within the culturally significant cities of Aneho and Ouidah is serving as a launching pad for ministry into smaller communities.
Watching an old life burn away
The Aldermans find that when they share the gospel with people in Aneho, 90 percent of them are hearing a clear gospel presentation for the first time. This is both sad and energizing, JJ said, but gospel churches there are making a kingdom impact.
New Life Church, their first Aneho church plant, is a testimony to the gospel transformation in people's lives. Pastor Jonas leads about 100 people, each of whom became Christ followers through the ministry of this church plant.
"Two of the first converts at New Life Church were a married couple, Simon and Louise," Alderman said. "The day before he was baptized, Simon asked Jonas and me to come to his house. He showed us the rudimentary objects on display in his home. Simon told us they were his idols.
"Then, he called Louise and their children to join us. Simon wanted them to watch him toss into a blazing fire the objects he once worshiped. Now his family and his community are witnessing the power of a life filled with hope found in Jesus Christ rather than a life of fear worshiping false idols."
Simon and Louise were among the 1000 people in Aneho who made professions of faith in Jesus in 2017 and the first half of 2018. A network of pastors from the city preaches on the radio to more than a million people each week. A gospel movement is underway in West Africa, leaving a legacy of people who worship our Creator.
No, the work here is not easy. But it's worth it.
---
Mickey Seward, Contributing writer
Mickey Seward is a freelance writer and editor. He served as Converge's director of communications from 2017-23.
Additional articles by Mickey Seward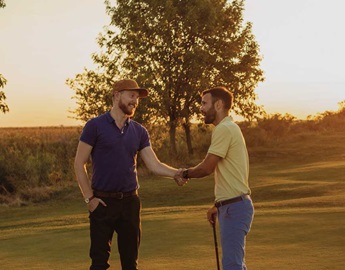 ---