Planting in The Last Frontier
Michael Smith
Former Converge Content Specialist
Point Magazine // January 2021
---
Alaska is a place of great extremes and contrasts, from amazing beauty to amazing harshness. The state's per capita income is among the nation's highest, thanks to a diverse economy dominated by fishing, natural gas and oil. But it also has some of the highest negative statistics in the nation, including suicide, alcohol abuse and domestic violence.
Known as The Last Frontier, the nation's 49th state is also a place of great spiritual need. That's why Caleb Richardson, the son of missionaries, has made it his life's mission to spread the gospel throughout Alaska by planting churches.
He grew up in the small rural village of Ruby along the Yukon River in the central-western part of the state. When Richardson was a college student, God broke his heart about Alaska's spiritual condition.
In 2007, God called Richardson to plant his first church in Fairbanks. Radiant Church started with seven people meeting in Richardson's living room. It has since grown to several hundred people.
From the start, Richardson and the congregation wanted Radiant to be a reproducing church. "The very first offering we took, we said 10% of it is going to go right back out the door to plant more churches," he said.
When Richardson first planted, church planting wasn't happening in Alaska. It was even hard to get a church planting discussion going.
The attitude was, "Why would you do that? There are plenty of church buildings, and they're not even full. Why would we start another one?"
Creating a family of churches
In 2010, Richardson and some friends from Washington state decided to host a church planting conference in Fairbanks to create awareness of the need for new churches. About 60 people from throughout Alaska came to the meeting, during which Richardson started building relationships with potential church planters.
Not long after the conference, Richardson's friend, Mike Rydman, who had planted a church in Everett, Washington, called him to say God was calling him to plant in Juneau, Alaska. Rydman and Richardson agreed to work together to start the church.
During their discussions, Rydman asked, "What if we were the same church basically across the state, sharing the same language, same identities, same vision but fully autonomous? Each church being fully on its own but working together."
That began the Radiant family of churches, with Radiant Juneau opening in 2013.
"We took on the posture of serving church planters, creating a sense of a larger family of planters and churches working to do this," Richardson said.
Soon after this decision, Richardson and Rydman began coaching potential church planters in Anchorage. One of those church planters was James Marchetti.
Through his coaching relationship with Richardson, Marchetti, who wanted to plant in Anchorage, asked to join the Radiant family. Led by Marchetti, the third Radiant church, this one in Anchorage, was officially launched in February 2016.
Give it away … then, do it again
The next place to plant that God began to stir in Richardson's heart was Matsu Valley, an area in south-central Alaska about 35 miles north of Anchorage. Matsu Valley includes the towns of Palmer and Wasilla and is one of the state's fastest-growing regions.
Richardson started looking for someone to lead the new church, thinking, I will just raise them up and send them out again. But throughout the process, he felt the Lord was saying, No, this time, I want to hand off Radiant Fairbanks to the guys you've been raising up since you started.
"At this point, I had been involved with Radiant Fairbanks for 10 years. It's grown. It's strong. It's wonderful. I loved it," Richardson said. "Yet I knew that God was saying, 'Your new role is to give it away. Go do it again.'"
Partnering with Converge
In December 2015, Nate Hettinga, then lead pastor of Cascade Church in Monroe, Washington, and director of Converge Northwest church planting, and Lee Stephenson, Converge executive director of Church Planting, traveled to Alaska to visit Richardson. This began his relationship with Converge.
As he was starting his church plant in Matsu Valley, Richardson received coaching from Hettinga and financial support from Converge Northwest and district churches.
"Caleb fits the profile of an apostolic leader in that he has unusual favor and influence over a large swath of Alaska," said Hettinga, now Converge Northwest executive minister. "The fourth Radiant church plant is off to a strong start due in large measure to Caleb and Tracy Richardson's decision to move from their church in Fairbanks down to their new home in the Matsu Valley. I believe that many more disciple-making churches will begin as a result of the strategic placement of Radiant Matsu Valley."
The Matsu Valley church plant presented new challenges for Richardson, compared to his first church plant in Fairbanks. Matsu is a bedroom community for the entire state, and many people who live here work in another city. So, they come and go a lot, often gone for long stretches.
"It's a really challenging environment in that way," he said. "Just getting relational consistency with people is very difficult because they're moving a lot."
After moving to Matsu Valley, the Richardsons spent time immersing themselves in the community and their neighborhood. They prayed that God would bring to the church those he wanted to bring. A core group of people began meeting in the Richardson's home, learning to be the church and how to live out what it means to be God's people.
"Our mission as a family of servant missionaries is to make disciples who make disciples and ultimately reproduce and plant churches who plant churches," Richardson said.
Though still in the core building stage, the church has moved from Richardson's home to a CrossFit gym to "The Barn." Their Sunday gatherings have grown to 60-80 adults and 20 kids each week.
While planting Radiant Matsu Valley, Richardson was contacted about helping a struggling church plant in Eagle River, about 30 miles from Matsu Valley, toward Anchorage. He began coaching them, and his brother, Josh, moved from Washington state to pastor the church. Now flourishing, the church has become the fifth Radiant Church.
"It's been a really exciting journey of watching God grow his church," Richardson said. "Yet, we have a lot of work to do."
---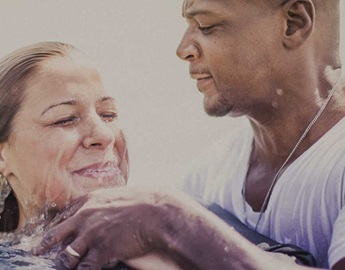 ---