Point Magazine // May 2021
---
When COVID-19 brought much of the world to a halt, Converge chaplains refused to sit still. Although traditional methods of outreach were lost, they not only endured the transition to virtual communication but embraced and became empowered by it. At a time when the most vulnerable felt disconnected and lost, the chaplains expanded their ministries and pursued relentlessly.
Like their counterparts across the Converge landscape, two Converge chaplains found opportunities for ministry in the challenges wrought by the pandemic, witnessing how God's perfect love cast out fear (1 Jn. 4:18, ESV), and how his power was made perfect when many felt weakest (2 Cor. 12:9).
Health care chaplain brings the gospel, community to hundreds of seniors
Beth Svoboda has been in Christian ministry as a professional Bible teacher, women's counselor and church administrator for several decades. Fifteen years ago, she sensed God calling her to minister beyond the church walls to reach the lost and hurting in health care settings.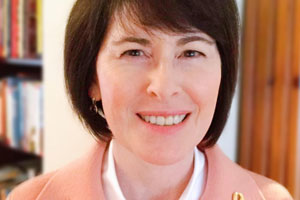 "Seniors in nursing homes and other convalescent facilities are the largest unreached people group in America," Svoboda said. "Recognizing God's calling, I returned to school and earned a Master of Divinity in pastoral care and counseling from Western Seminary in Portland, became a board-certified pastoral counselor, then was ordained and endorsed by Converge as a health care chaplain."
COVID-19 has impacted millions across the U.S. Perhaps no group was affected more than seniors who reside in long-term care facilities. Between February and June 2020, approximately 54,000 nursing home residents and workers in the U.S. alone lost their lives due to COVID-19. Nearly 264,000 people were infected across 9,912 facilities.
Svoboda serves as a staff chaplain for two senior living long-term care facilities in Puyallup, Washington, about 45 minutes south of Seattle. "Prior to the pandemic, my primary responsibilities were to provide in-person hospital visitation and counseling for patients, their families and staff," Svoboda said.
When then the pandemic struck, she was sent home. Suddenly, no family members, visitors or "non-essential employees" were allowed in Washington's health care facilities. Neither of Beth's facilities had the capability to provide remote chaplaincy.
Svoboda also serves as the women's chaplain for Bethany Baptist Church, a nearly century-old Converge congregation in Puyallup. When pandemic-related shutdowns began, the church shifted quickly to using Zoom and other tools to provide online services. Beth took this transition one step further ― she stepped into teaching an online Bible class called Young at Heart, designed to reach senior adults from her church, health care facilities and her community as a whole.
"I've been teaching adult Bible classes twice weekly for the past 14 months," Svoboda said. "I've been able to utilize my chaplaincy and counseling skills and training to minister to our senior adults ― many of whom have experienced loss and isolation during the pandemic."
Each week, Svoboda sends a link to the private Zoom meeting in an email message to class registrants. The invite email also includes upcoming birthdays and prayer requests for all members. Many cannot attend the Zoom meeting and via email receive a link to a recording to watch at their leisure.
Nearly 200 people attend or later watch Svoboda's Zoom messages each week, though not all are senior adults. Many are their friends and families across the U.S. and overseas. Early on, Svoboda received a handwritten letter from a Young at Heart senior couple encouraging and affirming her efforts:
We just want to let you know how much we are enjoying your lesson each week. It is like you are sitting here across our kitchen table and talking just to us. Oh, the marvels of technology!
Technology brings many changes and challenges ― but also innumerable opportunities. Beth saw the potential and sought ways to expand her ministry beyond twice-weekly classes.
In fact, with the help of her two adult sons, she has turned 14 months' worth of weekly messages into a podcast called The Bible with Beth, reaching and empowering seniors on the go. Svoboda also is preparing to launch a website called Thornhill Bible Ministries. This platform will spotlight timely podcast series, daily biblical devotionals for seniors inspired by a book she's writing, Blessing God: Living and Praying the Psalms, and other forms of gospel-centered connection.
As her senior care facilities remain closed to non-essential staff, Svoboda has been challenged by the loss of community only in-person ministry can provide. But she sees God working and trusts his plan.
"For me, using Zoom has felt a bit like an ark ― keeping our senior adults safe, connected and in fellowship with one another while the storm of the pandemic raged around us," Svoboda said. "One of my favorite truths from the Bible is that God is faithful, and he honors our faithfulness. When we say yes to God's call and ask for his help for creative ways to minister his love and compassion, he is faithful to provide all we need and establish the work of our hands."
From 120 to 400,000 ― U.S. Army chaplain connects families across Europe
Jason Hohnberger is the operations chaplain for the U.S. Army Garrison Italy. He is a Converge ordained minister and has pastored churches in Wisconsin and Arizona. With the Army, his previous assignments include 1st Squadron of the 38th Cavalry (Airborne), Arlington National Cemetery and the 705th Military Police Battalion, among many others.
As a result of his unprecedented ministry efforts throughout the pandemic, Hohnberger will soon be moving from Italy to California with his family. He has been tabbed to help lead and serve as broadcast chaplain over the American Forces Network, a worldwide government TV and radio broadcast service provided by the U.S. military.
Hohnberger comes from a line of military servicemen. His grandfather served in the Army in Normandy during World War II. Also, his father served in the Army during the Vietnam War and later became a pastor. Growing up in the church, Hohnberger accepted the Lord into his heart at age 8 while attending a Converge church plant.
Coming from military and ministry heritage, said Hohnberger, "It was part of my history and God's purpose for me to become an Army chaplain."
In Italy, COVID-19 surfaced in January 2020. Within days of the country's first confirmed cases, the Italian government declared a national emergency. By mid-March, then the epicenter of the fight against COVID-19 in Europe, Italy declared a nationwide lockdown. And the Army maintained operational readiness ― meaning strict quarantines and physical distancing.
"Many service members felt isolated and alone," Hohnberger said. Living overseas, far from loved ones in the U.S. and unsure what would come next, "They needed hope; they needed connection."
Like Svoboda, Hohnberger felt called to "do more." So he collaborated with a colleague to create a religious support rapid response strategy ― seeking to bring chapel services entirely online and provide all members of the garrison with access to the gospel, community and support.
"Military chaplains are pastors in uniform representing Converge," Hohnberger said. "We provide for the religious needs of people of all faiths and emotional and spiritual support. Ultimately, we seek to meet people where they are."
Hohnberger invigorated the local garrison's Facebook page in a few short weeks, hosting live chapel services and other community-oriented virtual events. At the pandemic's onset, the Facebook page had approximately 100 visits in total. Since then, the page has registered more than 400,000 visits.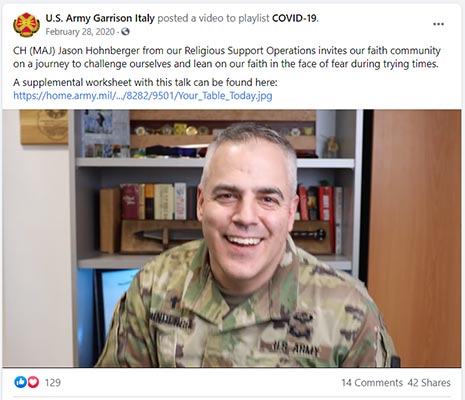 But Rome wasn't built in a day. Hohnberger wanted to do more than just create an online connection point. He wanted to learn how to do it well, creating engaging content and events to support his brothers- and sister- in-arms. He wanted to let the world know, "We're still here to support you. God is still here."
Hohnberger studied film production, purchased critical equipment like cameras, microphones and screens, practiced tirelessly and even began training fellow chaplains in the same skills.
In June 2020, he co-led the creation and launch of the U.S. Army's first interactive, online vacation Bible school for kids of military families. Hosted on the USAG Italy Religious Support Office Facebook page, the program is set to return this June.
In January 2021, Hohnberger co-led the launch The One on Wednesdays ― a more contemporary, weekly gospel service on Facebook Live. He serves as lead pastor of The One on Wednesdays. These services provide worship, connection opportunities and the "basics" of the gospel to service members, families and all who are interested.
Although in-person chapel services have resumed, Hohnberger and his team continue to produce weekly video messages and host both chapel and The One services online. Most military chaplains in Europe have adopted his model, and its influence continues to spread throughout the Army.
When Hohnberger moves into his new role with the American Forces Network, he'll oversee all religious programing for the Army and the creation of public service announcements.
What began as a largely dormant Facebook page has blossomed into a network of faith-based community outreach, virtual ministry and spiritual support for hundreds of thousands of individuals across Italy and Europe.
"When you create connection and community in the name of Jesus, his perfect love has the power to cast off all fear," Hohnberger said. "As chaplains, this is our mission."
Keeping those in need together, when apart
Hohnberger's and Svoboda's stories only scratch the surface of the work Converge chaplains are doing. These men and women across the globe are serving as God's hands and feet, casting out fear by sharing his love. And they are showing how God's power is made perfect when we feel the most vulnerable or weak.
Svoboda encapsulated the heart of chaplaincy with a quiet yet powerful story in which God worked through her to reach the heart of someone in need.
"One patient had been in the convalescent facility I work at for a number of months. He was 80 years old and had never had any exposure to the Christian faith. As we chatted day after day, he asked about Christianity, the Bible, my faith journey, how to be saved and how faith in Christ had changed my life. One day, I asked him if he'd had many visitors." He did, he told Svoboda. "But you were the only one who cared about my emotional and spiritual well-being."
Converge chaplaincy program
Converge endorses qualified clergy worldwide to apply for chaplaincy positions in the military, Veterans Administration, Bureau of Prisons, hospitals and other health care facilities. Converge chaplains care for and pursue the spiritual health of military members and veterans and staff, residents and guests of health care facilities and correctional institutions.
Converge has nearly 100 chaplains stationed in the United States, Italy, the Middle East and elsewhere across the world.
Learn more about Converge Chaplaincy program
---