The story behind Black History Month and how your church can embrace it
Dr. Harold Lewis
Vice President of Biblical Diversity
---
As February comes to a close, Black History Month winds down with it. But, Converge is committed to reaching people of all colors, cultures and classes with the gospel of Jesus Christ and making him known ― every day, week, month and year. As we celebrate our human differences, we celebrate together around God's Word. And that doesn't end when February does.
With that in mind, we are sharing the origins of Black History Month so we can understand why it has been – and will continue to be – celebrated and embraced. But before we learn about how Black History Month started, let's first talk about how your church can embrace Black history.
How Converge churches can embrace Black history
As we highlight and honor Black history, it is imperative to understand that Black history is not just limited to people of African descent. Black history is American history, and the many tragedies and triumphs of Black history that are interwoven into the fabric of the historical context of the American story are worthy of being studied and celebrated by all cultures and people groups.
One of the prominent, past and present, variables within the Black history story is the Black church.
The Black church gave the enslaved people a sense of hope and strength for the future.

The Black church led the movement to fight against the brutal oppression and racial evil in the South.

The Black church compelled other Christians to grapple with the racial brokenness within the body of Christ.
Converge's Office of Biblical Diversity encourages all of our churches to embrace and learn from this rich history and contributions made by people of African descent.
The Black history season cannot only serve as an opportunity to add to our diversity efforts by tearing the walls that can easily divide us but also a sacred time for our Converge churches to reflect, worship and seek to embrace each other's presence as an expression of gratitude for our life together.
Four practical ways Converge churches can honor Black history
Our churches can highlight how Black history is an integral presence of our shared American history.

Our churches can example their appreciation of how people of African descent confronted and challenged the church to be more compassionate and to speak up and out against the evil of racism.

Our churches can pray, preach and teach about the call and the commission of the gospel to advocate, serve and bring hope to the oppressed and marginalized.

Our churches can follow the annual theme of Black history to connect with the celebration's purpose and direction each year.
Related: Converge pastor John Jenkins shares why Black History Month is important
Black History Month — Message from NAE Board Chair John Jenkins from NAEvangelicals on Vimeo.
What is the history of Black History Month?
The founder of Black History Month
Dr. Carter Godwin Woodson is the founding father of Black History Month. He was born December 19, 1875 — 10 years after slavery ended — in New Canton, Virginia, to former slave parents, James Woodson and Anna Elisa Riddle.
Due to Dr. Woodson's family being poor, he could not attend elementary school regularly because he had to work odd jobs to help support his family. Nevertheless, Dr. Woodson's hunger for knowledge compelled him to teach himself how to read using borrowed books and old newspapers.
Dr. Woodson did not receive any formal education until he was 20. He then completed his high school learning in just two years. He earned his bachelor's degree in English from Berea College in Kentucky in 1903. Dr. Woodson continued his education by attending the University of Chicago, where he earned another bachelor's in 1907 and his master's in education in 1908. Dr. Woodson went on to receive his Ph.D. in American history from Harvard University in 1912. This accomplishment made him the first African American to receive a Ph.D. as a descendant of slaves and the second African American with a Ph.D. at that time. Dr. W.E.B. Du Bois was the other African American to received a Ph.D. from Harvard University in 1895, but he was born to free parents.
Although Dr. Woodson had a Ph.D. from Harvard, not one white college or university would hire him to teach because of the ongoing educational racism during the early 1900s. As a result of being ostracized by white schools, Dr. Woodson had to spend his life and love for teaching at Historical Black Colleges and Universities (HBCUs), such as Frederick Douglas High School and Howard University in Washington, D.C., and West Virginia State.
During Dr. Woodson's teaching career at these Black institutions, he discovered the textbooks and teaching resources contained bare minimal to no history about Africans and African Americans.
Black history recognition and celebration
In 1915 in Chicago, thousands of African Americans came from across the country to attend a three-week symposium that hosted several lectures and exhibitions that chronicled, documented and celebrated African Americans' accomplishments. The symposium highlighted the achievements and historical contributions of Black people from 1865 to 1915.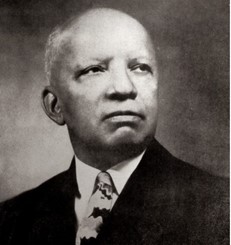 During this time, Dr. Woodson was inspired to create an organization that would research, document, preserve and teach the historical accomplishments and achievements of African Americans in the United States, Africa and the Diaspora.
On September 9, 1915, Dr. Woodson co-founded the Association for the Study of African American Life and History (ASALH). This organization still serves as the governing body of African American History Month. (Note: ASALH sets the annual theme for each celebration of Black history, giving it purpose and direction for the year.)
In 1916, Dr. Woodson created the Journal of Negro History (now known as the Journal of African American History), a historical journal for African American historians and scholars to publish their papers and articles.
In 1921, Dr. Woodson founded the Associated Publishers, which published his textbooks and other African American scholars' textbooks to resource public schools and Historical Black Colleges and Universities.
Black History Week/Month
In 1926, Dr. Woodson created Negro History Day, which eventuated into Negro History Week during the second week in February. He chose February because it contained the birthdates of Abraham Lincoln (February 12) and Frederick Douglass (February 19). Douglass, a former slave, did not know his birthday or year of birth; therefore, he chose February 19.
Since African Americans were already celebrating the second week in February in memory of Lincoln, who was assassinated in 1865, and Douglas, who died 30 years after Lincoln, Dr. Woodson decided to add his new culture celebration during this same period to build upon the momentum of what was already being celebrated around the country.
Dr. Woodson's vision for Black history celebration began as a single day of recognition and has evolved into an internationally celebrated movement.
In 1976, former President Gerald Ford officially recognized February as Black History Month.
Please note, Dr. Woodson did not intend for the study of Black history to be limited to just February. His intentions were for Black history to be studied throughout the year and culminate in February as a celebration of what was taught and learned predicated upon the annual theme.
The annual theme for Black history this year is the Black family: representation, identity and diversity. For more information and resources on how to celebrate Black History 2021, visit the ASALH website.
For more information and resources about Black history, contact the Office of Biblical Diversity.
Recommended reading from christianitytoday.com:
References:
NBCChicago.com – How Black History Started
Dagborie, Pero Gaglo: Carter G. Woodson in Washington, DC: The Father of Black History
---
Dr. Harold Lewis, Vice President of Biblical Diversity
Dr. Harold D. Lewis Sr. is Converge's Vice President of Biblical Diversity. A native of Greenwood, Mississippi, he earned a Bachelor of Arts degree from Tougaloo College in Tougaloo, Mississippi, a Master of Divinity from Gammon Theological Seminary in Atlanta and a Doctorate of Psychology from the University of the Rockies in Colorado Springs, Colorado. He also has been awarded multiple honorary doctorates. Dr. Lewis comes to Converge with over three decades of pastoral and leadership experience as a turnaround church pastor and a transformational coach for clergy and laypersons. His ministerial experience also includes more than 10 years of multicultural and justice responsibilities, which included collaborating with and resourcing Native American, Micronesian, Hispanic, Korean and Haitian ministries, as well as Black Methodists for Church Revival and the Conference Committee on Religion and Race.
Additional articles by Dr. Harold Lewis