Army chaplain gives soldiers hope during COVID-19 crisis
Michael Smith
Former Converge Content Specialist
---
Six months before COVID-19 hit Vicenza, Italy, making the city the epicenter of the European fight against the virus, Converge Army chaplain Maj. Jason Hohnberger began having dreams about recording video messages to better connect with younger soldiers.
Those dreams quickly became a reality when the country started to lock down in late February, and in-person chapel services were canceled.
Hohnberger and his colleagues formulated a religious support rapid response plan. He ordered essential equipment, studied film production and trained chaplains to produce online services and weekly messages of hope to connect the military community in spirit while in physical isolation.
"I became a film student and started studying," said Hohnberger, who also helped produce the first interactive online vacation Bible school in Army history.
"Many public speaking techniques and things you have to do in front of a camera are different from what you would normally do behind a pulpit. Trying to learn those things to communicate effectively and then teach the other chaplains around me was a huge challenge, but we're starting to get it figured out."
The 3-minute messages of hope have powerfully resonated with soldiers and their families, who often struggle with feeling isolated.
"We had soldiers in isolation with COVID-19 symptoms. They needed to be under supervision for a while or limit their movement, and they were discouraged," Hohnberger said. "But they all have their phones, so they were able to tune in. We got plenty of feedback from not only soldiers in the area but around the world who were having a hard time."
Hohnberger said the online messages have reached tens of thousands of people, helped sustain marriages and encouraged suicidal soldiers to choose life.
"It's been neat to hear feedback from people knowing that you've impacted their lives when you're pouring out your heart into a message of hope," he said. "All you see is that black circle and that blinking red dot, and you're pouring truth and life into what can feel like a black hole. But to find out later that God is using those things to penetrate the darkness of people's hearts and connect with them in their chaotic situations is really encouraging."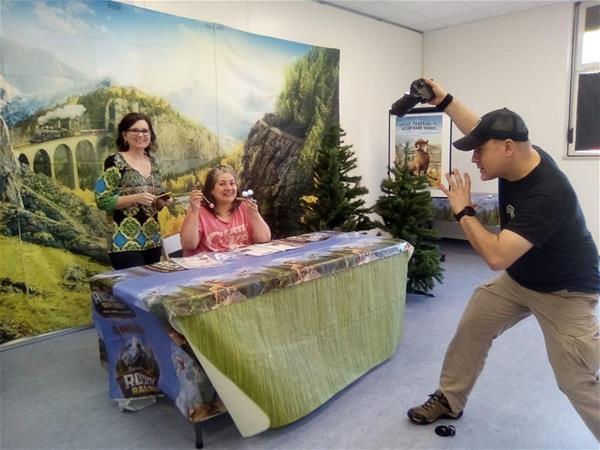 Hohnberger, a pastor at a Converge church in Wisconsin before becoming a Converge-endorsed chaplain in 2009, said going digital has allowed him to reach more people than ever.
"We've maintained our core group of chapelgoers, but hundreds of other people from the area and thousands around the country who haven't come to chapel in person yet have watched online.
"The gate guards will talk to me about my message. The checkout lady at the grocery store talked about our kids' videos and how neat they were and how she wanted to share them with her grandkids. We enabled a greater audience of people to participate in chapel and, most importantly, hear the gospel."
Hohnberger, who came to know Jesus at a Converge church when he was 8, said the pandemic has helped bring the different congregations in the Vicenza military community closer together.
"The chapels are used to working separately from one another. There was the Catholic congregation, the gospel congregation and the Protestant congregation. They were doing their own thing. For several weeks, we were in the same boat together, helping each other and getting our services online."
Even though in-person chapel services have resumed, Hohnberger plans to continue producing online services and messages. Most European chaplains have adopted his model, and its influence has spread throughout the Army. As a part of the Chief of Chaplains' strategic communication working group, he will help the Chaplain Corps shape its future messaging and communication.
"These messages of hope have led to opportunities to actively be engaged with other chaplains who are doing similar things across the country. I can share ideas and help equip the entire Chaplain Corps in the way I was trying to equip my fellow chaplains locally," he said.
"We want to take that strategy global to help other people learn the lessons we have and learn more from each other. We're going to continue to see what doors God opens and try to be faithful with those opportunities."
Converge chaplains help care for the spiritual well-being of military members and veterans, as well as the staff, residents and guests of health care and correctional facilities.
---