The teacher who brings grace and truth to eighth graders in Japan
Ben Greene
Pastor & writer
---
Alongside every bowl of Saturday morning cereal, a Japanese girl from an unbelieving family encounters God's peace because her teacher, a Converge global worker, suggested she read the Bible.
"Every Saturday morning while eating cereal, the realization of being at peace with God hits me," the Japanese girl told Jane Fischer, a team member on Converge's Japan Initiative.
Fischer has taught at Christian Academy in Japan since the 1990s. Many of her students grow up in unbelieving families, like the Japanese girl who meets God at her breakfast table.
"God is at work to help her move toward Christ rather than continue with Japanese norms of faith and life," Fischer noted. "I know God's working in a mighty way."
Decades of fruit from soil that's not always fertile
It's not Fischer's first time coming to that conclusion, despite Japan's spiritual challenges to the gospel. Millions of least-reached people live in the island nation. So Converge has prioritized gospel work there.
God's call for her to serve in Japan began when an Intervarsity Fellowship leader asked her on a college retreat, "Are you interested in serving God wherever he would call you?"
Related: How would you answer that question?
She said yes, graduated college and began teaching in public schools. Then, in 1991, she heard of CAJ. Two years later, the school hired her to teach there for one year. After that, the school asked her to return in 1994 for another year and did so again in 1995.
Then, in 1996, Converge leaders asked Fischer to be a global worker, which perfectly answered her prayers to continue teaching where God wanted her. So she began fundraising to be a long-term teacher at the school. Since 1998, she's been a Converge global worker contributing to Converge's Japan Initiative.
The Wisconsin native teaches eighth graders English literature, Bible and social studies. Many students she's influenced live differently after encountering grace and truth in their classes.
"Every year, I see at least one of the eighth-grade students come to Christ," she said. "I love to be part of that process."
Related: Converge's Japan Initiative team loves to be part of that process.
Heidi Eby is a former student of Fischer's who now teaches alongside the woman she learned so much from. Eby teaches on the same team as Fischer at CAJ.
"She encouraged our spiritual growth in Christ by inviting us to lead the Bible class in devotions," Eby said of her time as a student. "As a colleague, I admire her love for God and her desire to share that with her students."
Tom and Mary Lou Ellison explained that kind of fruit comes from her loyalty to the Lord. The Ellisons said Fischer taught all six of their children while they served as global workers in Japan.
"She prayed for her students to know Christ," Tom Ellison said. "She counseled with them over family and friendship issues and included the role of faith in Christ in bringing about a positive outcome."
Fischer has seen her former students become pastors and missionaries during her decades of service. One graduate is planting churches in Japan with his wife, while another couple is in seminary to be missionaries. She also knows of former students in South America, Chicago and other places.
"I know several alumni who are literally all over this world and working, number one, for Christ," she said. "When they leave CAJ they are equipped to spread the gospel to Japan and the rest of the world. The longer I've been at CAJ, the more evidence of that fruit I see."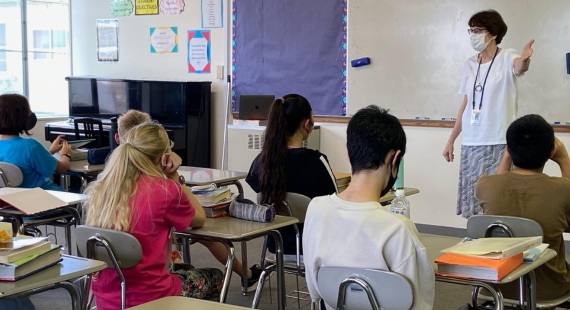 Helping students face the world's brokenness
The school has 450-500 students from up to 20 different countries. The school focuses on holistic ministry to the kids so they learn, grow emotionally and develop spiritually.
Since COVID, the school has introduced social and emotional lessons for middle school students. Every other week, these students talk about fears and frustrations so they can learn to communicate their feelings.
Hikikomori is a Japanese word for social withdrawal, a pattern of life that has increased in the island nation in recent years. During this time, people also suffer as suicides, mental health challenges and significant levels of fear increase.
Related: Ian and Maki Smith recently joined God's work near Japanese cliffs where many take their lives.
Fischer said many events get her students thinking, such as a suicide where someone jumped in front of a train near the school. Sometimes, earthquake-like tremors rattle the school building.
"They face the idea that life can be short," Fischer said. "Fourteen-year-olds are at the prime age to grapple with spiritual issues — and they have such good questions."
Fischer herself has faced the brevity of life. When Jane was nine, her mom died in a car accident. As a result, she had to take over the housework on the family dairy farm and care for a younger sister. Meanwhile, her father and brother continued caring for the cattle.
Then, her father died of cancer in her senior year of high school. Her brother finished school and moved to Colorado, while she and her sister moved in with an aunt three miles away.
The Ellisons realized during years of knowing Fischer that her past trauma equipped her to display strong faith to suffering students.
"It is because of those things that I think Jane is a great example of one who has said, "I can do all things through him who strengthens me," Tom Ellison said.
Sobering life experiences like hers translate into the literature she chooses for her students. For example, they've read The Pearl, a novel that deals with greed, and Red Scarf Girl, about a 12-year-old living before and after China's cultural revolution. Throughout all her lessons, Fischer finds ways to let God speak through his word.
"It all has a Biblical perspective in everything we do," she said. "Our kids are learning that they can find Biblical perspective in every piece of literature."
Eby added that Fischer ties biblical truths into social studies and English classes. A two-day field trip to Kyoto is a good example, Eby said. On that trip, Fischer shares that Japanese Christians met in hiding to encourage one another years ago.
"She encourages students to take a risk and to be honest as they reflect on their spiritual journey," Eby said. "Because of this, she's had students who do not come from Christian backgrounds ask her about what churches are available to attend in the area or ask her deeper questions pertaining to Christ."
Show them Jesus so they see there's more
To encourage such questions, Fischer leads students through a specific study of the crucifixion and resurrection of Jesus every year. She shares how Christ did so much for us by willingly walking to the cross. One student told her he thought the Bible was just a book but now realizes God's word is much more.
"The kids are starting to see there's more to it," she said. "I get excited about little steps they take."
Fischer has heard the worries and walked beside the woes and wonders of life for young people. She shows them great patience as they consider who Christ is and wrestle with the changes required to follow him. The power of God for the salvation of those who believe brings the Holy Spirit into hearts and minds so the Spirit can teach and finish what Christ has started.
That's why she is confident that God is at work in every class — even sometimes in every bowl of cereal. The boys and girls learning to believe are also becoming future Christian leaders of Japan and many other countries.
"It's mainly what's kept me going at this school. "I see what God can do in the hearts of these teens when they're on fire for the Lord."
Converge is asking God for a gospel movement among every least-reached people group – in our generation. Learn how we are playing a role in accomplishing the Great Commission and how you can be involved.
---
Ben Greene, Pastor & writer
Ben Greene is a freelance writer and pastor currently living in Massachusetts. Along with his ministry experience, he has served as a full-time writer for the Associated Press and in the newspaper industry.
Additional articles by Ben Greene