A perfect storm of challenges to the gospel
Ben Greene
Pastor & writer
---
An invisible and impenetrable wall sometimes seems to guard Japan against the gospel, bringing to mind Matthew 11:12, where Christ speaks of assaults against the kingdom of heaven.
Ian Smith, a Converge global worker with the Japan Initiative, said the island nation's cultural values, economic prosperity and spiritual beliefs comprehensively resist Christ as Lord and Savior.
"It is the perfect storm of all of the challenges that you could bring up against the gospel in one place," he said.
Smith explained that a root of such unbelief is a pragmatic, chameleon-like combination of Buddhist and Shinto concepts. This merger of values, beliefs and perspectives is broad enough for daily life but narrow enough to keep Christ out.
"The Japanese were postmodern before the rest of the world was modern," Smith added. "It is two very different religiousoverviews jammed together and duct-taped."
Many Japanese people conclude the proper response to new ideas is alignment with what the Japanese historically think, say and do. A saying in Japan puts it well: The nail that sticks up gets hammered down. So, some have dyed their or their children's hair black to ensure their appearance was suitably Japanese.
"With a desire to preserve societal harmony, they stopped wanting to be different than anybody else, and they just conformed," he said. "People are just told to live with the ambiguity and the incongruence."
He said the Japanese would accept eight million spirit deities from Shintoism but accepting the one true God as their creator is too big a jump for many. Therefore, adding Jesus to the mix of deities is a compromise some attempt. However, this least-reached people group rejects exclusive devotion to the King of kings.
"There's a spiritual battle happening," he said to describe what occurs in Japanese hearts and minds.
Disciplemakers in Japan need a different foundation than other nations require
Smith moved to Japan seven years ago in response. He went as a witness among unreached people where few have ever heard a clear gospel presentation. He and his wife, Maki, serve in Converge's Japan Initiative alongside several team members.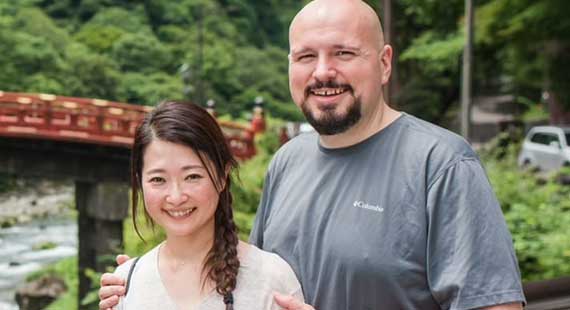 Maki is a licensed and experienced social worker. That informs her ministry as she contributes to Christ's work in Japan. Ian focuses on leadership training for new global workers and, in the future, equipping pastors. Many churches in the more rural part of Japan struggle to provide for a full-time pastor. Therefore, some shepherd a congregation and work in another career.
Disciples in Japan currently number less than 1% of the nation's 130 million people. For Converge global workers, helping the Japanese become disciples starts with explaining who God is rather than more traditional American approaches that might lead with personal sin or the death of Christ.
"You have to build a foundation first," he said. "You have to start the gospel presentation farther back."
That foundation, Smith explains, means spelling out what kind of god the Christian faith reveals. Most Japanese don't believe in one creator or even one ruling deity. So, sharing about Christ means first declaring the creator of everything the Japanese see and know.
The next part of laying the foundation for the Japanese to trust Christ is passing on the biblical wisdom that this same creator makes humans. They need help realizing and accepting their identity as people made in God's image who live out their days in front of God.
Hopeless Japanese can find healing in a seaside church
The Smiths recently moved to rural Wakayama prefecture south of Osaka, where they will partner with Shirahama Baptist Church and the Shirahama Rescue Network. Converge missionaries started this church 70 years ago when they first arrived after World War II ended. Christ's servants came to the island nation at that time because Japanese hearts demonstrated an openness to the gospel.
Related: Converge's International Ministries prioritizes gospel ministry among the least-reached.
In recent years, the country's traditional posture toward other cultures and values, particularly Western ideas, has reduced interest in Christianity. At the same time, mental and emotional health struggles have significantly increased among the Japanese people.
In response, the Shirahama church created a ministry that offers transformation to troubled people who visit the white sand beaches and beautiful views near the town. But, instead of relaxing or finding peace there, people with deep shame go to the Sandanbeki cliffs to take their lives. They choose the site because a Shinto shrine at the bottom guarantees forgiveness for suicide.
Alongside such despair is Christ's hope. Pastor Emi, the first Japanese pastor of Shirahama church, started a telephone hotline so despairing people could reach out before ending their life. Thus, sad people could hear of Christ's love and power to offer new life.
"They're meeting a tangible need in their community," Smith said. "The church has had a faithful witness in a very hard place in Japan."
The current pastor, Yoichi Fujiyabu, expanded the ministry into the rescue network. Those who come to the cliffs intending to end their life can join a supportive Christian community of individuals to restore their vitality. As a result, at least 1000 heavy-hearted people have started over by learning job skills and reentering society with a new identity and outlook.
An opportunity for such close friendships is uncommon in Japan, where Smith said people guard themselves to keep from being known. In some cases, becoming a person's friend can take 10 years.
In addition, many Japanese simply don't want Christianity, further opposing the hope of new life. Even so, the walls against the gospel sometimes come down in the Shirahama area.
"The community regards [Shirahama Baptist Church] very highly," which is especially unusual in rural Japan, Smith said.
The kingdom's miracles can happen
Such a revitalization of lives near Shirahama may seem unlikely in a culture so hardened to the gospel. But, while it can be infrequent, Smith said, he knows what God can overcome. This victory is even more apparent when the gospel is suitably expressed to the Japanese.
"I think it's important that we communicate the gospel clearly in the heart language of the people we're trying to reach," he noted.
When that happens, he said the Japanese sometimes respond more emphatically than people of other cultures. The Japanese are more sensitive to how workers share the creator God's identity, the consequences of sin and the remedy of Christ's blood. But when they respond in faith, he said it's amazing because everything is stacked against surrendering to Christ.
In part, Smith's ministry comes from his experience growing up in the gospel-opposed culture in America's Pacific Northwest. His experience in Washington as a child and young adult revolved around secular and post-Christian convictions. Yet he chose Christ as Lord and proclaimed his faith despite some neighbors' opposition to the gospel.
Now, God uses Smith's background as a starting point to discuss Christ with Japanese born into a similarly gospel-rejecting worldview. In a place like Japan, where he said the soil is hard and there are many pressures to conform, he's still confident the kingdom of heaven can emerge victorious in Japanese hearts and minds.
"We're here in a context where even one person coming to Christ is a miracle," he said. "One of the challenges that we have to overcome is to dream big. We have to hope, dream and believe for what God can do."
Converge is asking God for a gospel movement among every least-reached people group – in our generation. Learn how we are playing a role in accomplishing the Great Commission and how you can be involved.
---
Ben Greene, Pastor & writer
Ben Greene is a freelance writer and pastor currently living in Massachusetts. Along with his ministry experience, he has served as a full-time writer for the Associated Press and in the newspaper industry.
Additional articles by Ben Greene