Mexican, Caribbean churches embrace Converge
Ben Greene
Pastor & writer
---
Even 133 pages of bureaucracy and beliefs in two languages didn't discourage Iglesia Reformada 2:42 in Mexico from joining Converge, just like dozens of Greater Caribbean churches have done in recent months.
The Chiapas church affiliated a few months ago, one of 68 Greater Caribbean churches in the last year. That total includes three other churches in Mexico, one in Belize and two in Grand Bahamas.
"God has really opened up a lot of doors for us in the Caribbean," said Ernie Cabrera, vice president of church partnership for Converge MidAmerica, Southeast and Caribbean. "We're seeing a whole network of churches come and join us."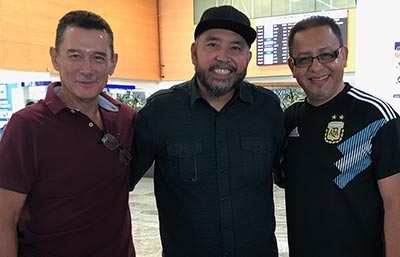 Each affiliation demands significant administrative work for the church, followed by scrutiny from Converge's regional staff. That paperwork includes dozens of pages, which someone must often translate from French, Creole or Spanish. All that labor is separate from visits, text messages, phone calls and emails.
The result is far more than paperwork: These disciples unite Converge churches so they can be better together.
There's a growing gospel collaboration in Mexico
Twelve Mexican churches are in Converge, plus several more may complete the process by year's end, according to Jessy Padilla, the director of Hispanic ministries for Converge Caribbean who pastors Iglesia Bautista Emanuel in a Chicago suburb.
In January, he will encourage and support 15 to 20 pastors and their wives at a retreat in Mexico. While he's there, he'll share the vision and culture of Converge. He wants those couples who often feel alone or disconnected from distant Christian organizations to find themselves within a support network of trusted relationships.
The Hernandez family, who co-started Iglesia Reformada 2:42, once found themselves in such a challenging, lonely scenario. The couple, who risks persecution and security concerns in Chiapas state, started their church without help from a Christian ministry or organization.
"We were praying for people to help us, to teach us and then Converge came," pastor Jorge Hernandez said. "We needed some partners but also people with more experience showing us how to plant a church."
He and four other leaders from Iglesia Reformada went to Cuernavaca near Mexico City for a Converge conference. That conference, the pastor said, is one example of how Converge leaders empower him as he serves the church.
Around Mexico, regular Zoom meetings are planned to connect pastors and support them with beneficial resources. In addition, Hernandez's wife said the wives of Converge pastors have also come alongside her and other wives of Mexican pastors.
"They are helping us in many cases," Pastor Hernandez added. "We are so grateful because of Converge's support."
Strengthening congregations is a Converge emphasis
Fifteen years ago, Iglesia Bautista Emanuel near Chicago planted a church in a small town west of Mexico City. The church now has a ministry in the community, a pastor of its own and a building.
In addition, a young man from the church also received theological training in another state. Now he continues growing as a church leader. A Converge partner organization, The Timothy Initiative, helps that young man and many others learn to make disciples who make other disciples.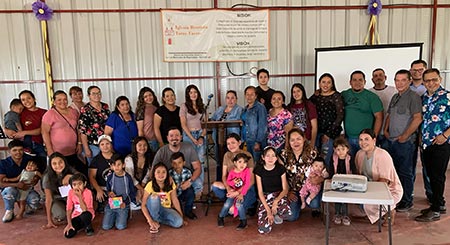 TTI's two-year program in the Caribbean is available in Haiti, the Dominican Republic and Mexico. Dozens of pastors are discipling a few hundred people, stimulating hundreds of salvations, baptisms and more churches and spiritual leaders. In Haiti alone, 260 churches partnered with Converge in the last six years.
"I pray more churches in the United States see the opportunity that we have," Padilla said.
In Mexico, such an opportunity for Iglesia Bautista's sister church required facing many threats, Padilla said. People damaged the first missionary's car, attacked his dog and denied him food and necessities. Nevertheless, that church persevered in the gospel, counting it all a loss compared to the surpassing greatness of knowing Christ as Lord.
Converge staff wants to see more and more local churches experience such a resilient vitality. So, the movement strengthens congregations through training church boards, creating LEAD networks and coaching pastors. Converge wants church leaders to form their regions, cohorts and church planter assessments or programs to increase congregational health.
Related: See Converge's resources available to empower and link churches together.
"We allow them to be themselves," Padilla explained. "Our vision [is] Mexico is going to produce their own missionaries, is going to reproduce their own church planters."
Converge's history has always been more about conviction than culture
The partnership with Iglesia Reformada 2:42 isn't the first time in 170 years that believers muscled through paperwork. Converge grew as disciples new to America made disciples across subcultures and around the planet.
Today, the movement has more than 200 global workers focused on the world's least-reached people groups. In addition, Converge's 10 U.S. regions have united to deploy 312 church planters by 2026 and strengthen many congregations. That's how more people get their name in the book of life.
"We're just going to continue and bring on churches that are like-minded and have a passion to reach the world," Cabrera said.
That's why 133 pages of documents equal far more than paperwork.
Converge's 10 districts have committed to deploying 312 church planters before 2026. Read more inspiring church planting stories and learn about the goal to send out 312 church planters in five years.
---
Ben Greene, Pastor & writer
Ben Greene is a freelance writer and pastor currently living in Massachusetts. Along with his ministry experience, he has served as a full-time writer for the Associated Press and in the newspaper industry.
Additional articles by Ben Greene