Iowa church plant stays connected through church in the park
Michael Smith
Former Converge Content Specialist
Church planting & multiplication
---
In late May, Revision Church in Des Moines, Iowa, held a clothing and food drive at its office. After meeting only online for more than two months, it was the first time in months church leaders and members had seen each other face to face.
"We realized from talking to people that they were desperate for connection," lead pastor Mike Howard said. "But they didn't feel safe going inside. It was a real eye-opener that we need each other."
Howard and his team began to think about how the 5-year-old Converge North Central church plant could regather in person. Returning indoors to their previous location, Clive Learning Academy, was not an option since they could not physically distance.
Revision decided to head outdoors to nearby Colby Park, located about a half-mile from the school.
Church in the park
On June 21, the church launched its weekly Sunday morning services at the park's band shell.
"It's easy outside in the park to be 6 feet apart and to do some of that stuff in a way that it wouldn't quite be if we were indoors," Howard said.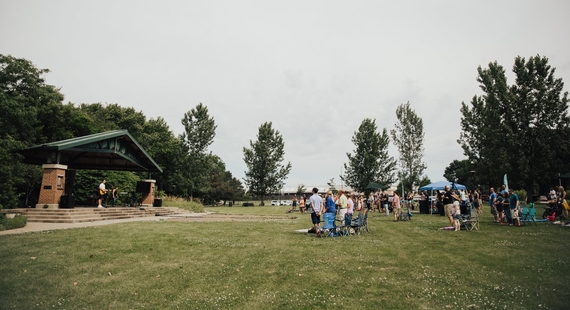 The church also livestreamed its services from the park.
"We've seen about 50 to 60% of our pre-COVID-19 attendance show up in the park, and our livestream numbers didn't drop," Howard said. "We've still seen a huge number of devices tuning into the stream."
Josh Denhart, a Revision member for more than four years, "loved being able to leave the house and make it an actual adventure and event."
"I was unprepared for how disruptive my children would be at home during the livestreams. It was harder than I thought it would be," he said. "Being at the park allowed everyone to feel like we were at church, and I felt we all could focus. It was the best possible thing for our church. It allowed us to gather, but it did not compromise anyone."
Being in the park also helped introduce new people to Revision.
"We probably saw 30-40 people who had never come before show up and then got connected because we were meeting outdoors in a time when they didn't feel safe meeting indoors," Howard said.
The pastor also said meeting in the park gave the church increased visibility in the community.
"A bike path goes right by where we're meeting in the park, so we see a lot of people on Sunday mornings who were biking, walking, jogging, and they'll stop and listen," he said. "A lot of people hanging out at the park and have kids playing on the playground will stop by and ask, 'Hey, what's going on?'
"I met a guy named Carl at a gas station who recognized me and said he'd been walking across the street to our services for the last few weeks because he hears the music in the park, and he excitedly got plugged in."
Serving the community during COVID-19
Revision Church, planted by two Minnesota churches, exists to help people meet Jesus and follow him fully. Part of helping people meet Jesus is following in his footsteps and living out his love.
Since July 2015, Revision Church has practically shown the love of Jesus to its community through its Reach Des Moines (ReachDSM) initiative. Every time there are five Sundays in a month, the church cancels its regular Sunday services on the fifth Sunday and sends everyone out to serve in the community.
Related story: For the love of its community, Iowa church cancel services
"We have always been a church that's known for serving the community," Howard said. "Our Reach Des Moines project and our partnerships with several nonprofit organizations have given us a reputation of being a church that is there for the community. I think meeting in the park for the summer reinforced this perception."
Like so many aspects of their church, the pandemic forced Revision to shift how they served during the four fifth Sundays in 2020.
In March, the church provided a list of ways people could serve others while staying at home, including:
donate to a nonprofit/organization
make cards for residents of the YMCA Supportive Housing Campus
make blessing bags to give to individuals who are homeless
make no-sew reusable bags for the food pantry that they partner with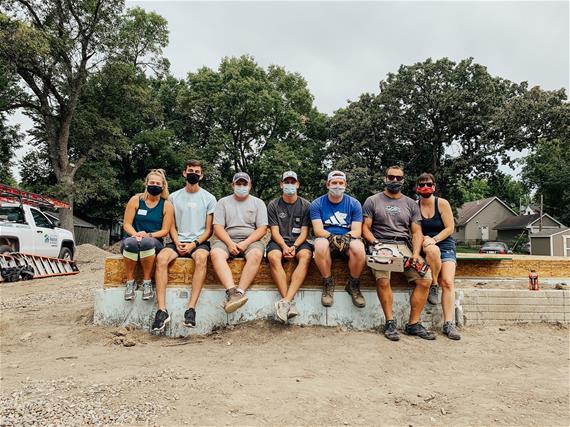 In May, the church did a food and clothing drive. In August, they were able to provide in-person service opportunities, following physical distancing requirements. They limited how people could serve and the number of people that they could send to each location.
In November, Revision partnered with Bidwell Riverside Center to purchase toys for their annual Christmas toy drive. These gifts will go out to families in need all over the city.
"In a normal year, all of those fifth Sunday events would have been in-person serve opportunities," said Courtney Straka, community outreach pastor. "But we are grateful that we are still able to serve our community even if we've had to change the way we think about it or how it looks."
Also, Straka said Revision's small groups have always served once a month, but this had to change a bit this fall. They served in-person in October with people wearing masks, maintaining physical distance and limiting numbers. But at some point, Straka said they might have to go back to serving from home while they wait for the numbers of COVID-19 cases to decrease.
Moving forward
On November 1, Revision moved out of the park and started meeting at Clive Learning Academy again. However, after only three weeks, the church had to go back online with coronavirus cases rising, schools shutting down and restrictions being added daily.
Whether meeting online, indoors or outdoors, Revision Church is an excellent example of how Converge churches are moving forward to help people meet, know and follow Jesus.
"Early in the pandemic, I quoted one of our pastors as saying 'the key factor for leaders in instability is agility,'" Converge president Scott Ridout said. "Mike and his team are one of the many Converge leaders who have taken this to heart. Nothing can stop the gospel when church leaders are led by the spirit, informed by the word and maintain their passion for their community."
"This season has been stressful and awful in a lot of ways and disorienting and disconnecting," Howard said, "but it's also provided us with an opportunity to think about new ways to get people connected and help serve and new ways to reach out to our community.
"We haven't succeeded with everything, some have been epic fails, but it has been a good season of trying to innovate and come up with different ways to move the mission down the field. And our methods look wildly different than they did before the pandemic."
---