What can change the church into what Christ wants it to be?
Ben Greene
Pastor & writer
---
Bad news for the church is sometimes good news for everyone else.
Dale Peterson has served for several years as part of Eagle Brook Church's leadership team. One year, he evaluated adult Sunday School, an unquestioned ministry pillar in many Baptist churches for decades.
Eagle Brook, a network of churches with more than 40,000 worshipers, is committed to loving God, loving neighbors and multiplying Christ-followers. Therefore, when Peterson's evaluation of Sunday School ended, so did Sunday School. Peterson also analyzed men's ministry, women's ministry and church softball leagues. They all got axed. Oh, and the church daycare and preschool are no more.
Still, Peterson is no cold-hearted ministry hitman. He's trying to obey the Head of the church. But a Barna study, Peterson quickly quotes, shows 85% of churches don't make disciples or love their neighbors well: 4000 churches died in 2020.
"We're trying to wake up the local church to pay attention to their neighbors and share the gospel," he said. "We really have a heart for the local church."
How can churches wake up?
A cohort with the Eagle Brook Association for church leaders can begin to transform a church's trajectory. Churches of all denominations are welcome to come, and EBA staff strongly encourage the church to send several leaders, not just the pastor. Eagle Brook Church entirely funds the association and the cohort out of the church's general fund. So, cohort leaders attend for free, no matter how many come from a church.
Related: Church, you're probably playing the wrong game
Aaron Damjanovich, the EBA leadership development director, said there are four elements to the cohort.
First, churches learn to clarify their vision.
Second, leaders gain wisdom for managing change.
Third, EBA staff teach participants to develop leaders so that the vision impacts the entire church.
Finally, the cohort emphasizes executing ministry with excellence.
The cohort, which began in 2006, didn't start as structured as it is today. But, as the four main topics came up again and again, association staff naturally formed the core components for the cohort. "These are the four topics that most pastors are interested in learning about," said Peterson, the association's executive director.
How does a church clarify its vision?
The first cohort element and major goal is helping church leaders clarify their vision. Dr. Bruce Hopler, Converge's executive director of Church Strengthening, has known about the Eagle Brook Association cohort since the ministry began.
"They do an incredibly effective job in helping a church know what does it mean to be true to the vision of the gospel and to be incredibly evangelistic," he said. "They're not trying to create mini-Eagle Brooks. They're trying to create gospel-centric churches that have clarity in their vision and calling."
Related: Meeting today's new challenges
This clarity consists of digging into Scriptures and constructively questioning each church's beliefs, values, purpose and mission, Damjanovich said. He became an association employee in January after planting a church in the Eagle Brook network.
"A lot of churches have really good things, but once you clarify your vision, you have a filter," he said.
That filter helps church leaders ask if their strategy is working and how do leaders know if the strategy is working.
"The reason why 4000 churches are shutting their doors isn't because they don't love Jesus or don't want to reach lost people," he said. "It's because they can't let go of a strategy that's not working, and that's taking a lot of resources and energy."
Chris Highfill, who planted Grace River Church in St. Peters, Missouri, went through the cohort with seven of his leaders. They thought they had a clear vision until the cohort staff started teaching what a clear vision really is.
"Eagle Brook helped me understand you can be a Golden Corral church or a Ruth's Chris Steak House," he said.
People often came to him interested in starting a women's ministry, a men's ministry or some other niche group. However, the cohort gave him the confidence to define why Grace River Church existed.
"We're going to do three things really well. We're going to do weekend worship, small groups and one-on-one discipleship."
To create accountability, the association staff require each church's leaders to report how many people have begun following Christ each year. More than 300 churches have sent leaders to the association's cohort. Since 2006, Peterson said 116,000 people gave their lives to Christ at other churches.
"When I announce that number to our staff, I have to say, 'Don't get used to numbers like that. This is like Acts 2, God pouring out his Spirit," he said. "The churches that are really trying to get focused on the main thing — reaching lost people — they're beginning to thrive. The sad thing is churches that are ignoring the Great Commission; they're slowly dying."
How does change happen in a church?
There are three ways to move an elephant, Peterson says. Those three happen to be the same ways you end church programs. You can pull on the front of the elephant, push on the back of the elephant or convince the elephant to share your goals.
"I got pooped on and stepped on," he said of pushing and pulling to end adult Sunday School. Not that he's apologizing.
"We don't exist to have a preschool," the Eagle Brook Association executive director said. "Some Band-Aids you rip off, and some you soak off. You need the wisdom to know which can do more damage to the church."
Related: Culture of evangelism: evaluating programs
Sharing that wisdom for managing change is the second phase of the cohort, Damjanovich explained.
"Once you clarify your vision, now you have to change," he said. "Change is hard, and change causes a lot of friction."
Knowing how easy damage to the church can happen, and drawing on decades of wisdom, challenges, mistakes and successes, Eagle Brook Church, a Converge North Central congregation, started the Eagle Brook Association. The church wanted a ministry to equip local churches' leaders to fulfill the mission of Jesus in Matthew 22 and Matthew 28.
"We want to give pastors the courage and the clarity to lead through change and manage the change well," Damjanovich said.
Rather than do a conference — which gives pastors enthusiasm and ideas without their fellow leaders — Eagle Brook Church wanted a strategy that offered lasting, holistic impact for leaders and churches. Dale Peterson had worked at Bethel University, learning how cohorts function in an academic context to form groups of people in a shared experience of learning and living.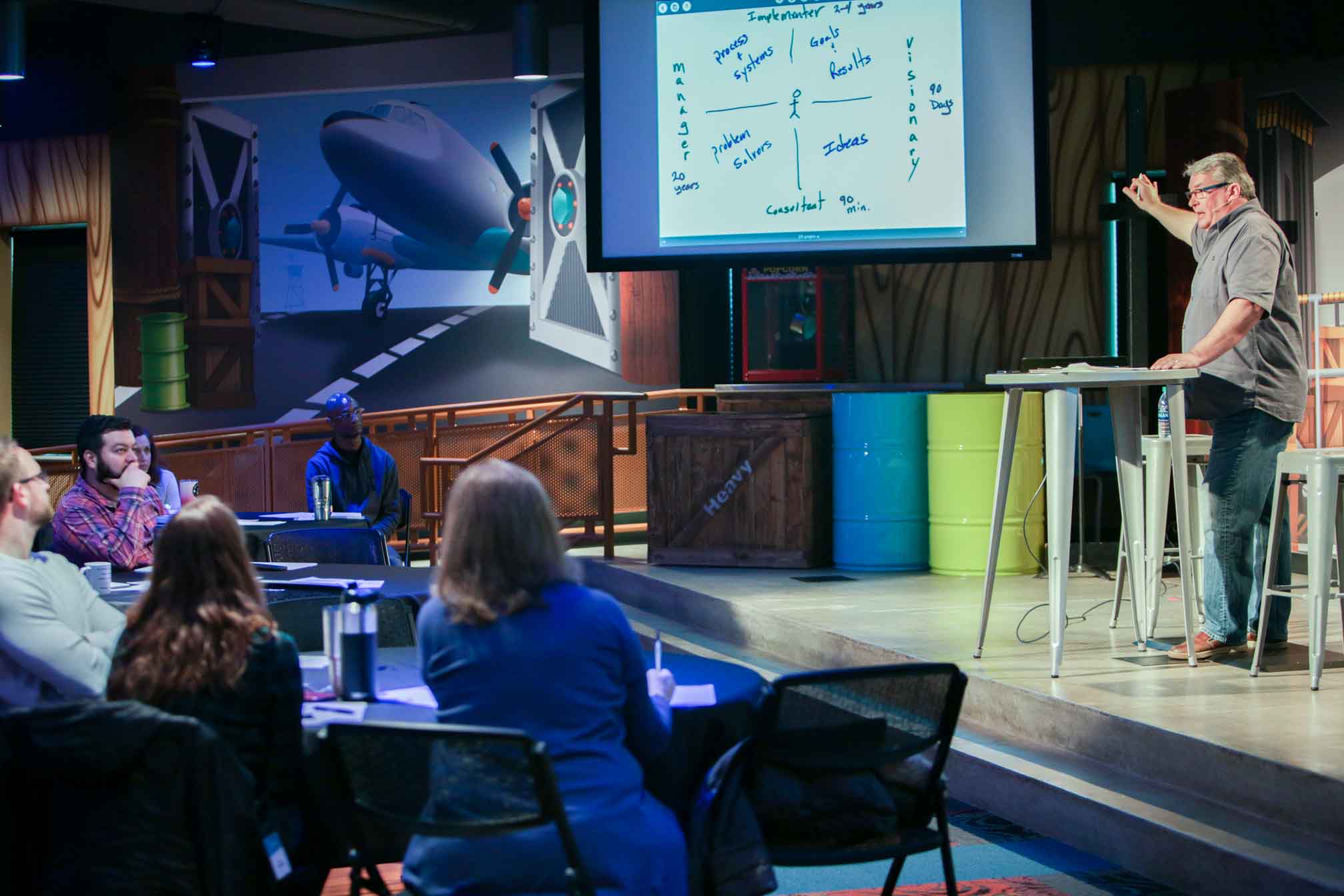 "We could not have an Eagle Brook Association if there wasn't a successful Eagle Brook Church," Peterson said. "How do we reflect on some basic principles that we've learned? We take all the years of learning to manage change with wisdom, and we try to equip churches to learn how to do that."
Changing a church requires buy-in from many leaders
Developing leaders, both staff and volunteers, is the key to spreading the change from the pastor to others. So that's the third phase of the cohort to help create a church culture that embraces the Great Commission and great commandments of Christ. Developing leaders is how churches multiply because multiplying leaders means multiplying people who follow Christ.
Related: Find your Converge district online
"We do have high expectations; we want high commitment," Damjanovich said of the leaders coming to the cohort. "We want leaders and pastors and churches who are hungry to make an impact in their community, to reach lost people."
The churches with the most impact from the cohort are the churches where the pastor doesn't come alone. That's why the association encourages leadership teams to come. And when that's not possible, which sometimes happens, the association is increasingly digitizing resources, making videos and other cohort materials available. That way, as the church develops its leaders, more and more leaders can access the same training and teaching to clarify the vision and manage the change well.
How do churches make the actual change?
Churches need to execute with excellence when changing their strategies. When ministry programs and church activities and other strategies stop, start or shift, excellence must be the goal. Every church has a different definition of excellence.
Brad Wilkinson, the planter and pastor of Rock Creek Church in Prosper, Texas, wasn't executing with excellence when he went through the cohort five years ago. Rock Creek Church was in its third year of making disciples. But both he and the church had plateaued.
"I was at a point in my ministry as a church planter where I was stuck," he said. "I had gone through a really tough season of disloyalty and conflict in my staff team. It had cost me several families that had followed the seed of disunity that had been sown."
Related: Measure what matters
Complicating matters, they owned a piece of property that could become a future campus. At the three-year mark, Rock Creek Church was still a portable church, stuck in a wilderness, plateaued in between portable and permanent. But the staff had some transitions, and a new spirit developed among the team.
"It seemed like it was a new day," Wilkinson said. "It was a fresh start. I wanted to get it right."
So, he went to the Eagle Brook Association cohort. Then-Arizona pastor Scott Ridout was simultaneously coaching Wilkinson. Ridout hadn't become the president of Converge yet. For Wilkinson, that coaching and going through the cohort made a tremendous difference.
"The EBA sparked in me a new vision, fresh eyes and an eagerness to lead again," Wilkinson said.
What was most influential for him was an evaluation from 20 significant people in his life and ministry. These people anonymously discussed Wilkinson's ministry leadership, including when he was at his best and worst.
"I saw the areas where I was hurting the organization myself," he said.
EBA staff helped him form a realistic action plan for his personal growth.
"What I've had to learn to do is come to a level where 80% of what I would want is good enough. I'm not looking for perfection. I'm looking for excellence."
For Highfill, Wilkinson and their churches, another major benefit was learning how each church becomes what God wants it to be. The goal is not to make a church become like Eagle Brook.
"There's still amazing things to learn from those guys," Highfill said.
"They're giving you the skill set you need to be the best where you're leading," Wilkinson said.
He gained new skills he uses as Rock Creek is in a permanent building with much-improved staff partnerships. Recently, a volunteer on the church's Sunday morning greeting team wanted to drink coffee while greeting people. This man had been attending Wilkinson's church since the early days of the church plant. As the church formed a culture and defined values in the new building, the greeting team became a ministry where volunteers couldn't drink coffee while actively serving. The goal was to offer warm, focused connections to every person who arrives for church.
"There's a Rock Creek way," Wilkinson said. "You have to have a way that your organization does one thing, and you don't do it differently."
When the volunteer disagreed and asked to see Wilkinson, the cohort's influence on Wilkinson showed. Before the cohort, Wilkinson would have given in to the man's request to drink coffee just to keep the guy happy. Instead, he helped the guy find a new place to serve where he could drink coffee while volunteering.
Such a combination of seeing local church leaders care for people and create good change is why the cohort exists. Damjanovich said the paradigm that informs leadership and the expectations of being a church leader somehow clash in many people's minds. But good leadership is serving people, and being a good servant requires leadership, not just relational care and good preaching.
"If you're in ministry, you're in leadership," Damjanovich said, noting pastors need to lead themselves and their churches into obedience. "What did Jesus call the church to do?"
Do you want to learn more or sign up for the Eagle Brook Association cohort?
Strong churches are led by strong leaders. So, Converge equips leaders to expand their ministry impact and fulfill the unique calling God has give them. Through assessment, coaching and covering, strategic planning and supportive networks, Converge's Church Strengthening team helps churches maximize their God-given potential to fulfill their mission.
---
Ben Greene, Pastor & writer
Ben Greene is a freelance writer and pastor currently living in Massachusetts. Along with his ministry experience, he has served as a full-time writer for the Associated Press and in the newspaper industry.
Additional articles by Ben Greene