16 missionary appointees commissioned at historic Launch
Michael Smith
Former Converge Content Specialist
---
In a time when things seem to be moving slowly, the gospel is still advancing rapidly.
God is still raising up global workers to go to the nations. Converge International Ministries commissioned 16 missionary appointees during the Launch training event September 9-11 at the Converge headquarters in Orlando, Florida. During this event, our global workers were prepared and empowered to build their ministry partnership teams.
Among those in attendance were four families (seven individuals) who will engage the Deaf through U.S. church engagement and cross-cultural work worldwide. This is a historic moment for Converge!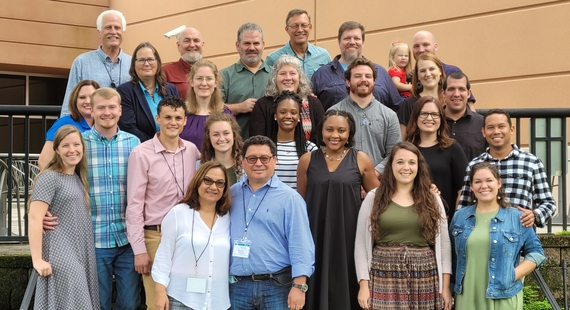 Meet our new appointees:
Ann McGhee, Bethany Community Church, Converge MidAtlantic, Laurel, MD, Mobilization Team director of training
Christopher Hughes, Deaf Calvary Church, Frederick, MD, Deaf Church Engagement specialist/Engagement Team
Eduardo and Claudia Arriagada, Journey Church, Lake Worth, FL, regional business administrators
James and Jenna Roberts, Red Oak Church, Andrews, NC, Togo, West Africa
Jon and Barb, Bethel Church, Converge North Central, Owatonna, MN, AT3, United Kingdom
Jonathan Walterhouse, Fellowship Bible Church, Little Rock, AR, interpreter with Deaf Church Engagement Specialist/Engagement Team
Joyce Fleck, Emmanuel Baptist Church, Converge Northeast, Norfolk, MA, Thailand, Southeast Asia
Kaitlyn Petteway, Trinity Baptist Church-Hammond, Converge Southeast, Jacksonville, FL, Togo, West Africa
Karina Nelson, Grace Church, Greenville, SC, Member Care specialist: missionary kids
Lemueling and Brittany Martinez, Trinity Baptist Church, Converge Southeast, Jacksonville, FL, Poland
Missy, Forest Deaf Champion Church, Houston, TX, Deaf Specialist Team
Peter Dublin, Olive Baptist Church, Pensacola, FL, interpreter with Deaf Church Engagement
It takes many people to launch a global worker into the mission field: family, churches, partners and Converge. Learn how you can play a part in reaching people across the street and around the world with the gospel.
---