Transformation taking root in town of transplants and tradition keepers
Ben Greene
Pastor & writer
Church planting & multiplication
---
A German gunsmith and farmer founded what is now Hagerstown, Maryland, 260 years ago. Ever since, travelers and traders from across the state, as well as Pennsylvania and West Virginia, have come to "Hub City."
"It's a very historical location," Angie Griffin, outreach director at Converge church plant Transformation Church in Hagerstown, said about the Western Maryland town of 43,000 people. The 2020 census shows well over a quarter-million people live in the metro area.
District of Columbia workers commute about 70 miles each way in cars, buses and subway trains. In addition, many people from Baltimore moved to Hagerstown's urban core and created a new microculture. Altogether, Hagerstown's identity inevitably shifted, changing the expectations and opportunities for God's people.
The gospel stimulates resurrection even amid strong roots
Griffin was born six miles from the town and has worshiped in churches there since her youth. In her experience, people may negatively perceive a church just because their grandfather did. But, if you ask people why they have a negative perception, they often don't remember.
Griffin's husband, Scott, is the treasurer and a board member. The couple joined Transformation's core team in October 2020. After much praying and planning, Transformation Church officially launched on Easter Sunday, 2022. One person chose Christ as Lord during the inaugural service.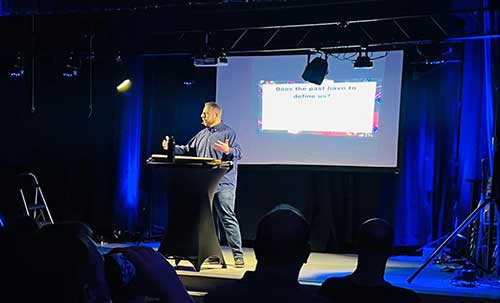 Pastor Clint Highfill started the church so his neighbors could hear the gospel that gives people righteousness, peace and joy through Christ's life, death and resurrection. He prioritizes gospel proclamation at church events and Sunday services. He doesn't pass up any chance to help people know Christ and follow him when they are in God's house or around God's people.
"We all need transformation, and the only person who can do that is Jesus," he said. "If you're a nonbeliever, you know what transformation is, and you know that there are areas in your life that need it."
Plus, people from Pennsylvania, Maryland and West Virginia ― which doesn't yet have a Converge church ― worship at Transformation. So, it looks like the church may be a hub, not just the historic city.
Related: Could Transformation someday start Converge's first church in West Virginia?
Maryland church aiming for gospel saturation
Transformation Church started gatherings for the core team last year in a CrossFit gym where Highfill works out. He and the launch team also visited churches that were reaching the community.
The leaders listened and learned and settled on a vision during this time. Transformation believes congregations of 100-200 people that start similarly sized churches are the best fit for Hagerstown.
"That's how we saturate the area," Highfill explained.
Young churches that were church plants not long ago agree, so they've given generously to Transformation. For example, a fellow Converge church, ConnectUs Church in Lancaster, Pennsylvania, gave Transformation children's ministry supplies and moving carts.
Related: ConnectUs Church is only 15 months old and already supporting churches
Moreover, Highfill's home church in Missouri bought them a trailer for transporting supplies.
New church embracing conspiracy of kindness
These disciples have embraced outreach; they see their actions in Christ's name as a conspiracy of kindness. The church's transformation groups have mobilized this motivation through missional activities.
For example, they go to laundromats and pay for everyone's laundry. Or they give pizzas at the firehouse across from the elementary school where they worship.
Moreover, town churches work together to hold events, so there's more impact than if every church held one. Recently, Transformation and other churches united to give 10,000 backpacks to needy families in the area's schools.
"There's a desperate need here," he said.
Related: Does kindness matter?
Highfill and Griffin said people often think church comes with a dress code or straightening out one's life before joining a church. However, Highfill has the exact opposite message for the neighbors he first started meeting four years ago.
"One of the things driving gospel ministry for this area is 'God wants you,'" he said. "You are valuable, just as you are. People are messed up, living in a messed-up world.
"Jesus knew that, and that's why he came. If they come and feel welcome, they can come to Christ, and he'll transform their life."
Recently, while preaching, Highfill took a log of craft paper wrapped around a pole. He then told his brothers and sisters in Christ how every person's record of sins against God, or rap sheet, was gigantic.
Next, Highfill rolled the paper log right down the middle of the room. The audience glimpsed foot after foot after foot of clean, blank paper, grasping grace at its fullest as the hope of Hagerstown rolled past their feet.
Highfill told the church Jesus' sinless rap sheet could replace their rap sheet. As Romans says, where sin abounds, grace abounds all the more.
The region's spiritual needs, promise change the Highfills' perspective
For now, Transformation pays close attention to the community members near the elementary school where they meet. For the most part, these are people who live north of Hagerstown. Young families in the more established area often own older homes.
"There's a lot of opportunity in this city, and God is going to do things," he said.
Early in the Highfills' life together, they planned to start a church in New York City. But then, God began working in their hearts, and they saw the strategic value of Hagerstown. They moved there when Heather became a teacher in Frederick, Maryland.
Related: A pastor and his family moved to a growing town so a church could be there too.
A glimpse of this widespread influence is seen 15 miles away at Fort Ritchie, a closed Army base on 500 acres. Last year, a contractor started renovating houses minutes away from Transformation. The renovations plus new construction will add businesses and hundreds of homes on the Pennsylvania-Maryland border.
Community changes are generating Christian opportunities
To Highfill, this could be another opportunity to start small groups there as part of Transformation's ministry. Key leaders are praying Christ will send more workers to a traditional but transitioning community. An Amazon warehouse and Amish farmers market are four miles apart.
Those who live by Amazon Prime and those who shop at the Pennsylvania Dutch store need to hear about the cleansing flood of Jesus' blood. Before the pandemic, 90% of Hagerstown didn't attend church. Today, the percentage is likely higher.
"We're trying to create a culture where everybody's welcome," he said. "I know there's a harvest, and it's ready to be harvested."
Related: A California pastor is desperate to see his people free.
Griffin said many churches have 20 worshipers in a community of 2000. A pastor often preaches ― or a worship leader frequently serves ― three different churches on a Sunday morning.
"Churches are dying at such a rapid rate," she said. "No matter how many churches you plant, you're not going to fill the gap for churches that are closing."
Therefore, Transformation has the potential to do something to counter a sad reality in Hagerstown, Griffin explained. The town has a church that offers what everyone — traditional or transplant — needs.
"Being a new church helps break some generational curses," Griffin said. "It helps bridge the gap. It's helping bring a new insight of new light and new life."
Converge's 10 districts have committed to deploying 312 church planters before 2026. Read more inspiring church planting storiesand learn about the goal to send out 312 church planters in five years.
---
Ben Greene, Pastor & writer
Ben Greene is a freelance writer and pastor currently living in Massachusetts. Along with his ministry experience, he has served as a full-time writer for the Associated Press and in the newspaper industry.
Additional articles by Ben Greene