Former tent dwellers confound their community with the goodness of the gospel
Ben Greene
Pastor & writer
Church planting & multiplication
---
A new believer attending his first-ever prayer gathering at a Los Angeles church sparked unity and love without even trying.
A few weeks ago, the man joined his fellow believers at Christ Church Los Angeles. He asked everyone to pray for a friend's medical crisis because he didn't know what else to do.
Moreover, in a spurt of candor, the man introduced himself, including his political views and cultural background. He was being authentic. Plus, he desired God's help for his friend more than fitting in.
Pastor Ken Lippold knew there were varying political philosophies and generational differences in the room. He wondered what would happen next. However, the group's time together ended without difficult conversations.
But, after the prayer time, the new believer started talking with a man who has different politics and generational values. During that interaction, the man handed the new believer a piece of paper with encouraging Bible verses during hard times.
"Do you guys know what just happened here?" Lippold asked them.
"This is amazing. These two guys have no business ever talking to each other or even being friends," Lippold later said. "The thing you have in common is Christ and all the things that would have divided you outside of church don't matter."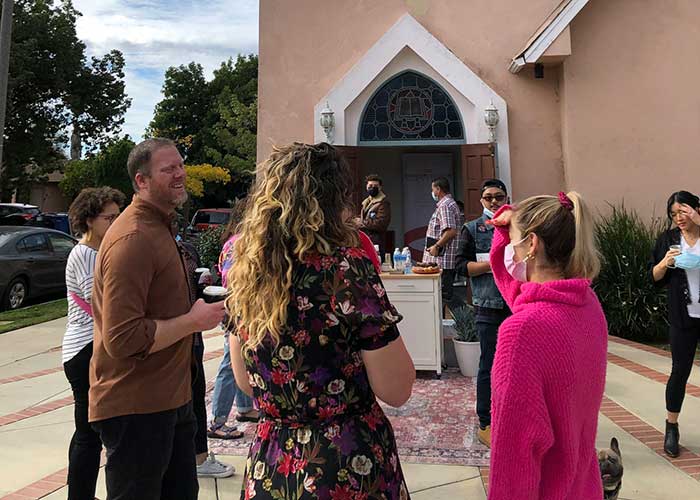 Related: Undivided (a message from Converge president Scott Ridout)
Those who wouldn't feel wanted in church still come
Cameron and Jess Quinn worshiped at Christ Church for the first time last summer. When their church closed, a friend suggested Christ Church Los Angeles.
Cameron Quinn said he and Jess discovered what the new believer did: Christ Church Los Angeles is safe for people who might expect rejection at church.
"One of the strongest impressions we got was that Ken and Clint (Harper, the associate pastor) and the CCLA community are proactively engaging with a lot of folks that, typically, you are not going to find very many of in church," Cameron Quinn said.
Instead of a drawn-out, difficult search to find a new community of disciples, the Quinns quickly knew they wanted to join Christ Church Los Angeles.
"It has been a phenomenal provision on God's part," they said of the church. "We are thrilled to be there."
Related: Converge aims to open wide the church's front door by deploying 312 church planters before 2026.
The core team of Christ Church Los Angeles started 2021 worshiping under a tent in a church parking lot. But that's not how they ended 2021.
Around Easter, Christ Church leaders and the congregation with the parking lot began discussing a merger. The churches agreed to unite in July 2021. Then, in December, Christ Church Los Angeles held its first official worship service as a new Converge church.
The church that merged with Christ Church Los Angeles started 98 years ago. They first worshiped under a tent at the corner of Edenhurst and Garden State.
Nearly a century later, in January 2021, Ken Lippold and others met under a tent on that same street corner. The pandemic made worshiping in that church's parking lot about the only viable option for a new church.
Now, a tiny tent ― it might be four inches wide ― sits on the altar table of Christ Church Los Angeles. Lippold bought the tent to remember God's power and goodness to the churches that became one.
Fellow Converge churches have also come together to support Christ Church Los Angeles. Several Converge Southwest churches gave financially, supplied meeting locations or provided a coach to advise the new church.
"God is using other people and other churches to support the work we're doing here," Lippold said. "Now if I say the word Converge, people exude love and gratitude for Converge."
Sunday mornings won't surprise, at least not at first
Stained glass windows and pews define the church of The Simpsons' TV show. That image, Lippold explained, informs what many post-Christian thinkers expect the church should look and feel like.
The city's spirituality predominantly combines people who don't believe what they can't see and those who find meaning through virtue signaling. This means they promote their virtuous acts on social media and criticize others who don't live their same values and actions.
"They believe there's nothing transcendent," Lippold explained. "What most people in LA are trying to do to find transcendence is looking either within [themselves] or to the wider culture for acceptance."
How can a church make disciples when signaling to culture means more than submitting to Christ?
Lippold said many churches respond to Los Angeles' spiritual landscape with unfamiliar, creative church forms. He said that that could be effective, but it's not Christ Church's aim.
Related: "There's no one who can't be discipled"
Now that they're out from under a tent, Christ Church Los Angeles isn't trying to surprise anyone with what happens in the building.
"What we want to do is meet the post-Christian thinkers' expectations of church," Lippold said.
But how can a new church shine like a city on a hill when its architecture and Sunday activities kindle memories of The Simpsons?
"Can we confound their expectation with the goodness and grace of the gospel?" Lippold inquires. "They're not expecting that, they're expecting harshness and hypocritical teaching. Can we confound them through the entire service with the goodness and grace of Jesus Christ and the gospel?"
Los Angeles residents' eagerness for acceptance and righteousness helps Lippold start gospel conversations.
"That way of thinking makes it so easy for me to share the gospel," he said. "I have an inroad for the gospel in almost every conversation. What does the Christian gospel offer us? It offers us the ability to be righteous and virtuous."
UK churches strengthen American Christians
Lippold was one of the pastors at Christ Church Liverpool in England for seven years. While in the United Kingdom, Lippold, Dr. Robert Angus and others started the Alliance for Transatlantic Theological Training in 2015.
AT3, as the Converge partner ministry is known, invites American Christians to learn from UK believers who live in a post-Christian culture. Those Christians have wisdom and insight for starting churches or being global workers in post-Christian places.
"You learn the skill set for that by living in a different country and learning the way to love," he said.
Related: Converge International Ministries – taking the gospel to the world's least-reached people groups
He said that Christ Church Liverpool powerfully displayed a commitment to one another across cultural, generational and socioeconomic lines.
"That's where you see they are friends," he said. "They actually are committed to one another. They major on and lean into their equality in Christ. That's what binds the church together. That's the kind of commitment I want to see infused into our local church."
Given Lippold's experience and God's heart for the nations, Christ Church Los Angeles could host speakers from other countries and help start churches in Los Angeles and around the world.
"We want to be a globally engaged church," he said.
German church planters helped Lippold know Christ
German missionaries came to the suburbs west of Chicago to start a church when Lippold was young. The Lippolds' neighbors joined that church and invited Ken and his family.
At that new church, Ken's family heard the gospel, chose Christ as Lord and learned to walk with him.
"I'm not sure my family would have ever gone to church otherwise unless our neighbors were excited about inviting people to their brand new church," he said.
Related: Join us! The power of an invitation
Coming to Christ in a new congregation shaped Lippold to plant churches someday. He was often entrepreneurial. Even his work at existing churches involved creating new ministries or revitalizing dormant opportunities.
Serious thoughts about planting a church crystallized in his late 20s. But he's glad to be church planting now after lessons learned in America and the United Kingdom.
"It's character building, it challenges you in ways that you wouldn't be challenged," he said of serving in England. "You have to learn to love the things you hate about the culture you're living in and you're able then to learn to love the things in your home culture that you don't like."
Christ Church Los Angeles is forming a reputation for kindness among the people they encounter.
Places to live in Los Angeles can be small, even cramped. So, generally, people reserve invitations into their private lives and spaces for their most intimate friends.
"Our church is beginning to use our homes for hospitality and that's unusual for the church in LA," Lippold said. "Every single person that comes is warmly and lovingly welcome. It doesn't matter your background or what you believed when you walk in the door."
Converge's 10 districts have committed to deploying 312 church planters before 2026. Read more inspiring church planting stories and learn about the goal to send out 312 church planters in five years.
---
Ben Greene, Pastor & writer
Ben Greene is a freelance writer and pastor currently living in Massachusetts. Along with his ministry experience, he has served as a full-time writer for the Associated Press and in the newspaper industry.
Additional articles by Ben Greene