"When are you going to stop pretending you're married?"
Ben Greene
Pastor & writer
---
A long car ride with a Texas preacher stoked Albert Morales' courage.
"When are you and Shannon going to stop pretending like you're married?" Albert's brother asked on the way to Abilene. "You have to get right with God."
Around the same time, Albert's girlfriend sat in pastor Doug Dameron's office at Orchard Church in Brighton, Colorado, and discussed getting baptized. During that conversation, she shared more about her 10-year relationship with Albert.
Albert had raised the idea of marriage six or eight years ago. However, Shannon's first marriage ended badly, so she didn't want to marry again. Meanwhile, Albert didn't want to mess up their relationship, not even a little bit, so they lived together for years and attended Orchard Church.
"We've been together a long time and never thought about it being wrong," she said of her perspective earlier this year.
Pieces of obedience start falling into place
On March 20, a few Sundays after those conversations, Dameron initiated The Vow, a sermon series on romantic relationships. During the first sermon, the pastor challenged people to take a leap of faith in four weeks: men and women who wanted to obey God could get married during worship on Palm Sunday weekend.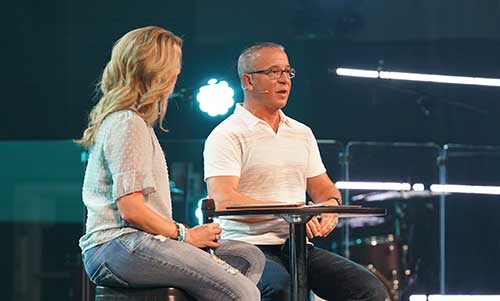 "It couldn't get any more clear than that," Shannon said of God's direction through that sermon. "I wasn't looking for a big wedding. I just wanted to make it right."
Later, she texted Dameron about the timing of the sermon and the leap of faith he encouraged.
"Well played, pastor Doug," she wrote.
Related: This Whiteboard video can help you plan your preaching calendar
Nine other couples agreed; like Shannon and Albert, they wanted to make their most intimate relationships right during Palm Sunday weekend worship services.
"Everybody knew these people were doing this because they haven't been honoring God," Dameron said. "They were cheered on, they were celebrated. I think it just showed a lot of grace that our church has, that these couples would be willing to do this and not be judged."
God's great cloud of witnesses is growing
Seventeen years ago, a team started Orchard Church in the Damerons' living room. The area's median age is 33, so people are often young families or individuals freed up for Denver's undeniable attractions, which include year-round outdoor activities plus microbreweries, excellent restaurants and franchises from all five U.S. major professional sports leagues within a short drive.
In fact, the church doesn't finalize fall events until the Denver Broncos' football schedule comes out. Right away, the core team decided they wouldn't compete with the Denver Broncos.
"We've learned to not fight that," Dameron said. "We're not going to beat that."
Related: A new church on the other side of Denver continues Christ's mission
In such a micro-culture, the church's target demographic of 30- to 40-year-olds learns to follow Christ. As with the recent weddings, discipleship moments come together through acts of God like Shannon's baptism, a brother's encouragement and preaching God's word about human ways.
"I just let the Holy Spirit do his work," Dameron explained. "If somebody wants to make things right with God, then let them make things right with God."
Related: Avi Nunez started a church so his people could be free
How this church forms a thriving ministry in a place of pleasure
Orchard created a church culture marked by authenticity, risk-taking and engagement with the culture. The church embraces the available opportunities with sincerity about themselves and their neighbors.
"We're a church that is not afraid to take risks," he said. "One of our values as a church is we keep it real. There's enough barriers already that people and churches and religion have put up. We want to tear those barriers down and then walk with people."
Related: What defines your church's culture?
Therefore, Foreigner and Bryan Adams played as people entered Orchard Church for the weddings during the Palm Sunday weekend. Guests were coming for a wedding after all, even if the marriages would soon proclaim the unexpected love of God.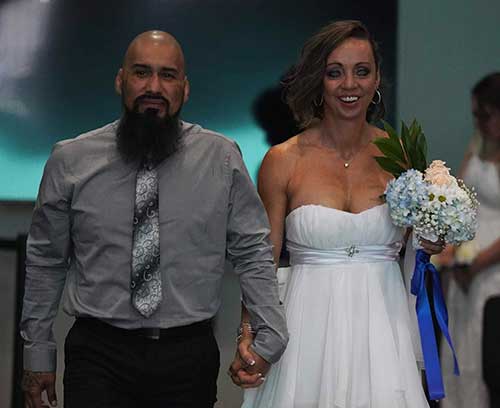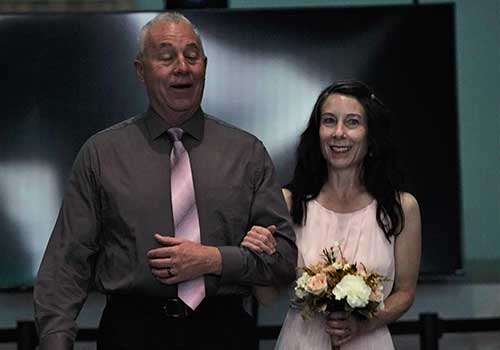 Whether people came for a wedding, worship or both, people praised Jesus. Then Dameron and his wife answered questions on marriage and love, which the church submitted in recent weeks. After that, the couples came, displaying their obedience to a divine plan.
A chandelier hung from the ceiling. A wedding cake, made by a baker in the church, stood on display. The couples' photos showed on a screen as they exchanged vows before the Lord.
"Everybody erupted in applause," Dameron remembered. "Two of the services gave them a standing ovation."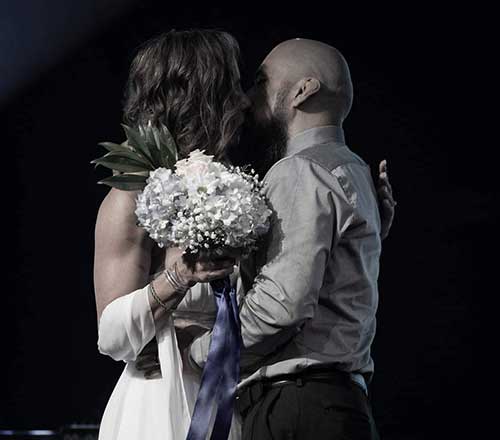 Next, the worship services included communion, which, Dameron said, was a picture of faith in the body and blood of Christ. He connected communion elements with wedding rings, which he explained symbolize a marriage covenant between a man and woman.
"They took their first communion with meaning," he added.
Feeling good after stepping into the goodness of God's will
Albert immediately noticed a change following that Sunday.
"It felt like a load off my shoulders," he said. "It was something I wanted for a while, but I didn't think it was ever going to happen."
As a church growing strong in the Lord, moments that seem unlikely can strengthen an individual's faith. Discipleship, Dameron explained, is not merely knowledge gained through workbooks of information. Through their actions, people must embrace the gospel that tears down every hindrance between them and God.
Related: Does your church have a discipleship strategy?
A couple's new path promises opportunities for others
Shannon is a professional mixed-martial arts fighter. She and Albert train others at their gym, Grinders Fitness, in nearby Northglenn. Friends from Grinders who've become more like family were among those in attendance for the Morales wedding ceremony. Shannon prays they will encounter Jesus just as she has.
"I'm trying to use my story, what we went through and knowing that it was good for me, to help them," she said.
Albert also believes his example can make a difference in his son's life as the teenager approaches adulthood.
"I want him to be a better man than I was," Albert said. "I want him to know how he's supposed to be as a man."
Dameron is grateful and encouraged for a church that's strong in the Lord and building bridges to others, including spontaneous baptisms and weddings with strangers in attendance.
"We do things no one is doing to reach those no one is reaching," Dameron said. "Something like this sends a huge message to them that this is a place where I can be loved and accepted and not judged."
---
Ben Greene, Pastor & writer
Ben Greene is a freelance writer and pastor currently living in Massachusetts. Along with his ministry experience, he has served as a full-time writer for the Associated Press and in the newspaper industry.
Additional articles by Ben Greene