Sharing God's love from the pumps to the pulpit
Ben Greene
Pastor & writer
Church planting & multiplication
---
Doors to share Jesus keep opening for Hender Padron. Many open at the full-service gas station in Providence, Rhode Island, where he's worked for 12 years. He's met well-known judges and famous musicians like James Taylor.
But those encounters don't excite him as much as talking with people who may never be locally or globally respected. Many customers who drive in for gas or car repairs engage in inspiring conversations about Christ with Padron.
"I meet a lot of people in the gas station," he said. "I love to talk about God to everybody. I really appreciate what God is doing."
Even with such a perspective, he and his wife, Loida, have been praying for years to gain more ministry. Gospel opportunities at the gas pump or with people in health crises came with fruit. Still, they prayed for a larger door for ministry to open in the city.
During the pandemic, God orchestrated prayers and relationships across the city and even the world. So, it's no wonder Pastor Padron and his wife named their new church Iglesia Puerta de Esperanza, or Door of Hope Church.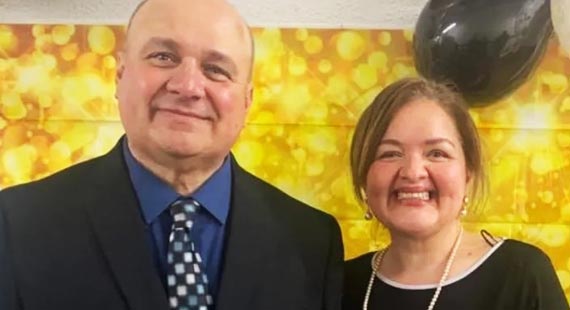 When one door closes, another door opens
Their Providence church had its first in-person services October 17, 2021, and has been expanding its ministry to the community ever since. They now offer Sunday worship, weekly English lessons, discipleship classes and a youth group.
But the new church has its roots in a much-smaller digital ministry necessitated by COVID-19. In March 2020, the couple started doing daily prayer and preaching through social media to help minister during the pandemic. Soon, they were ministering to people in foreign countries, Rhode Island and nearby Massachusetts cities.
Related: A California church committed to online ministry from Day One.
At the same time, different ministry leaders in Providence found themselves connecting despite, or perhaps because of, the global disruption.
For example, John Ames, who planted Faith Community Church with a vision to see that Converge church start other congregations, had been praying for increased ministry among Spanish speakers.
Related: Converge church plans to start seven churches around Providence
So, Faith leaders Jeff Hampton and his wife began helping with English lessons for Spanish speakers in a neighborhood in South Providence, not far from Faith's location.
After the Spanish classes began, Padron's mentor, Jose Natal, told Padron how God was doing something new. Relationships began to develop while Faith leaders hoped and prayed the evangelistic ministry of teaching English would lead to a church.
Faith Community Church asked God for a pastor to start a new congregation among Spanish speakers. These prayers happened as Padron and his wife were praying for a ministry.
Lastly, Lucio and Amanda Gallo, missionaries from Argentina, were stuck in Providence. They came from their home country and did mission work. But then, they couldn't return home because of the pandemic.
"God pulled the people together so we could start in this community," Padron said. "God answered my prayers because I was praying for a long time. This is the opportunity God opened for us."
Everybody stays to listen to the gospel
God is drawing people to Iglesia Puerta de Esperanza, whether through the gas station or the online ministry that got the new church's leaders together.
For example, Jeff Hampton and his wife help lead the youth group at Iglesia Puerta de Esperanza. That youth group happens on the same night as the English lessons. That helps families grow spiritually and personally as they are together in God's house for holistic help.
Becky Klassen, a former missionary and language professor, leads those English classes. At the end of each of her sessions, Pastor Padron shares the gospel and allows everyone to respond.
"Everyone stays and I have the opportunity to talk to them about God," he said. "Praise God, everybody stays. I see the hand of God right there because when I say I want to pray, everybody stands and listens to it."
What are Spanish speakers listening for in God's presence?
Many of Providence's residents who speak Spanish are people who work a lot to make as much money as possible. But, instead of getting rich, they send the money to their family in their home country or save the money so they can bring their family to America.
That general approach to life offers two spiritual opportunities, Padron explained. First, he came from Venezuela with much the same motivations, only to hear of Christ while mixing concrete on a bitterly cold February day. Someone shared the gospel with him, and he found himself apologizing to God for his sinful living and unbelief.
So, Padron said, there's a spiritual opportunity to tell how God meets people's needs for salvation from sin and supplies for all their earthly needs. He wants to see Latinos transformed from workaholics to worshipers.
"You have to come to him," he often tells his neighbors and customers. "He's the one going to help you with your family, with your health, with your wife, whatever the problem you have. He's going to help you with that. You have to trust him."
People coming here can mean the gospel goes there
A second spiritual opportunity has developed because these Latinos are immigrants from countries where the religious culture doesn't necessarily make disciples. For example, Padron said he often meets Latinos who identify as Roman Catholics and believe they are Christians yet don't know Christ as Lord.
Related: "My people need to be free," California pastor says of Latinos
Padron meets those men and women where they are, helping them understand what the Scriptures say about them and about Christ and how people need to respond.
A key in ministering among immigrants, Padron explained, is embracing the opportunity of the moment when people come here from another country and have relatives in other places. The gospel can impact one person who can affect many others in another country.
That's why Padron and his wife prioritized El Rodillazo, the online prayer and preaching ministry they started in 2020. People were saved through that ministry and now attend Iglesia Puerta de Esperanza because of the Padrons' ministry. Their church has engaged people in Rhode Island, Massachusetts, plus Latin countries around the Western Hemisphere.
Related: From Scattered to Gathered is a Converge initiative to reach immigrants in America.
Christ saving people in the gas station or during church activities
One of those people was a Cuban man Padron met in the gas station parking lot. The man came to the United States with his sister.
After the man heard the gospel from Padron, a convincing spiritual transformation began.
"Yes, I need him," Padron remembers the man saying of Christ. "He accepted Jesus right there in the gas station."
Now that man is a great man of God, Padron said.
Moreover, during an English class at Iglesia Puerta de Esperanza, another man stayed to hear Padron share the gospel and preach after the English lesson. When Padron finished, the man told Padron he had accepted Christ.
That man now worships on Sundays and attends discipleship classes every Tuesday night.
"God sent us to that specific area to speak to the Spanish people," he said. "All these people need to find God and think about God too."
Converge's 10 districts have committed to deploying 312 church planters before 2026. Read more inspiring church planting stories and learn about the goal to send out 312 church planters in five years.
---
Ben Greene, Pastor & writer
Ben Greene is a freelance writer and pastor currently living in Massachusetts. Along with his ministry experience, he has served as a full-time writer for the Associated Press and in the newspaper industry.
Additional articles by Ben Greene