Sharing God's grace
Ben Greene
Pastor & writer
Church planting & multiplication
---
Justin Kaitchuck, a 30-something with tattoos who befriends people fighting addictions, expected many of the people showing up to church would look like him.
Instead, the pastor of the new Free Grace United congregation in Foley, Minnesota, sees a 17-year-old who walks to worship alongside volunteers in their 70s. So far, the church includes people from a nursing home, folks in the recovery community and disciples in their 50s.
"We're finding that we are reaching everybody, and it's been wild," Kaitchuck said. "God's working all around."
That adventure in a town of 2000 started in April with worship services for the core team. Then, on Sept. 18, dozens of people attended the new gathering of God's people in Foley, Minnesota.
Kaitchuck and his wife, Renee, are part of the team at Free Grace United, a family of churches in Minnesota and Iowa. The church's vision is planting churches in their region of the United States plus deploying digital technology to create online congregations for believers worldwide.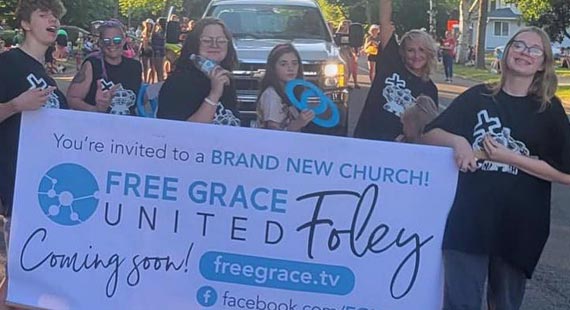 Planting seeds that might grow into something beautiful
A man with Wiccan spirituality recently saw Justin Kaitchuck and people together one night in September. The man asked Kaitchuck why they were together.
In response, Kaitchuck shared they were a faith-based group seeking to recover together from drug and alcohol addictions. The gospel became part of the conversation as Kaitchuck shared what he believed.
Next, the man shared about his beliefs. Since the conversation, the man's come to two worship services. Plus, he asks questions when he talks with Kaitchuck.
"You can plant those seeds and, who knows, that seed might grow into something beautiful," Kaitchuck said.
Free Grace creates time and space for questions because spiritual growth for people far from God is central to the church's identity, Kaitchuck said. That's part of why they have meals made by Renee Kaitchuck after every church service.
"I learn best when I can sit down amongst like-minded people and talk about the sermon or ask questions," Justin said. "We don't want people leaving church with questions."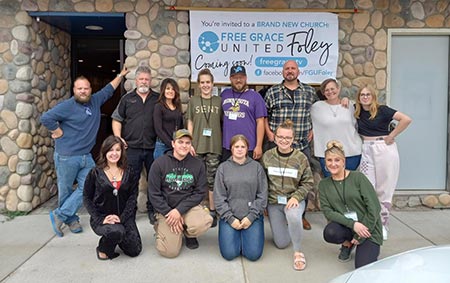 Mutual respect central to the community's culture
On the western side of town, a Chevrolet dealer and Coborn's grocery meet some of life's necessities in Foley. Farther east on Route 23 as you cross over Highway 25 and leave town stands a shop where custom fishing homes are manufactured.
In between, the community of farmers, truck drivers and other blue-collar people enjoy a down-to-earth lifestyle. Central to the community's culture, Kaitchuck explained, is mutual respect where people will listen as long as you hear them. That's true even when they don't see eye-to-eye, he said.
Many friendly faces and sincere people come to church as a reflection of faith or a desire to consider following Christ.
Justin encountered Christ a time or two in his childhood as churches did ministry activities. Even so, he believed that he wouldn't be in heaven if he did wrong. His temptations included alcohol, and at 21 years old, he went to treatment at Grace Counseling Center.
The team there incorporated faith as part of treatment, but Justin said he told them he didn't want any of that "hocus-pocus." The program's staff accepted him, and he completed his work there before he had an awakening that included an awareness of Jesus.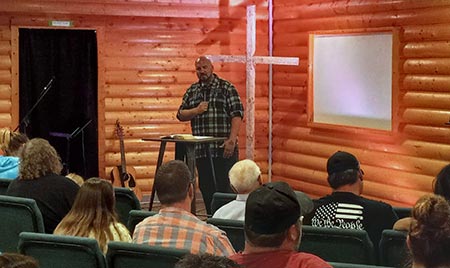 Facing brokenness and seeking wholeness
Still, his journey into his present devotion wasn't complete. That connection to Christ generated faith, even as a large amount of anger still stirred Justin's heart.
He relapsed again, police arrested him on DUI charges, and he served some jail time. While there, he attended Bible studies.
After Justin served his sentence, his desire for God and the Scriptures continued. Seven years ago, he reconnected with Renee, his former high-school classmate. They started worshiping together and dating and are now married with seven children.
"I started to understand what grace really was," he said of Free Grace United's ministry.
Next, he read a book by Erik Dykstra, the founding pastor of Free Grace United. That work, Grace on Tap, helped Kaitchuck grasp grace and make sense of more of the Bible. Now he reads Grace on Tap again and again and shares it with others.
"The only way to find myself clean was through Jesus and the power of his grace to free me and restore me," he said.
Kaitchuck became a part of Free Grace United, where staff recognized his potential for being a pastor and starting a church. First, however, Kaitchuck had to come around to the idea. He was satisfied as he ministered to people through Free Grace Recovery, a faith-based program for people with addictions.
However, Silas Austin, who pastors another Free Grace campus, encouraged Kaitchuck to become a pastoral apprentice a few years ago. Kaitchuck was studying at Free Grace Bible College and when he finished, he quickly had the desire to start a church.
"It came out of nowhere," he said of the desire to plant in Foley.
People bringing people to the Lord
Foley mostly brought up Kaitchuck's memories of the trouble he'd been in or caused in the town of 2000 people. Even so, God also spoke to Renee as Kaitchuck discovered his desire. Not even a week later, she told Justin they needed to plant a church in Foley.
They started a recovery ministry there over a year ago and seven months into that effort, a core family joined the church plant team. The transformation of a young woman whom the Kaitchucks served motivated the Engas to join the Free Grace core team. After that, grandparents, brothers and sisters from the Enga family started coming.
"It's a family that's been all in," Kaitchuck said.
Paul Enga is part of that family who wants to spread God's word. The truck driver said the new church is friendly and wants everyone who comes in to feel welcome. He said the church has good preaching that feeds people and praise music that influences hearts and minds.
The team organizes Sunday night worship services and Tuesday night recovery meetings. Meals are served at both events so that people experience grace and truth to create discipleship and fellowship opportunities.
Food and space for conversation bring people together, allowing them to share their journeys. The discipleship and dinners create moments where believers can share the path of steps toward spiritual maturity.
"They're all about the people, bringing the people to the Lord," Enga said of his fellow believers at Free Grace.
A young man walks into his eternal future
One August Tuesday, a young man named Rocky walked down the street in Foley. He saw the sign for the faith-based recovery meeting but stayed outside, looking in. Meanwhile, Justin said the Holy Spirit was "screaming" in his heart, saying to talk to Rocky.
Rocky is among the many that God is already drawing to himself through Foley's newest church. Sometimes, Kaitchuck and his neighbors feel like mirror images of each other. Other times, he knows they are people from different backgrounds than himself, yet they, too, seek Christ.
That's why Justin talked with Rocky when the meeting ended and he could go outside. When Justin shared how the gospel was part of delivering people from addictions, the young man asked Justin to "tell me about this gospel."
"Your sins are forgiven, paid in full," Kaitchuck said to Rocky, whose eyes grew large with amazement. "He'd never been told that before. He hit his knees right then, accepted Jesus and we baptized him that night."
Converge's 10 districts have committed to deploying 312 church planters before 2026. Read more inspiring church planting stories and learn about the goal to send out 312 church planters in five years.
---
Ben Greene, Pastor & writer
Ben Greene is a freelance writer and pastor currently living in Massachusetts. Along with his ministry experience, he has served as a full-time writer for the Associated Press and in the newspaper industry.
Additional articles by Ben Greene