Rapper wrapping community in love and hope
Ben Greene
Pastor & writer
Church planting & multiplication
---
Marco McCleod, a rapper who remembers "runnin' and rippin'" on the streets of Vallejo, California, never thought he'd be in church, much less a pastor.
He was troubled by Christians, whom he perceived as hypocrites. But deep down, he never believed a church would accept him. He was a rapper with a record deal, not a worshiper with an audience of one.
"I didn't feel accepted by the church," he said of his perspective before salvation. "When I came into the church, I didn't think I was worth any of this."
For much of his life, McCleod knew more about Con Funk Shun than Colossians. However, he now knows the Word who took on flesh. Plus, he's seen the church embrace him as he is.
"I was so excited when they called me 'Brother Marco,'" he said. "I know that sounds small, but it was huge to me."
That's why McCleod and his wife, Tiffany, planted Revive Ministries in their birthplace, Vallejo. They want more people to be brothers and sisters in the family of God.
"I want them to feel that same love that Jesus wrapped me in," McCleod said.
God's saving work continues
Revive had its first service in a building in the summer of 2022 after more than three years of meeting in parks and public spaces. Some of their services happened outside The Grind, a coffee shop the McCleods operate.

"Our target is definitely people that have not heard the gospel," he said. "That's why we're going to the highways and byways and sharing the gospel with unchurched people."
In September, a young man surrendered to Christ as Lord during Sunday worship. That man quickly told McCleod he wanted to be baptized.
"It was great to pray with him and come alongside him as a brother in Christ," McCleod said.
Related: An Iowa church sees God motivating new believers to get baptized right away.
Revive influences many young men, partly because McCleod is a teacher and baseball coach. So, athletes are coming to his Wednesday night gathering for guys. Ministry to men is an outlet he started 13 years ago.
Tiffany McCleod also meets with women on Monday nights to serve them. Revive also operates a women's home to offer shelter to single moms and women in need.
The small city is historic yet hurting, McCleod said.
On the one hand, it's a former capital of California with a Six Flags theme park, many churches and an equal drive to Sacramento or San Francisco. Con Funk Shun, Sly and the Family Stone and other music groups give the city a lively identity.
On the other hand, there are a lot of murders, poverty, police shootings and violence.
"This city needs hope," he said. "We're a very community-driven organization."
The courthouse is across from The Grind, making the McCleods' business a community place. People come into the coffee shop and ask for prayer as their lives involve going to court for different situations.
Related: Two Converge global workers found their ministry in a British coffee shop.
It's been amazing what God is doing," he said. "It's beautiful how God uses everything."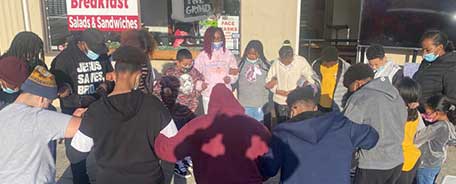 There's always room for one more
One thing there's not enough of is churches, even though McCleod said there are many in Vallejo. He said people there often know about heaven, hell, sin and salvation.
Most people have heard the Christian message. But they often feel ministry requires pressed suits and proper prayers.
"I didn't come from the structure of the inside of the church," he said. "I came from an unchurched understanding, and God said that's exactly why he wants to use me."
Since January 2019, Tiffany and Marco have been offering a new form of gospel ministry based on their unique identity. Revive's foundation starts with the love of God.
"We were saved by Christ's grace, and Christ's grace wrapped us and changed us," McCleod said. "That's how we see everyone."
Related: A Georgia church wants the ones who aren't churchy.
People are responding to such a ministry. For example, three young men who came to the McCleods' son's birthday party are 16-year-olds who want to be baptized.
"Young people still have a hunger for God," he said.
Another facet of Revive's ministry is music to help people hear the gospel. That's no surprise since McCleod was a rapper with a $75,000 contract.
"People love music out here," he said. "God created music to heal and uplift our spirits."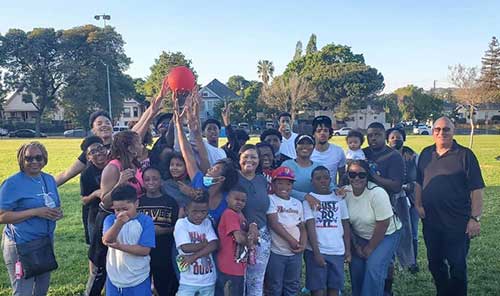 The power of hope has replaced the perception of hypocrisy
Like Romans 10 says, faith comes by hearing and hearing comes by the word of God. And how can people understand unless someone preaches to them?
Revive exists, McCleod said, so God can continue renewing souls through the local church. The man who never thought he'd be accepted in God's house as one of God's children now sees hope rather than hypocrisy.
"We want God anointing the flow through our city," he said. "Bringing people to Christ is vital."
Converge's 10 districts have committed to deploying 312 church planters before 2026. Read more inspiring church planting stories and learn about the goal to send out 312 church planters in five years.
---
Ben Greene, Pastor & writer
Ben Greene is a freelance writer and pastor currently living in Massachusetts. Along with his ministry experience, he has served as a full-time writer for the Associated Press and in the newspaper industry.
Additional articles by Ben Greene