No walls, no barriers, no limits
Ben Greene
Pastor & writer
Church planting & multiplication
---
The young woman who asked Stefen and Nadirah Gage about their love for youth advanced the Gages' obedience more than she could have realized.
The Gages were planning a worship and revival experience for teenagers around Orlando in 2019. 'What is the name of your ministry?' the young woman asked them. The Gages didn't even know the young woman who asked the ministry's name.
"No Walls came to us," Stefen Gage said about that conversation. "We strongly believe, where the Spirit of the Lord is, walls don't exist."
A multicultural church forms without marketing
On January 9, 2022, No Walls Church held its first worship service at Windermere High School, where Stefan teaches U.S. history and coaches defensive backs on the Wolverines' football team. The diverse congregation reflects the community's wide range of cultures.
In God's wisdom, No Walls' worship team includes people from several ethnic, cultural and national backgrounds.
"It's really cool to see all the different nationalities at No Walls," Stefen said. "That's our heart, but we don't do any marketing. God did that."
Related: A New Jersey Converge church has the same heart for its community.
Like many new churches, flexibility wins the day rather than rigid structures. People who've never been to church have worshiped beside people who never miss a Sunday.
After he and his family moved from Colorado, Vince Castellano spent nearly five years looking for a church. His son played football for Coach Gage at Windermere, and he encouraged his family to try No Walls in September. Finally, they've found what they were seeking. Plus, Vince is now the worship director.
"There's a connection for all," he said of the ages and diversity at the church. "It starts with the young people and grows from there. The whole church feels a connection with each other."
What's the gospel worth when you can see Disney's fireworks every night?
Stefen, a native New Yorker, was an All-Northeast Conference defensive back at Wagner College on Staten Island. After graduation, he began his coaching career as an assistant at his alma mater in 2010 before joining the football staff at Florida Atlantic University in Boca Raton in 2013.
That's when he met Nadirah, who grew up in New Jersey before moving to Florida. Stefen started going to church with her, and he chose Christ as Lord in 2013. At that point, he began serving however he could. He filmed video for their church, helped out with the youth group and served in the men's ministry.
"I always felt the need to serve," he said. "Even now, as a pastor, I'm a servant first. I just love to serve."
That servant's heart has helped Stefen and Nadirah build relationships and share God's love in a unique community in great need of the gospel.
Windermere is seriously affluent. Tiger Woods and Shaquille O'Neal have owned homes there, alongside movie producers and international business owners. Deciding what's more common in Windermere – gated mansions or miles of gorgeous lakefront - is a challenge.
But, as in every other community, there is a greater need for hope in something bigger than what it can offer.
Castellano believes God started No Walls Church in the face of darkness because children and teens need the Lord's presence in their school.
"There's a hunger with our youth especially," Castellano said. "They're crying out and a need to see God's presence in the school. Being there right now has struck a chord with a lot of kids in the school."
Related: A Kentucky church is helping people with messy lives discover the creative power of grace
The Gages can see Disney's fireworks every night from their home. But money and the Magic Kingdom aren't helping hurting kids enough.
"The hope piece is really big because it shows them there's more beyond their current situation," Nadirah said of the gospel's power. "At the end of the day, there's a loving savior who died so they can live abundantly, live past their hope and be restored."
Ministry beyond the walls
Young families, teenagers and couples with no children or grown children come to No Walls on Sunday mornings. Stefen added that people who don't know Jesus, including many people Christians have hurt in a local church, seem drawn to No Walls.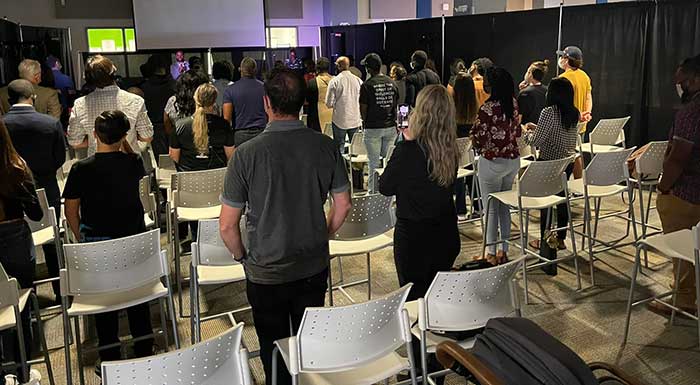 "People are watching (the church community)," Stefen said of their wary, wounded community. "We want our love for each other and our love for our family to be so people could look at it and say the love is real."
Related: Bible belt residents hurt by the church are coming to Jesus through a new form of church
That love is helping people move closer to Christ and obey the Lord.
Dom Macon met the Gages over Zoom through a mutual friend. Right away, she realized the authentic couple was "stuck" with her for life, she says, laughing.
She moved from Miami to Orlando in August to study at the University of Central Florida. Then, she started gathering with the Gages at church events. Macon's roommate comes with her. Like Macon, she could feel the love and presence of God at No Walls. Macon's roommate has since invited her cousin to join them in worshiping Christ.
Related: Love, service and laughter blessing Colorado community
As part of the core team, Macon helps out with digital media. Like almost everyone else, she helps out every week with set up and takedown of the pipe and drape in the high school.
"To go in the beginning when you're setting the tone is a privilege," Macon said. "We have leaders who really carry the heart of God and love people and want people to experience Christ's love."
Two people were baptized in early March. One of those two trusted Christ only weeks before her baptism.
"That journey in itself is a testament of what God has been doing in and through No Walls," Nadirah said.
She added the people of No Walls invest in each other outside of Sunday mornings. They check in on each other and gather in three Bibles studies, one for men, another for women and one for youth. In addition, the people serve the community as a group with organizations like Habitat for Humanity.
"Our DNA as No Walls Church is to get outside the walls," Stefen said. "We love our community."
"We wanted to build a place that has no walls, no barriers, no limits that exclude you from being able to experience the love of Jesus," he said.
Converge's 10 districts have committed to deploying 312 church planters before 2026. Read more inspiring church planting stories and learn about the goal to send out 312 church planters in five years.
---
Ben Greene, Pastor & writer
Ben Greene is a freelance writer and pastor currently living in Massachusetts. Along with his ministry experience, he has served as a full-time writer for the Associated Press and in the newspaper industry.
Additional articles by Ben Greene