New life stirring near Annapolis' waters
Ben Greene
Pastor & writer
Church planting & multiplication
---
Life in Annapolis means living on the water.
Many of the small Maryland city's streets end at the Severn River to the east. Three creeks ― Spa, College and Weems ― have split the city's footprint for more than 300 years.
The creeks drain into the Severn River as surely as many residents burn their socks every spring. A communal bonfire of cotton marks the moment every year when the bare feet of Annapolitans can sail and swim again.
Named after Princess Anne of England, the seaport town is home to the U.S. Naval Academy, St. Johns College and a deeply local tidewater cuisine.
About two dozen people believe a new source of life is coming from the waters of College Creek, Annapolis' central waterway. The families are starting a new Converge church, led by pastor Isaac Vineyard.
Many people live near this creek. But, amid Annapolis' history and present vitality, not much is made of neighborhoods along College Creek.
"There's a lot of spiritual darkness," Vineyard said of the communities around College Creek Church. "There is a darkness and a heaviness that has set in. By and large, Annapolis is a spiritually dead city."
A diverse area of the city in a small area
Vineyard, 36, moved to Annapolis 12 years ago to work at a Christian school. He grew up in Oklahoma and went to Dallas Baptist University. He taught school in Hawaii and then pursued more ministry training in Boston. After that, he moved to Annapolis to work with college students and a Christian school.
He often walks and connects with people within miles of his central home as part of starting the church. Within two square miles of the creek, people live in eight distinct neighborhoods and communities.
Related: Leadership lids: community/cultural shifts (Whiteboard leadership video)
There is the Old Fourth Ward community with historically African-American churches. However, those churches are supported by people who moved out of Annapolis and come back on Sunday mornings. Few of the fourth ward's current residents attend church, he said.
If you walk in a different direction, people become affluent but spiritually ambivalent. "You're rich and smugly satisfied with what you've made of yourself," he said.
Related: Ohio church combines flexibility, eager faith
At St. John's College, people practice new age religion through reading tarot cards.
On the other hand, several strong Christian ministries serve midshipmen at the Naval Academy, bringing Christ's presence to those who seek him.
"It depends on what corner of the corridor you walk into," Vineyard explained of Annapolis' spirituality. "The people that are most likely to engage in the conversation are actually the people who live on the street where murders happen."
"'You're going to do something for my kids,'" they say to him. "I'll talk to you. You're helping at the community center, I'll talk to you."
The community center serves as a catalyst to begin relationships
College Creek Church is helping at the community center where teenagers can learn skills and have constructive experiences with adults. The time and efforts help the people across the community's cultural spectrum appreciate the new church's value.
Stanton Community Center staff opened an e-learning center in the fall of 2020, so students had a place to study. Many students didn't have Internet access or couldn't otherwise attend school virtually from home. Or their parents couldn't work from home.
So, College Creek Church members started walking alongside kids during the e-learning sessions. Vineyard has been a reading tutor, but others on the team pitched in to help students through the school year with different academic needs.
At the same time, College Creek Church volunteers started helping with the skill development center that complements the e-learning center goals. The volunteers dreamed with center staff about woodworking, art and cooking classes for teenagers.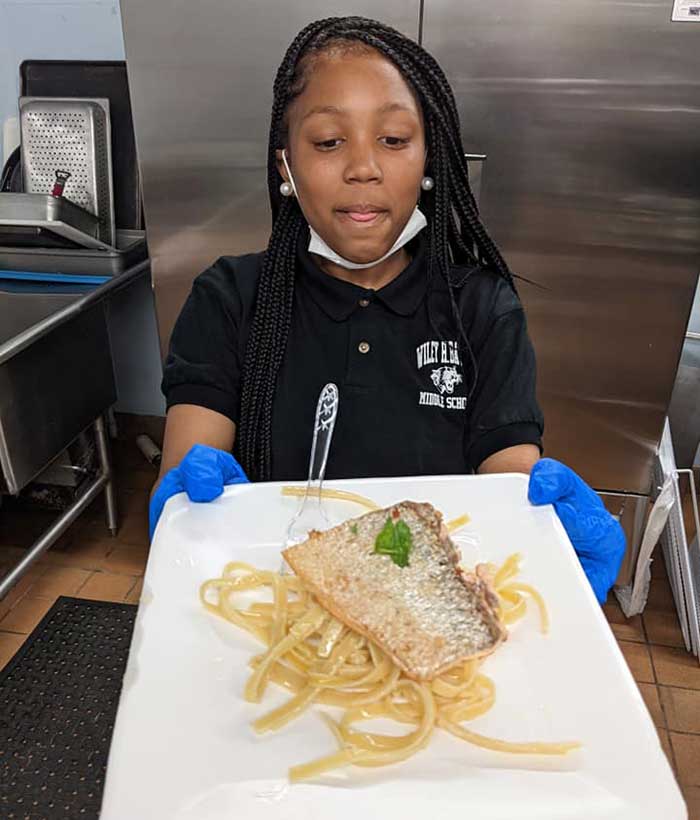 "We ran that entirely staffed by our launch team," said Vineyard. "We work super closely with this community center."
Related: New church reaches beyond the walls
The launch team is offering the classes again this fall for the students in the College Creek neighborhoods. The classes are available to middle school and high school students.
Spiritual conversations can develop with students as they become friends with the team. A group text started among the students and the leaders from College Creek and continued throughout last summer.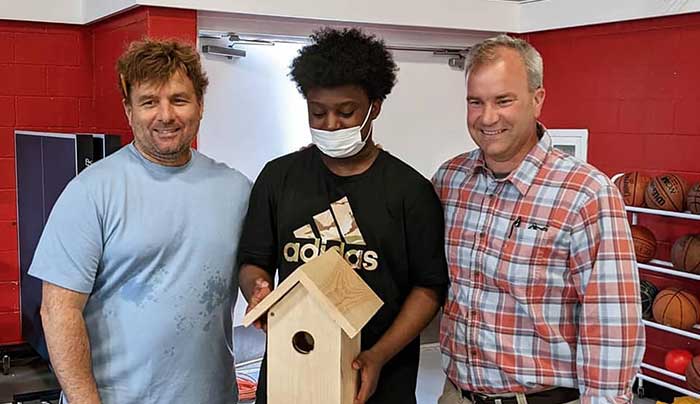 "That has given our leaders the opportunity to proclaim the gospel in the situations of life that come up," Vineyard said. "This has meant inviting [students] to church."
Serving on the launch team
Mel Lewis and her husband joined the launch team as soon as Vineyard invited them to help with the new church.
"I've known Jesus for about 30 years. I get so thankful that I haven't left yet, and I get to be a part of this," said Lewis as she choked up. "I haven't in my experience seen churches like College Creek. It's more being the church instead of doing church."
On the church's second Sunday, Lewis was greeting worshipers as they entered. The breadth of Annapolis' micro-cultures could be seen coming into the building for worship.
Lewis met a 76-year-old black man from a lower-income section of Annapolis. He told people he hadn't been in church since he was 12 years old. But he said he would return because he felt so welcome at College Creek.
Related: Would I be welcome at your church?
At the same service, a teenage girl attended with her affluent family. Later that afternoon, the girl told her mom, "I can't put it into words. I think this is what I have heard a church community should be."
The girl's mom later shared the positive time with Vineyard in an e-mail. She sees God advancing the church's vision to gather the diversity of Annapolis in the unity of worship.
"It's obvious that the Spirit was moving big time," Lewis said.
Her work as a hospice nurse takes her into the diversity of Annapolis regularly. At church, she sees how College Creek brings everyone together around the gospel. "We all have a seat at the table."
The practice of embracing Biblical diversity
Vineyard said he was the first Anglo to live on his street five years ago when he moved into the predominantly black community.
"We're going to pursue this all together," he said, whether people are Anglo, Hispanic, black, young or old, rich or poor. "When I said the Lord was calling me to plant a church in my own neighborhood, there was no way that could be fulfilled in any other way than a church that pursues and embraces Biblical diversity."
Converge's Office of Biblical Diversity has supplied videos and resources to College Creek Church to help with training the team on how to achieve gospel-fueled diversity.
Related: Converge diversity and culture YouTube playlist
Andrew Barzal, who manages the office and communications for a karate school near Annapolis, has known Vineyard for six years. During their friendship, Barzal said Vineyard has been intentional about how he lives his life.
"This is a diverse community that Isaac has been a member of for five years," Barzal said. "Isaac felt that God had put it on his heart to serve his community and God's kingdom in this way. When I heard he was planting a church in Annapolis, I knew that I wanted to be a part of it."
Lewis explained that an unexpected aspect of the diversity comes from men who typically find church uncomfortable. She said several men usually don't feel loved at other churches or even find church painful.
But she said men find Vineyard a place where the pastor creates a new experience for them. She and her husband first met Vineyard four or five years ago. He worked for a college ministry then, serving students like the Lewis' youngest two daughters.
"He just receives people. He loves well," she said. "We've just watched him over and over make this a reality for us. I don't know anybody that lives the gospel like Isaac."
Loving their neighbors in practical ways
Converge aims to plant 312 churches by 2026 so more people meet, know and follow Jesus. A critical effort toward this goal is opening the church's front door by finding ways to welcome people into Christian community.
God is orchestrating many ways for College Creek to do just that.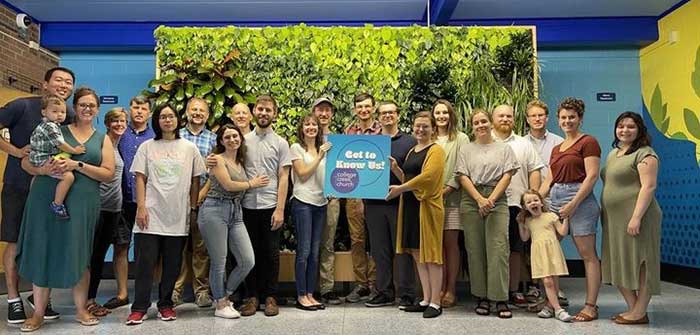 For example, a large church planned a massive community celebration with thousands of eggs to put out for an Easter egg hunt. So when COVID-19 required the church to adjust in April, they already had thousands of eggs packed.
They offered the eggs to College Creek along with books for kids. So, Vineyard went door-to-door with a wagon load of books and bags of eggs. He'd ask each family in an impoverished neighborhood if they would like some eggs to celebrate Easter.
Related: Clean hands, clear vision and community concept: How new churches are reaching their neighbors
A few weeks later, a bakery called him. The bakery said someone hired them to make lots of bread, as long as the bakery would find someone to distribute the bread to needy families. So, Vineyard started going door-to-door again, "just being a presence in the community."
Then, the core team got connected to a food pantry that distributes food every Sunday.
"We keep moving forward," he said of each opportunity to serve their neighbors.
Friendship triumphs over rejection
Part of what enables Vineyard to move forward in loving others is the love he received. At a challenging point in his life, a man offered the Oklahoma native friendship instead of rejection.
There were struggles and realities deep in his life that Vineyard wanted and needed to share. But he expected the worst if he opened up.
"I was convinced that conversation was going to be rejection and ruin," he said. "Instead, he loved me so well and pastored me in that moment and just prayed for me and wept with me."
The man went on to tell Vineyard he wanted to be his friend in the pain.
Related: Your church is reopening and trauma is coming
In Matthew 11, Jesus acknowledges people describe him as a friend of sinners. Vineyard has encountered Jesus and believers in such a way. So, he knows living water flows from his life as the Spirit moves.
"My desire, my passion is building relationships that allow us to be honest and real about our brokenness," he said. "We can find commonality in brokenness and commonality in grace."
Such an experience may yet give Annapolis even more life on the water.
Converge is dedicated to helping people meet, know and follow Jesus. We do this by starting and strengthening churches together worldwide. College Creek Church is among the 312 churches that Converge's 10 districts have committed to planting before 2026.
---
Ben Greene, Pastor & writer
Ben Greene is a freelance writer and pastor currently living in Massachusetts. Along with his ministry experience, he has served as a full-time writer for the Associated Press and in the newspaper industry.
Additional articles by Ben Greene