New church plant hopes to minister across forgotten Florida
Ben Greene
Pastor & writer
Church planting & multiplication
---
Life along the spine of Florida ― say, LaBelle to Lake City ― is 300 miles most people ignore.
Traffic on I-75 between Mayo and Macclenny, way up in North Florida, races somewhere else.
After leaving Lake City in North Florida, maybe veer off course to see the Florida Gators play football in Gainesville. Then again, they fired a couple of coaches recently. Better keep driving toward LaBelle.
A bit farther south and you could stray east toward Orlando and see Converge's national headquarters. Of course, there's also Walt Disney World.
Harmony and St. Cloud, not far outside Orlando, are the kind of towns most people inside and outside Florida ignore. Once you've seen Mickey Mouse, LaBelle is still waiting more than 150 miles away.
Towns named like somewhere else ― Lake Placid, Bowling Green and Arcadia ― fill the forgotten land. Sometimes, Florida's historic figures got creative: Zolfo Springs, Frostproof or Doctor Phillips liven things up a bit.
Down south, not quite to the Everglades, a road goes direct from Fort Lonesome to Yeehaw Junction, population 240. TripAdvisor photos show a faded 'welcome' mural on the side of a Yeehaw Junction building. Another photo shows a jackknifed tractor-trailer truck: the accident destroyed the town's lone motel and bar two years ago.
Upon arriving in LaBelle, the same geographic challenge as Harmony and St. Cloud presents itself.
The city named after a pioneer cattleman's daughters ― Laura and Belle ― is 30 miles east of Fort Myers. The choice is all too easy for hundreds of thousands: skip the ranches. Instead, go to islands to collect shells on sandy beaches.
Or keep going south past LaBelle to arrive in Miami, pulsing with energy and big-city life. The Everglades reward with wilderness solitude. Key West lures travelers to what feels like the end of the world.
The center of Florida is the Sunshine State's flyover country. Go to the Atlantic Coast. Go to the Gulf Coast. Head south. The rest seems just a place to pass through.
But for Trey Warren, it's not. The pastor's kid from Jacksonville just started a Converge church in Harmony-St. Cloud. He had no interest in his hometown ― despite its NFL team and three or four great beaches.
"I wanted to go to places that people had forgotten and looked over and were not really willing to reach," he said. "We want to go to all the towns in Central Florida that people have forgotten and restore those who have been hurt by church."
God's own heart for the harvest
The inspiration and drive for Harvest Community Church started with Lee Stephenson, Converge's vice president of Church Planting. Before that, he planted churches and now pastors the first Harvest Community Church in Orlando.
Warren met Stephenson in May 2020. He told Stephenson about his eagerness to plant a church among overlooked Floridians.
"He leans back in his chair," Warren remembers. "I just planted a church called Harvest Community Church," Stephenson told him.
Warren's heart was immediately intrigued. His life verse comes from Jesus, who said, "The harvest is plentiful, but the workers are few."
Moreover, Stephenson had preached to a large gathering of Converge pastors and members in January 2019. Warren was sitting in the room when Stephenson said, "If Jesus says go, you cannot say no."
Related: When God says, 'Go,' you cannot say 'No.'
The sermon convicted the young man. He later told his dad, "I don't know when and I don't know where, but a timer has started in my spirit. I know I'm going to go."
God's destination for Warren turned out to be the forgotten Florida just a few hours from his hometown.
Harmony-St. Cloud sure isn't Orlando
Thirty-five miles south of Orlando, Harmony-St. Cloud isn't the same kind of community as the more well-known and seemingly attractive city. The interconnected towns have little in common with Orlando or the most-popular sections of Florida.
Harmony, Warren explained, is a white-collar community with lots of high-income families and expensive homes. Eighty-five percent of the 1000 or so people who live there commute to Tampa, Orlando or Melbourne, Warren added.
St. Cloud has an entirely different identity. That town of about 50,000 contrasts Harmony by having more blue-collar residents generally older than those in Harmony.
Even a few years ago, St. Cloud was a lot of cattle and ranch land. Two-and-a-half years ago, Warren went with his wife to St. Cloud. They were newly married and eager to get a dog from St. Cloud.
Related: America's next great mission field
"I remember thinking two-and-a-half years ago, 'Who lives here?'" he said. When they moved to start the church, the community he saw was quite different.
"Is this the same place we picked up our dog?" he asked his wife.
Starting this year, the high school had a waiting list for students to get in because of the massive population shift. In addition, there are vast neighborhoods of homes just built or under construction.
Warren said 70% of the people in St. Cloud before 2020 were Anglo; the rest were minorities. However, since 2020, Warren said there's been an explosion of growth among Hispanics.
"We are seeing a huge shift in ethnicities and culture," he said of a place that has been like a "big small town."
In both towns, Warren is encountering more and more new residents.
"I've talked with a lot of people who have moved here," he said. "They're looking for a church. They have come from really religious backgrounds."
People often tell him they struggled with faith. Most times, they thought God required them to earn a good relationship with him.
A pastor prepared for people he'd never met
Decades ago, Christians started an independent fundamentalist Baptist church near Jacksonville. Warren said the church was conservative enough at one time that some felt pressure to have specific haircuts or avoid seeing movies.
Even so, the church his great-grandparents helped start had a spiritual influence on him. His grandfather was the high school principal, both grandmothers taught there and his aunt was responsible for the school's finances.
His dad is a pastor at the church, which also has a school. His uncle is a 5th-grade teacher. In addition, his great uncle oversaw the Bible department.
"I got away with nothing growing up. Absolutely nothing," Warren quipped.
While Warren was away at college, the then-independent church connected with Converge leaders. As leaders shared how the movement helps people meet, know and follow Jesus, they decided to affiliate with Converge.
"They understood church wasn't perfect in 1972," Warren explained. "I came back to a completely different church. I started volunteering for the church I wanted to leave so badly."
Related: "A God thing: School principal's suggestion leads to unlikely church plant
As a volunteer, Warren's gift for preaching emerged alongside a passion for forgotten people. But Warren stayed focused on helping where necessary. After a few years, he became the middle school ministry's director and eventually became the student minister.
Now, when people talk to Warren, they find a pastor prepared to help them follow Christ. He has navigated the spiritual influence of a very-religious church that changed to embrace the gospel at a deeper, more comprehensive level.
"I have seen God's word as a weapon and I've also seen God' word as a tool of healing," he said. "I definitely want to help people see that God's word is helpful, not hurtful, for your life."
Related: Does kindness matter?
Many people, Warren says, wrongly believe their mistakes and successes define them. "If I do good, I get good," he said. "If I do bad, I get bad."
For those who've grown weary under such a religion, Warren shares the gospel that has changed his view of living for God.
"I know exactly what you're walking through," he tells people. "I know what true freedom looks like in Jesus."
The harvest can be plentiful
So, Warren and his wife, Lauren, and their 10-month-old son are committed to serving the least-respected of Florida.
"Our goal is to plant churches down the spine of Florida," he said. "We would love to have 50 Harvest churches when all is said and done."
He's quick to point out that it's not Harvest churches themselves that are the answer.
"We're wanting to help people know Jesus," he added. "We want to make it really hard for people to go to hell."
Related: Who is my neighbor?
He and the team helping start the church, which first worshiped together on October 24, see their part of Florida as a place that's over-churched but under-reached.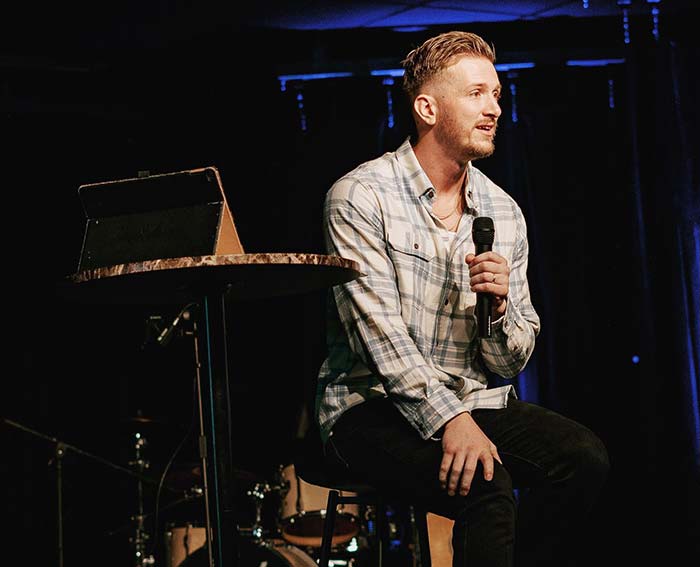 Fortunately, Warren said his ministry partners are hard-working, hospitable people eager to love their neighbors with open homes.
"When they have enough, they don't build taller fences. They build longer tables," he said of the team. The people who've been gathering in meetings to help form the new church's identity and strategy have opened their homes again and again, he said.
Open the front door
God is working through the church, which saw five salvations in the first three weeks of gathering. At least one of those came from someone who invited their friends to the new church.
"One of his friends is going to spend eternity in heaven," Warren said, noting the power of inviting people to worship.
Related: Join us! The power of an invitation
Florida needs the small towns and the sand under the spine of the Sunshine State. Sure, the coasts have all the fun, the crowds and high property values. But the long stretch from Lake City to LaBelle isn't just for accelerating through or avoiding.
The Father loves these forgotten people. He values them far more than oceanfront property, sports or space travel. Jesus came from the Father, by the Spirit, to demonstrate a sincere commitment to the overlooked and undervalued people in every place.
In Jesus' day, some places seemed more worthy of attention. For example, the city of Jerusalem compared to Nazareth: "Can anything good from there?" People wondered these things in Christ's own presence.
In the same spirit, some people attracted more attention and respect. The Pharisees with long flowing robes or rich people giving large sums of money come to mind.
But in every place, among all kinds, Jesus called to everyone without fear or favoritism. The Lord saw the fields white with the harvest of people that most ignored or rejected.
The team starting new churches in Florida believes Jesus still sees the same potential when he looks upon Macclenny, Yeehaw Junction and other towns.
"Central Florida's not sexy," Warren said. "Wherever there's a Winn-Dixie or a Publix, we want there to be a Harvest."
Harvest Community Church-Harmony/St. Cloud is one of 312 churches Converge's 10 districts committed to plant before 2026. Read more inspiring church planting stories and learn more about the goal to plant 312 churches in five years.
---
Ben Greene, Pastor & writer
Ben Greene is a freelance writer and pastor currently living in Massachusetts. Along with his ministry experience, he has served as a full-time writer for the Associated Press and in the newspaper industry.
Additional articles by Ben Greene