Epic hero: Milwaukee church introducing people to Jesus
Ben Greene
Pastor & writer
Church planting & multiplication
---
People around Milwaukee don't often speak Koine Greek. Does anyone make conversation in a 2,000-year-old language?
There's one Koine word ― epikos ― worth knowing because of what God is doing. The word epic is derived from the Greek word epikos, which means a poetic story usually related to heroic deeds of someone with unusual courage. This Greek word for epic is a fitting name for a new Converge church near Milwaukee.
Epikos Church's Mayfair Road campus opened in March 2021 in Wauwatosa, WI, after more than a year of pandemic adjustments and renovating the previous church building despite supply-chain delays.
Finding a path from adversity to fruitfulness
Epikos Church values community. The church equally values worship, service and multiplication. Those values depend upon Jesus Christ as the redeeming hero of an epic, the ancient form of a poetic story.
The church hopes Milwaukee families will feel the unceasing current of Jesus' love, joy and grace. Therefore, Milwaukee's families might learn at least one word from the original language of the New Testament.
Mayfair Road's core team met once in person a year ago, according to campus pastor Frank Gil. Then, the pandemic forced all the church opening preparations to happen in digital ways. What had been a traditional launch path for the Mayfair Road team became a journey with no map.
"We don't have a ton of examples in history for what to do," Gil said. "But we're going to be as faithful as we can with the resources we have in the midst of this unique season and be as creative as we can."
Related: Church planting: How it looks different in 2021
The church where Epikos Church worships in Wauwatosa needed renovations. So, the church purchased the building months before the original launch date, leaving plenty of time for construction work.
However, there were supply chain issues in the construction industry during the pandemic. These issues overturned all the plans and timelines for the builders.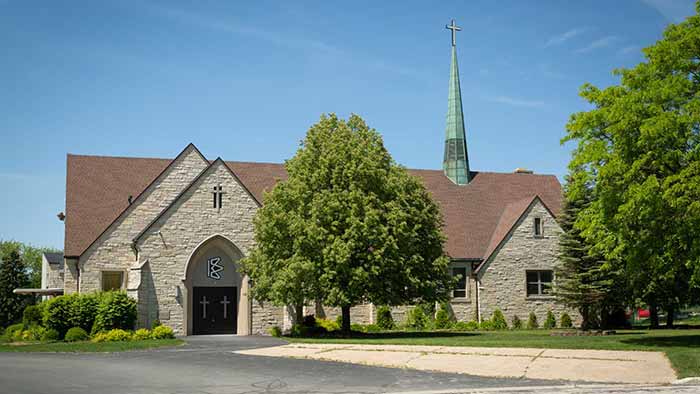 Once the building was ready and pandemic restrictions allowed in-person gatherings, the Mayfair Road team had two weeks to prepare for Easter. Originally, they would have had five months.
Not that God struggled in the least. The redemptive hero of this Greek epic is Jesus Christ, the King of kings and Lord of lords.
Since Easter, 13 people have trusted Christ as their Lord and Savior through the online services of Epikos Church. Two people at the Mayfair Road campus were baptized and six families dedicated their children in April.
"In adversity, that's when the church most flourishes," said Gil.
How does Epikos function as one church on four campuses?
All Epikos Church campuses have certain common experiences. Every campus has the same Sunday sermon for example. The campuses are considered one church with one senior leadership team.
Each church service is one-hour long, emphasizing gospel-centered worship and Bible teaching.
But each campus has its own pastor, Gil being the newest. He was a student pastor for Epikos Church before becoming a campus pastor.
Each campus also has its own Epikos groups. These small groups meet weekly to deepen relationships among Christians and discuss the sermon and pray together.
Starting a church during the pandemic was a return to Biblical Christianity, Gil said. Mayfair Road leaders emphasized being with the people or talking with people as much as possible.
At one point, he called every one of the 120-plus people on his launch team just to connect and maintain momentum for the church plant.
From hurting church attender to helping start a new church
A year ago, Scott Covelli and his wife joined the team of people helping to start the new church. He's worshiped at Epikos since 2007 but the church became a deep part of his life during a struggle.
In 2017, he and friends met weekly for encouragement and growing in the faith. Throughout the next couple of years, he endured a painful divorce.
"I remember sitting in church and I was literally surrounded by my friends in this moment where my life was falling apart," he said.
That small group in his church, plus the pastors and staff, were comforting when they needed to be and challenging with words of truth spoken in a supportive way.
"I've walked with the same people all the way through, into this kind of new stage of life, with them encouraging me along the way," he said. "It's Christ using Epikos, this community of believers who is going to stand by my side."
By standing with these Christian friends during a fierce struggle, Covelli was able to date and eventually marry again, he said.
How can we serve in a gospel-centered way?
When Epikos Church purchased the Mayfair Road building from another church, ministry relationships came through an existing food pantry.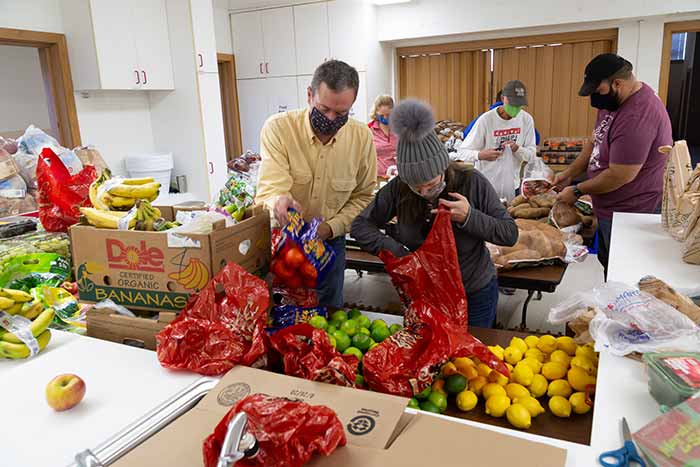 About a dozen people who went to the food pantry seeking help ended up asking, 'Can we come to your church?' Of course, the volunteers warmly welcomed them to come to one of the two services.
"There's new folks every week," Gil said. Easter was overflowing with people, some of whom ended up worshiping in the parking lot when the inside worship space filled.
Related: "We look for the ones that aren't churchy"
One of those visitors was a woman Covelli spoke to between services. She was attending for the first time.
She'd received a flier in the mail, inviting her to church back in March. But it wasn't until she was driving somewhere else on June 27 that she decided to just pull in for a service.
Covelli doesn't know the future of course. But he recognizes God using new churches to continue to advance the gospel. Converge has a goal of starting 312 churches by 2026 for visitors just like the visiting woman he spoke with.
"It wouldn't have happened if God hadn't put the church on Mayfair Road," he said of the woman's last-minute visit.
Finding the church's sea legs
Epikos Mayfair Road has found its 'sea legs,' Gil said. Helping a launch team navigate a pandemic right up until Easter didn't leave much time for the volunteers to get up to speed.
But Gil said all his volunteers have done a great job. The church had a celebration in early June. There was so much to celebrate and appreciate for all the people who started a church with masks on. As soon as the local government ended the mask mandate, the volunteers were ready to rejoice and honor one another.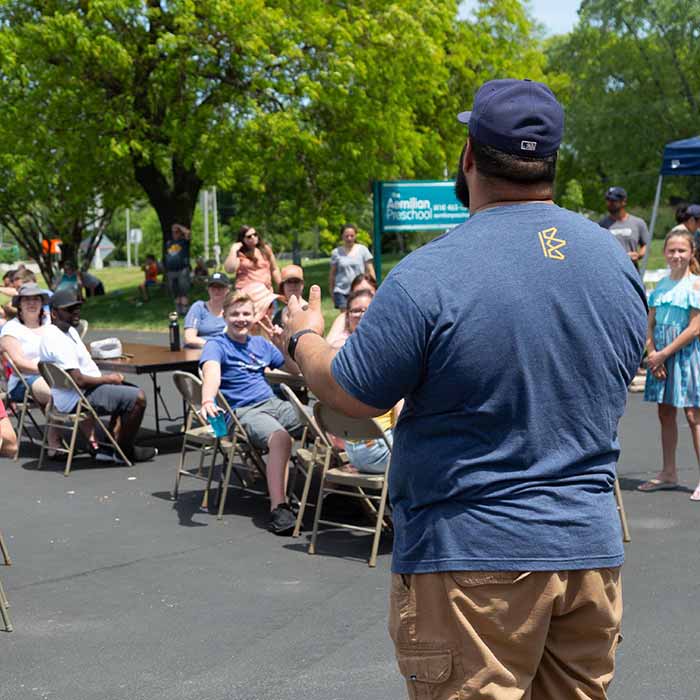 God is at work in an epikos way
Gil is quick to celebrate all God has done and the ways Jesus has been a hero so far with salvations, baptisms and child dedications.
Even more so, he sees God at work in an epic way with some hard situations for families in his church and community.
"The underbelly of being in quarantine bubbled a lot of sin and unresolved tension in people's lives," he said. "Now people are trying to redeem broken situations."
Gil has had some people come to him with addiction struggles and is counseling other families through challenging marriage situations.
No matter what challenges of life the staff, volunteers, and attenders of Epikos Mayfair Road encounter, they know that they are worshipping Jesus Christ, the epic hero of the greatest story of all time – the story of mankind's redemption through his death and resurrection.
"I'm walking through heavy stuff with some people from our church," he said. "Jesus is the hero of it all. We need him in those moments."
Epikos Mayfair Road is one of 312 churches Converge's 10 districts committed to plant before 2026. Read more inspiring church planting stories and learn more about the goal to plant 312 churches in five years.
---
Ben Greene, Pastor & writer
Ben Greene is a freelance writer and pastor currently living in Massachusetts. Along with his ministry experience, he has served as a full-time writer for the Associated Press and in the newspaper industry.
Additional articles by Ben Greene