Linguist helps Southeast Asians decide to follow Jesus
Ben Greene
Pastor & writer
---
At first, Anne's (name changed for security purposes) professional needs resemble almost any job — reliable internet, a good printer, a store to buy ink cartridges, mobile phone service and a workspace free from frequent distractions.
However, her work is far from ordinary office tasks; the daughter of missionaries is using her Ph.D. in linguistics to create alphabets, hymn books and Scriptures. She lives and serves in a Southeast Asian country she calls "a linguist's paradise."
There is a thorn in this garden: People often can't read or write because of the region's diversity and complexity of languages. Therefore, they have very little access to Scripture in their native tongue. Ministries that make disciples struggle to advance without God's word available to people of animistic, Hindu and Buddhist faiths.
"You can't teach people the Bible if they don't know how to read or write," she said. "You can't do church planting if people can't read or write, or people don't have a Bible."
Southeast Asians have a tremendous eagerness for God's word
Anne lived in Southeast Asia until she came to the U.S. to attend Wheaton College. After graduation, she met a Wycliffe Bible Translators employee who said she had the skills and background to be a Bible translator. So, Anne invested years in earning a master's degree and a Ph.D. in linguistics.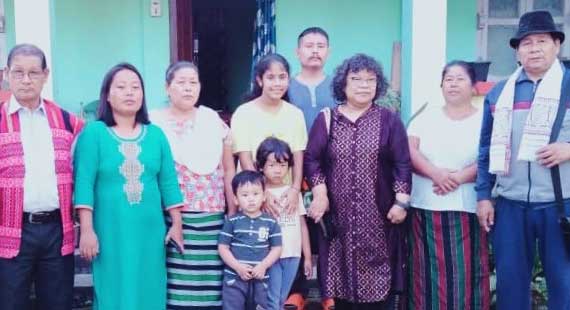 Now she lives in a relatively large city where she has workspaces for Bible translation with trained, local translators. They leave their village life for a few weeks to engage in 10-hour days using Paratext, FLEx, SayMore and other linguistic tools to spread God's word more widely.
When she first arrived in the summer of 1995, there were Bible translations in process for two language groups. At the same time, no one knew how many languages were in the area or which languages were related. What equaled great opportunities for linguists also meant tremendous challenges for making disciples of least-reached peoples.
Related: Converge aims for gospel movements among least-reached peoples in one generation.
The results since she arrived in the summer of 1995 are many. She's created five alphabets, three or four hymn books and three dictionaries. In addition, she and her team have printed the gospels for one language group, the New Testament for a second group and the Old Testament in a third language.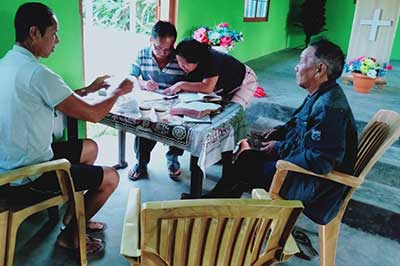 "People are really, really anxious to get a Bible in their language," she said. "There's a huge demand from the Christians to have the Bible in their own language."
Peter* (name changed for security reasons) types and edits songs as one of Anne's partners in making Scriptures, music and lessons available to these least-reached people. That, plus the alphabet Anne created, helps people learn to read God's word and follow Christ.
"Even children from families of believers do not know anything about the Bible as they do not receive instruction at home," Peter said. "Consequently, those who attend Sunday school regularly know more about the Bible than their parents."
Related: Global workers can do many kinds of ministry; what could yours be?
A primary motivation in her community comes from people who want to hear from God because many of her neighbors are terrified.
"They live in fear of evil spirits," she said. "When they become Christians, they are able to overcome their fears. That's what attracts a lot of people."
Related: Christ's power and life defeat evil and fear in Togo and Benin.
A strong sense of community aids people as they face hardships of language and life
Mudslides, limited medical care and sparse cash supplies can create challenges in Anne's region of Southeast Asia. But, simultaneously, the people form tight-knit communities that support one another, especially within extended families.
"People help each other because they don't have resources," she said.
Many in the area are subsistence farmers with enough food to live on but don't necessarily have money for health conditions, for example. In addition, no one has focused on preserving the languages of these people by creating writing symbols or making books. Many minority languages are pressured, perhaps to extinction, by more prominent, more popular languages.
Anne engages in what linguists call language documentation as part of her work. Creating alphabets, dictionaries and songs means children can learn these minority languages and aid in their preservation.
Her impact for Christ is part of her life's influence. In addition, God uses her to impact the culture in other ways. For example, one alphabet she made in a minority language was the first such tool recognized by her country's government for use in schools.
"No one else has really focused on preserving these languages," she said. "People really appreciate that I've made the effort to make dictionaries in their language."
Related: A family in another Southeast Asia community is using professional skills to make disciples.
Making the church strong
These Southeast Asian communities include a lot of really, really small churches with pastors who work full-time careers. She explained that pastors serve because they have leadership ability or can read the Bible. The church in her region developed strong faith, in part, because of translated hymn books and Christian literature.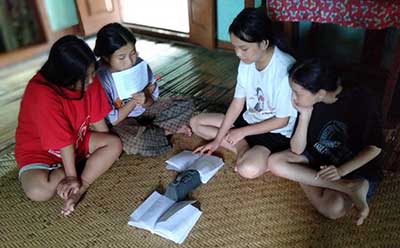 Anne is part of a local church where she participates in the children's ministry. One of her contributions is teaching the children hymns during Sunday school. A secondary benefit to this is that these children are learning to read and write in their language so they can grow up and maintain the language as more popular languages pressure the less known ones.
Sometimes those children come with Peter on mission for Christ to visit people at their homes.
"These are great opportunities for making friends and a real boost to the ministry," he said. "People appreciate prayers and if there is an illness in the family, we pray for them as well."
These Christians aren't passively waiting for a Bible, even though they know Anne is working toward that goal. In the meantime, the people treasure hymn books, so Anne has translated several of them.
Some people learn to read in that way and come to know parts of the Bible. She's done three or four reprints on the large printer in her home in the city because the churches asked her for more copies as more people wanted to sing the hymns.
An ancient hymn written by persecuted Christians continues to be sung in her part of the world. This hymn, I Have Decided to Follow Jesus, resonates with her fellow believers. They are sometimes persecuted by rejection and exclusion from their families when they follow Christ.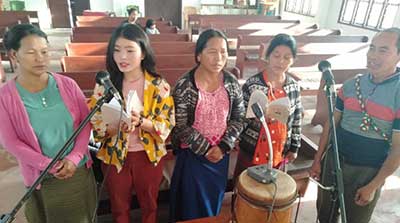 Her reward is also the foundation of future ministry
She's working on Bible translations, dictionaries and alphabets with indigenous people to create a receptive opportunity to which church planters can come.
When church planters come, they'll be able to create churches that can devote themselves "to the public reading of Scripture" as Paul exhorted Timothy to do.
Related: Reading God's word is making disciples around the Mediterranean Sea.
"For me, the reward is seeing people when they start reading the Bible in their language," she said. "When I first started working and visiting villages, the women who were less educated would say, 'I want to hear God speak to me in my own language so I can understand what he wants me to do.'"
Converge is asking God for a gospel movement among every least-reached people group – in our generation. Learn how we are playing a role in accomplishing the Great Commission and how you can be involved.
---
Ben Greene, Pastor & writer
Ben Greene is a freelance writer and pastor currently living in Massachusetts. Along with his ministry experience, he has served as a full-time writer for the Associated Press and in the newspaper industry.
Additional articles by Ben Greene