Former cage fighter turned church planter now fights for people the church has hurt
Ben Greene
Pastor & writer
Church planting & multiplication
---
Spears Gym in Cincinnati had fight days when Converge pastor Justin Schultz was a teenager. Men weighed in, paid $20 and signed a waiver to fight inside the cage. Fueled by anger and jammed-up energy, Schultz entered the cage again and again to fight.
"I fought five times; I was 4-1," he said. "Then I quit to become a pastor."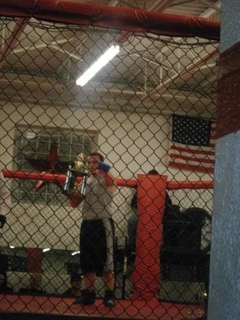 The 31-year-old leads Heart + Soul Church in Princeton, Texas, to be salt and light. "We'll never be the church that forgets about its community. Members of our church have permission to confront me if we're not involved in the city."
So far, no one's needed to confront the former cage fighter. Since Heart + Soul launched in January, members volunteered with People Feeding Princeton, a community organization in the town of 22,000 people. A special portion of the Converge Southwest church's budget is dedicated to local mission and outreach in the town northeast of Dallas.
Broken family and broken laws lead right to Christ
Growing up in a rough neighborhood in Cincinnati, Schultz, his family and his community struggled. Most people had low-paying jobs. Alcohol and gambling addictions tanked his family's intimacy and well-being. His parents divorced when he was 8. He has a brother eight years older and a sister 14 years older. They've never been to church at any point in his life. After the divorce, Schultz went to live with his dad, a factory worker who left early every morning for his shift.
"My parents never knew when I was in school," he said. Which he often wasn't, missing as many as 60 or 70 days a year. Schultz's dad called the cops several times for the teenager's threats against him.
One school day, he and some friends took someone else's car keys at school. Next, Schultz drove the car off school property with his friends. They were driving back to school, hoping to return the car with no trouble. Instead, Schultz ran a stop sign. Immediately, he totaled the car in an accident. Schultz had to pay fines after the car wreck. The judge also ordered him to see a social worker every day. Schultz's broken family and bad choices had control of his life.
"She'd invite me to church so much she got on my nerves"
He had to meet the social worker, Sonia, at his high school, which drastically improved Schultz's attendance record. She often told Schultz, 'God loves you and has a plan for your life.' She attended a local church. He was ignorant of the gospel.
"16 years old, I'd never even heard the name Jesus," he said of how unusual his conversations with Sonia were. "I'd always tell her God isn't real."
Despite his unbelief, Schultz would find reasons to see her during school hours. He would pretend to fight to see Sonia. Another time, he'd use his anger as a reason to visit Sonia.
Related: Join us! The power of an invitation
"She'd invite me to church so much she got on my nerves," he said. He finally went to church to "silence her." Instead, "I fell in love with it," he said. "I never stopped going."
The next summer, he went to camp with the youth group. Since he was unable to afford it, Lindenwald Baptist Church paid his way. Their sacrifice was well rewarded: He chose to become a disciple of Christ. He also came home wanting to enter full-time ministry. But church leaders gently encouraged the young man to slow down on being a pastor. He did a six-month internship at the church, where he did all the tasks he didn't know pastors do. He folded chairs, vacuumed and took out the trash. Since he was a junior, he volunteered in the middle school ministry and children's ministry.
Those six months only confirmed his calling to ministry. The church encouraged him to go to a Bible college. However, he hated the school's conservative culture and strict rules about student behavior. He quit after a year and moved to Denver. His youth pastor from Ohio was out there starting a Converge church.
Discovering church planting as a form of pastoral ministry
After two positive years in Colorado, Schultz moved to West Texas in 2012. He had a friend from Bible college pastoring a small country church. While living in West Texas, Schultz met his wife, Elaura. They got married and moved to McKinney, a rapidly growing suburb north of Dallas.
In McKinney, Schultz reunited with his college pastor from Lindenwald. Randy Moore had left the Ohio church to plant Revolution Church, a Converge Southwest congregation. Geographically and spiritually, God was leading the Schultzes closer to his will for starting a church. Schultz and Elaura stayed there about two years and felt like it was time for him to become a pastor of his own church. His heart was to start a new church, but Elaura wasn't fully convinced. So, Schultz became pastor of a Cincinnati church.
"My first Sunday there, I knew I'd made a mistake," he said. "It's so much in my DNA to build something from scratch."
Let's try that again
Schultz and Elaura saw God at work as he pastored the 70-year-old congregation in Cincinnati. More people were coming; God was changing lives and doing what he does. But he was not wired for pastoring an existing congregation.
"My heart has always been drawn to people who are disconnected from God, who hate church or who are 'church hurt,'" he said. At an existing congregation, "that's not really who you reach. God used that [experience] to tell us you should start a church."
Schultz ended his pastorate. They moved to Princeton after considering several growing towns to begin a church. They drove through five or six cities, suggested to them by Converge pastor Brad Wilkerson and Schultz's college pastor, still serving in McKinney.
"We settled on Princeton, mainly because it is the fastest-growing city in the county. Tons of young families are moving here," he said.
Princeton has an estimated 22,000 residents now. But 10 years ago, about 5000 people and a few restaurants were in the small farming community. Now, thousands of homes are being built every year. People are moving from California, Utah and Oregon. The first Walmart opened four years ago. In Princeton, most apartment buildings have about 10 homes. The complex where the Schultz family lives has 200 units. It is the town's first major apartment complex. The change is also affecting the city's values and decisions at the voting booth. For the first time, Princeton has a woman as mayor, a Black member on the city council and a Hispanic person on the school board.
What difference is Heart + Soul making?
Mayor Brianna Chacón has lived in Princeton for 16 years. She said the population quadrupled in the last 15 years. Princeton is the fastest-growing city in Collin County, and Collin County is the fastest-growing county in Texas. Texas is one of the fastest-growing states in America.
"The Holy Spirit told Justin to be here, and he listened," she said. "Heart + Soul came at a time where people were broken, scared and the nation divided. But through Heart + Soul, Princeton is seeing a revival. We are seeing people of all colors, political backgrounds, ages, genders all unite for the same reason: to show the world the love of Christ."
Chacon said many people traveled to surrounding cities for church instead of staying in Princeton. She said there are many great churches there. But Heart + Soul is a church that preaches the Bible and lives it, offering "truth but surrounded in grace."
She knows many who are "church hurt" who quit church. "There's a buzz around the city about the church that has drawn people in, and they stay once they realize they just walked into a family." She said the new church has seen God restoring marriages, changing lives and leading people to salvation and baptism.
Likely the youngest pastor in Princeton by 30 years, Schultz said Heart + Soul is the only modern expression of church in Princeton. They have a relaxed, one-hour service. They provide coffee and doughnuts and do Maverick City or Elevation worship. By meeting in a school auditorium, avoiding a denominational name and lacking a steeple, they have an open door with people who avoid a certain type of church or have been hurt by churches.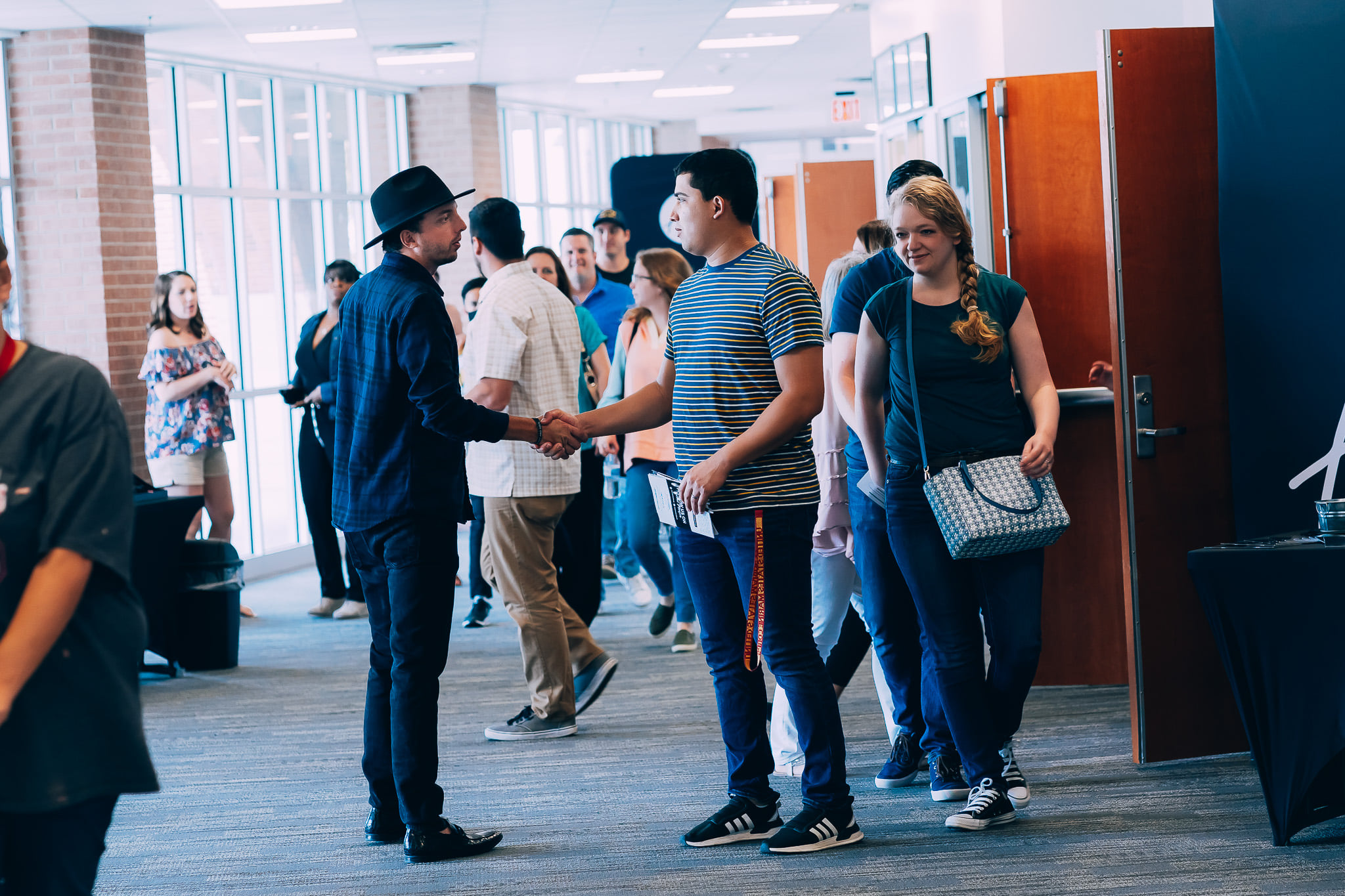 Heart + Soul first worshiped together January 24. Schultz said the church is happy to meet in a school and be part of the community. He said starting a church during a pandemic is hard because most of the planning had to happen digitally.
How are people responding to God?
He doesn't find opposition to God all that much in Princeton, even though people are moving there from less religious places. While these new young families may not be religious, that doesn't mean they're opposed to encountering God.
Related: Church planting: How it looks different in 2021
"A lot of what I experience with people is they love God and love the idea of God," he said. "But they're sick and tired of religion and church rules, church not speaking on racism and hate, church not being involved in their community."
A major initiative of Converge is tearing down the walls inside the church to increase the unity of people who name Christ as Lord. One of the best encouragements to Schultz, as a Converge church planter, is resources from the Converge national office. He regularly listens to a podcast by Lee Stephenson and Danny Parmelee on church planting. The Whiteboard Leadership training videos by Converge president Scott Ridout also give Schultz wisdom for his ministry.
"I don't know any other church planting organization that's doing those leadership whiteboards or podcasts," he said.
Learning from his leaders comes naturally to Schultz. When he was fighting in the cage, he says it was a lot of fun. He still likes to watch UFC matches on TV. But Schultz said he was also running from his calling to be a pastor. After a fight one weekend, one of his pastors from Lindenwald said, "What are you going to do if God calls you to preach and you get knocked out one day and can never speak again? You'll go your whole life not being able to do what God told you to do."
Sonia, that high school social worker, was a massive influence. A few Sundays ago, as Schultz spoke to Heart + Soul about the church's vision, he shared Sonia's story. He told them how the social worker spoke openly with him about the love of Jesus.
"The reason I'm here preaching the gospel," he told his fellow worshipers, "is because a lady in her mid-30s took a chance on a punk teenager and told me, in a public high school, Jesus loved me."
Six months after Schultz chose Christ as Lord, Sonia died unexpectedly. "All of the people that we'll reach in this church is because of her," he said.
Our communities need more gospel-centered, community-reaching, Bible-preaching, multiplication-minded churches. Converge's 10 districts have committed to planting 312 churches before 2026. Find out how you can help make this a reality.
---
Ben Greene, Pastor & writer
Ben Greene is a freelance writer and pastor currently living in Massachusetts. Along with his ministry experience, he has served as a full-time writer for the Associated Press and in the newspaper industry.
Additional articles by Ben Greene