Iowa church multiplies to reach rural community
Ben Greene
Pastor & writer
Church planting & multiplication
---
Seven years ago, Denise Hartnett retired after 20 years of youth ministry near her Williamsburg, Iowa, home. Then, she and her husband, Mark, started driving 20 miles to worship at a church in a nearby town.
The Hartnetts would have worshiped in their hometown if a church like they sought came to their town of 3000. Then, earlier this year, they saw a flier sharing that CityPoint Church was starting a campus in Williamsburg.
"We need to try this out," Mark Hartnett said of his thoughts after seeing the promotion. The Hartnetts went to informational meetings, learned more and ultimately joined the CityPoint-Williamsburg core team.
"It was the church that we were looking for," Mark Hartnett said. "They're there to point people to Jesus."
The church's first worship service happened on Sept. 18, with Erica Tharp as campus pastor.
When love comes to town
Tharp said CityPoint's defining trait is being a "no-matter" church. The congregation accepts neighbors, family and friends no matter what they've done or experienced.
That's a message CityPoint says every week, according to Marci Mohr. She noted the town of 3000 needs to hear such words because many in the community don't attend church. She added that even fewer attend church now than in the last few years.
"CityPoint looks outward and that is what is so great," she said. "I can't wait to see what the years bring and the people that we bring in."
To Marci's husband, John, Bible teaching and contemporary music were very important so a local church could welcome those far from Christ. He's seen congregations like CityPoint in other towns, so he's glad to be part of the team.
"To have that chance here in our small town was great," he said.
Related: 10 ways to reach your rural community with God's love
Life groups, Sunday worship and kids' ministry share love
The Mohrs worshiped for years at a town church and John Mohr served on that church's board recently. Even though the Mohrs wanted a church like CityPoint, they more strongly desired to worship in their community.
So, when they saw flyers for CityPoint in February, they immediately got excited. Then, they went to gatherings that shared the church's identity and purpose. Finally, the kind of church the Mohrs hoped for 18 years ago when they arrived had come to town.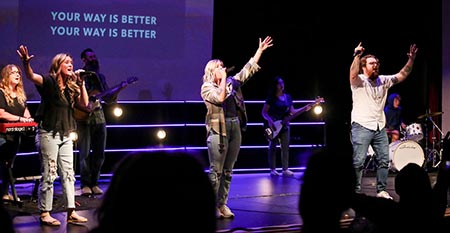 It isn't just Marci and John: Their young adult daughter is a praise band musician, and their 16-year-old son serves at CityPoint.
"We're committed to seeing this church succeed and will do whatever we need to do to bring more people to Christ," she said.
Related: Minnesota church sent its people out of the church — to go start a church.
That's precisely why CityPoint exists, Tharp noted. She said the church currently emphasizes kids' ministry, Sunday worship and life groups to create community for people. CityPoint is a congregation that puts love first and accepts people journeying toward a new life in Christ.
Tharp said that church attendees had hurt many in the community or the townspeople haven't attended since they were kids.
"A good number of people have tried church once or twice and hated it and never went back," Tharp said.
Mohr explained that creating a moment when people can be vulnerable or genuine about their life has been attractive to the town. As a result, she said she sees visitors at CityPoint every week.
"I think people are looking for something different, a more authentic experience," Mohr added.
Related: A Washington pastor builds his church through vulnerability.

An uplifting message for those without hope
In response, CityPoint proclaims and demonstrates the love of God as often as possible. Every conversation about the gospel and all worship services seek to show and tell people how God loves them.
"The more love we show you, the more you're going to want to know Christ," Tharp added.
God is using CityPoint Church to bring hope and joy to many townspeople. Iowa is full of friendly, hard-working people whom Tharp said have grit. They help one another by getting up early and staying up late doing what needs to be done.
At the same time, she said Satan is the same old enemy who seeks to kill and destroy. Thus, the enemy finds unique ways to harm Iowans and steal hope and joy, even in small, vibrant towns.
"They can feel like there's no hope, no peace and nowhere to go from here," she said of some of her neighbors.
However, the church has an uplifting message: "There's love and there's hope and there's joy and all the fruits of the Spirit," she said.
Getting scrappy about hospitality and holiness
CityPoint strives to show people how they can apply God's word. It established this commitment at its original campus in Washington, Iowa. Therefore, the new campus in Williamsburg includes time after every sermon to respond to God's word.
"We're going to convey the truths of Christ in a way that's relevant and makes sense," Tharp said.
In addition, John Mohr said CityPoint's decision to meet in a school means some people have less anxiety than if they visited a church building. That location means more work, such as setting up and taking down equipment. But he said that's not too much to ask when he sees the benefits to the community.
"If it brings people to Christ, that's what it's all about," he said.
Related: Imagine the people brought in by all the churches planted since 2020.
Tharp added that CityPoint focuses on doing its best, even if it means being "scrappy" to serve visitors with excellence. The church's core team and staff think through the details of the environment and seek to benefit the people of Williamsburg.
"Guests are coming, and we want to be prepared for our guests," she said.
Who will reach the millions who live in hundreds of small Iowa towns?
The Hawkeye State has about 500 towns with less than 10,000 people. Therefore, more than two million people don't live in the state's larger communities that often draw new churches.
God's love and power motivate CityPoint's core team to engage in Williamsburg. In future years, they also want to see more churches in the rest of Iowa's small towns.
"God really cares about rural Iowa," Tharp said. "We're going to go plant churches where no one's going to go plant churches."
Related: Two church leaders drove 2000 miles in the Midwest to see friends at rural churches.
That desire of CityPoint Church drew Denise and Mark Hartnett into the adventure. She said the church made Jesus the bullseye as the church's teaching encompasses all of whom God is. Therefore, Williamsburg's people can walk in Christ's love and power amid the concerns of this world and this cultural moment.
"It's a whole new style of church," Denise said. "We're here to point you to Jesus and walk along that journey with you to be with God in eternity."
Converge's 10 districts have committed to deploying 312 church planters before 2026. Read more inspiring church planting stories and learn about the goal to send out 312 church planters in five years.
---
Ben Greene, Pastor & writer
Ben Greene is a freelance writer and pastor currently living in Massachusetts. Along with his ministry experience, he has served as a full-time writer for the Associated Press and in the newspaper industry.
Additional articles by Ben Greene