How your church can focus on missions
Jimmy Smith
Converge U.S. church mobilization specialist
---
As missions leaders gathered at The Rock church in Denver, I had just started as church mobilization specialist with Converge. The key part of my role is to serve churches in the direction of the least reached.
I was very excited to meet Jim and Tish Joros of Crow Hill Bible Church, Bailey, Colorado. They were at the meeting to learn from others. But as they shared their story, I could see how my new role was going to be monumental in helping our churches. Jim, now retired, was a sponge, soaking up all the information he could glean. As I explained how I might be able to serve him and their church, Jim was so thankful for the help.
"We barely know how to spell 'missions,'" he said. "Now we are leading this for our church. We need help."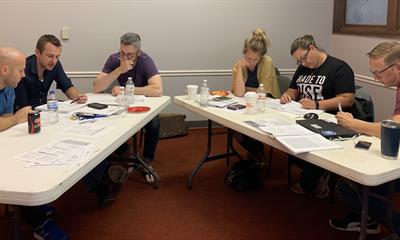 Jim and Tish had an uncommon tenacity about the responsibility they had at Crow Hill. I was so impressed by their desire to move forward and make a difference. Soon, we began working on the new 2:10 Missions FOCUS strategy (from Ephesians 2:10) with their team. With buy-in and blessing from lead pastor Josh Sorrows, Crow Hill's FOCUS Selection Team started examining how God had uniquely equipped their church to reach the nations.
Next, we moved into selection, where many weeks of prayer, research, conversations and meetings took place to look for alignment with a missions focus. Now, with confidence, they believe God is leading them to a two-year partnership with the Converge team in Togo, West Africa.
In December, a survey team of four from Crow Hill will visit the 6° Initiative team. They will explore how their church can come alongside and help "own the mission" of reaching the least reached of Togo. This is more than just a church sending a monthly support check. This is a church learning how to go "deep and long" into effective ministry partnership.
Crow Hill Bible Church is just one example of a Converge church benefiting from 2:10 FOCUS. Stapleton Church in Denver identified how to go "deeper and longer" with its missionary partner in Estonia. Torch of Faith, Grayslake, Illinois, which began the process in August, now sees how God has impassioned and equipped them for ministry with a "rescue" focus — as in refugees, sex trafficking, hunger or abuse — and soon they will focus their efforts with a Converge initiative.
We are asking God for a gospel movement among every least-reached people group in our generation.
The Converge missions vision is clear: We are asking God for a gospel movement among every least-reached people group in our generation. We believe the most effective way to do this is together. Converge churches are a part of a movement that is making a worldwide impact. The U.S. Engagement Team desires that every Converge church discover how it is uniquely shaped to impact the nations with the gospel.
Many churches are leading the way. Many desire some level of re-visioning. Many are simply at square one. No matter where your missions efforts are, and no matter your church's size, the U.S. Engagement Team stands ready to serve you.
With the 2:10 Missions FOCUS Coaching, we believe, as stated in Ephesians 2:10, that God has important global work "prepared in advance" for every congregation to do. FOCUS coaching helps a church evaluate itself: its people, resources, experience and unique passions. The "map" of this unique DNA is then used to discern, with much prayer, how God has prepared each congregation to impact the nations effectively.
A U.S. Engagement team coach guides a church through three primary sessions: discover, select and implement. At the end of the process, the church will have a clearly identified missions focus and will be prepared to fulfill what God has called it to do. A focused church will see leaders developed, members discipled and a churchwide passion and engagement toward the nations. 2:10 FOCUS helps a church move from no missions, haphazard missions or reactive missions to strategic missions efforts with clear, targeted goals based on prayerful, proactive choices.
This coaching is free for Converge churches. I lead a nationwide team of almost 20 coaches that is eager and ready to serve your church. Currently, more than 15 churches are engaged in the 2:10 FOCUS process. We'd love to serve your church, too, and watch God move in your people to help see a gospel movement among every least-reached people group in our generation.
---
Jimmy Smith, Converge U.S. church mobilization specialist
Jimmy Smith works with the U.S. Engagement Team to encourage, resource and coach churches in their missions efforts.
Additional articles by Jimmy Smith