How British are finding God even without context for faith
Ben Greene
Pastor & writer
---
Clint Harper had been in Manchester, England, less than a week when a man's flurry of questions about the Bible spliced Harper's identity into Britain's spiritual vitality.
Sitting together in a coffee shop, the man told Harper he'd heard the gospel message and trusted Christ. But the origin and form of the Bible sparked consequential questions.
"Did the Scriptures fall from heaven?" he asked Harper in September 2016. "Was the Bible a bunch of stories that may or may not be true?"
After their first conversation, Harper and that man patiently pursued God together for nearly four years. Harper and the man together worked out more of their salvation, united in the faith that God had worked in them before they met.
"That guy is now a worship leader in Manchester," Harper said. "We got to see him flourish, grow, disciple other people and share the gospel."
Harper, an Arizona native, left in 2016 to make disciples — and get better at it — by learning in the United Kingdom's unique context. He embraced a two-year apprenticeship at a Manchester church connected to Converge.
"We all need to learn and we're increasingly needing to learn to speak to people who have no context for Christianity," he said.
Converge partners American believers with British churches through the Alliance for Transatlantic Theological Training. Converge International Ministries and AT3, as the alliance is known, have the same goal: make disciples among least-reached people groups.
Related: We're starting gospel movements for the least-reached within this generation.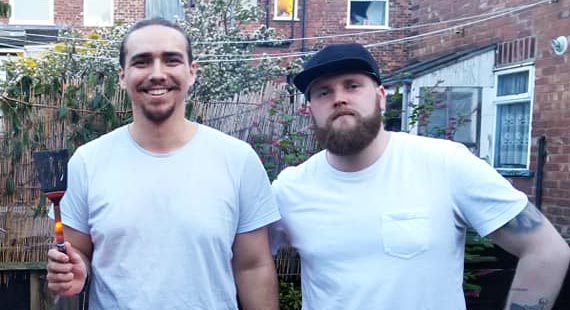 Where's the need?
Now Harper mobilizes Americans to go to the U.K. and grow as he did. These apprentices relocate there to learn ministry skills while contributing to Christ's mission in England. He manages the Americans' visa applications, job interviews and other international employment requirements.
For Harper, the work reflects his clear grasp of who he is: a person who goes where the need is and helps others get better. The Phoenix native glimpsed his identity as a fullback and middle linebacker for his high school football team.
Both positions required a basic pattern: observe other players, identify an opportunity and act. This basic approach meant tackling someone on defense or, as a fullback, running between opponents or blocking defenders so someone else could help the team win.
He loved the competition and teamwork he experienced on a football team. Later in his high school years, the team saw him as a leader because he helped young players get better and work together.
During these same years, he volunteered in churches as his dad pastored congregations needing revitalization and renewal. The musical family often played and sang together. Clint's passion for leading worship accelerated in high school. His brother's offer to teach Clint guitar further motivated him, and soon he led worship for his fellow teenagers at youth group.
Harper continued following Christ in college, full of desire to serve the Lord as a pioneer in attempting ministries or initiatives that don't exist yet.
"The Lord's wired and gifted me in that way to try some stuff out and see what works," he said.
Let's go to England
Even with his creative, let's-try-it attitude, Harper had some questions when a college friend encouraged him to join him on mission in England. First, Harper had no money; more importantly, he had no idea about the state of the Church in the United Kingdom.
Related: A long-neglected banner showed Steve Bialy the U.K.'s state of spirituality.
Harper's friend quickly shared that England's Church was open to help through a then-new organization — AT3. This ministry partnered U.K. and American believers among the least-reached people of that region. In 2015, Harper and seven friends raised support and served for a summer in Liverpool.
Over time, learning about England shifted Harper's perceptions of global work and his calling. His belief that missions meant eating bugs and living in huts among non-English speakers transformed into an awareness that God works wherever his people are.
"God totally gripped my heart for the church in the U.K.," he said."There's multiple generations removed from this idea that church is something anyone would want to be part of."
Related: Would you embrace a short-term opportunity to make long-term change?
After that summer trip, Harper invested two years at Manchester City Church from 2016-2018, followed by two more years as a Converge global worker in the city. In 2020, he moved to Los Angeles to help plant a Converge church while continuing as the director of mobilization for AT3.
What Harper navigated in Manchester isn't that different, he said, from the spirituality he encounters today in Los Angeles. He said people don't understand or don't care about following a god who would ask them to follow him at the cost of everything they value.
"That's where a lot of the need in the U.K. is right now and where we'll be in the post-Christian West in general," he said.
She's nice but a little nuts
Harper's most insightful moment about British spirituality came in that Manchester coffee shop six years ago. Over coffee, the man told Harper about a Christian friend from college. He also described her as a little nuts for believing all that God stuff. But she was also really nice, the man told Harper.
That complex duality partially illuminates the United Kingdom's perspective on Christianity. People are confused yet complimentary and complacent. At this time, England is a culture that has no context for Christianity, Harper added.
He refers to Mark Sayers, a researcher who says there are three phases in a country's faith trajectory. First, a people group goes from being pagan to the second phase, being Christian. Sometime after that, Sayers observes in his book Disappearing Church, the people become apathetic and deconstruct the faith they previously embraced.
Harper said most English check nonreligious on the national census and are suspicious of religious people. The larger values of the culture seek safety, security and comfort.
However, despite these priorities, Harper said many people feel anxiety, displacement and isolation. Therefore, a God who welcomes people into relationship is a gospel that preaches well in England.
Harper sees God at work even with England in Sayer's third phase. Harper knows God is an overcomer and a lover of all people, best expressed through the church on mission.
Related: The U.K. and Ireland initiative aims to exalt Christ, cut confusion.
Why England? Why not?
In his ministry, he has a new opportunity to help disciples make disciples, whether recruiting at colleges or processing visa applications. His journey years before included questions — like, "Why England?" Still, he learned about serving Christ and now he mobilizes others into the same growth opportunity.
He believes God is preparing churches on both sides of the Atlantic to help more people meet, know and follow Jesus. Right now, people have deconstructed the faith, he said, or haven't connected the Biblical dots — sin, grace, resurrection — to come to Christ.
Seven years ago, Harper faced that reality on a Manchester street as a British person said they'd never met a Christian before. The person had met people of other faiths but wondered what Christians believed. The honest ignorance of this college-educated 23-year-old stunned Harper.
"What happens when you talk to someone who has none of those religious dots?" he asked.
Converge is asking God for a gospel movement among every least-reached people group – in our generation. Learn how we are playing a role in accomplishing the Great Commission and how you can be involved.
---
Ben Greene, Pastor & writer
Ben Greene is a freelance writer and pastor currently living in Massachusetts. Along with his ministry experience, he has served as a full-time writer for the Associated Press and in the newspaper industry.
Additional articles by Ben Greene