"We want to see the modern church flipped inside out"
Ben Greene
Pastor & writer
Church planting & multiplication
---
Catie Hein-Carter has taken Christ seriously since she was 10 or 11. Her family embraced Christ. They pursued living like Jesus.
They faithfully worshiped on Sundays. They read the Bible and prayed.
Now though, Catie's helping to start a Converge church that lives for Jesus like she never experienced.
"I get really excited when I think about God's calling for Hope Church in Knoxville because it's not about a building," she said. "It's being a neighbor; it's being a servant. It's loving this city and loving the unlovable and seeing what is possible."
Converge approved Charley and Nichole Dever to plant the Tennessee church. The Hein-Carters moved to Knoxville first so their teenagers could start school in August 2019.
A few months later, the Devers moved to Knoxville from Illinois. David Lemay, his wife, Joy, and their two children moved from Michigan to help as well.
Starting a new kind of church in an old kind of place
Knoxville isn't a place for churches that do almost everything differently. It turns out, despite the Bible Belt history, most of Knoxville doesn't value church.
Five years ago, a large, traditional church in an affluent suburb commissioned a study to measure spiritual vitality. Less than 20% of the people around Knoxville meaningfully connect with a church.
The study showed 40% don't identify with a religion. A separate 40% of Knoxville residents experienced something at church that broke what had been a strong commitment.
Within roughly 10 miles of the church that sponsored the study, there are nearly 20 churches. Each has a prominent denominational affiliation. Each church offers distinct and slightly different forms of church experiences.
In the city limits, Charley Dever said the percentage of those who attend church is much less. This trend that contradicted Bible Belt narratives helped direct the Devers to Knoxville.
"We want to create space for the dechurched and the unchurched to engage with the body of Christ," he said. "Our mission is helping people to know Jesus, his mission and how he invites us to participate in it."
How is Hope Church different?
Hope Church's planters have been deeply reflective about who the church is and how to follow Jesus faithfully. From that, they realized God was calling Hope Church Knoxville to be vastly different from other churches.

If the church is a big barn, Dever explains, most churches have a huge front door. Once inside, people are quickly siloed based on their age, their need or their reason for coming to church.

Children go to one place for ministry programs, men to another, those who don't know Christ or are newly connected to Christ to another. Spiritually mature people either lead those programs or get sent into other places.

Many, Dever said, never get connected and simply drift away. Dever finds another metaphor from pastor and author Jon Ritner and others helpful to reflect on the current church versus the biblical church.
Related: Clean hands, clear vision and community concept: how new churches are reaching their neighbors
Most churches resemble restaurants interacting with customers. People come for what professionals can prepare and serve to them, whether food or faith. Success is new locations, creating a chain of buildings, budgets and appetites.
Most churches, Dever said, welcome people for worship, then community and finally mission or service for the spiritually mature. Instead, Ritner and others are trying to communicate the church is more like a fleet of food trucks.
"You're taking the food to them," Dever explains. "We're trying to create as many doors as possible. Hope Church is opening up worship, mission and community all at the same time."
How does a deeper, broader faith look different?
As a young adult, building on her childhood faith, Catie read Francis Chan and David Platt. She and her husband, Daniel, started volunteering among Chicago's homeless with Charley and Nichole Dever.
"This is messy. This is not comfortable," she said of learning to serve that particular group of people. "These are the things people don't want to see, but Jesus wants us to see."
As Charley Dever approached graduation from seminary, the Devers stopped serving to focus on starting a church. But Catie and Daniel kept volunteering among the homeless.
Even with the challenges, the Hein-Carters didn't quit. They knew there was something more to following Christ, something that endured beyond disappointments.
Worshipers from the Chicago church would serve downtown once or twice and never come back. Hein-Carter said that helped them learn to keep doing Christ's work when no one else comes with you.
That passion and tenacity would be needed
Coming to East Tennessee was a major culture shock for the Hein-Carters. Their oldest son plays football for Halls High School, and even the football culture hasn't been easy to navigate.
"We want to immerse ourselves in the culture here," she said of approaching their community like missionaries. "But we feel like we can't break through that barrier."
The first year of starting Hope Church was rocky. The families sought to befriend and welcome people. But an invisible wall often appeared between them and neighbors or fellow students when they spoke without a Southern accent.
Now in the second year, though, the families have seen more and more clarity and progress. They have a better idea of who Hope Church is and how Hope Church will be part of Christ's work in Knoxville.
Why is Hope Church here?
Over 50% of the people in Hope Communities are transplants who weren't born in Knoxville. Hein-Carter said she knows many people in the churched community who aren't interested in giving up the status quo.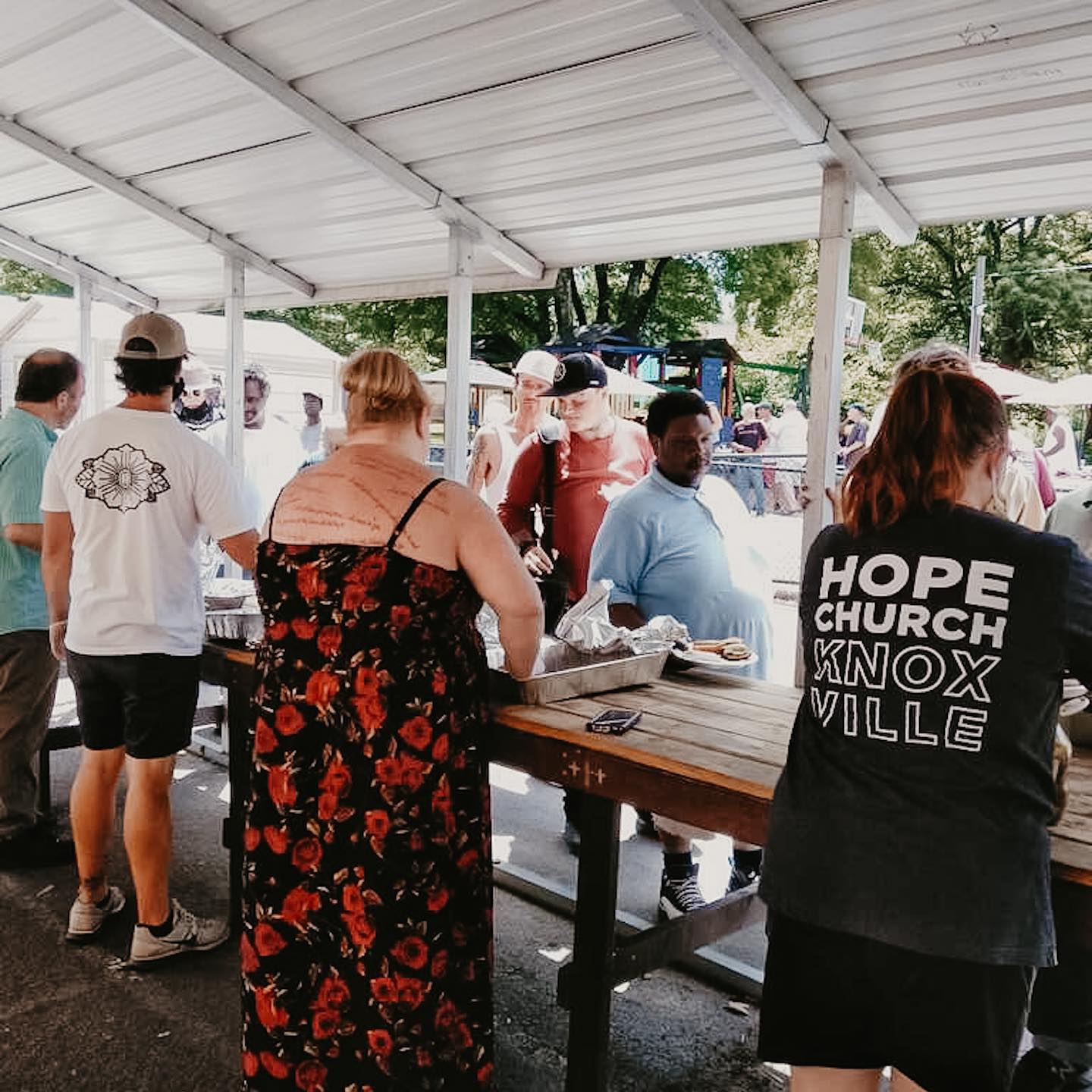 Dever adds they really see the need to serve people who are dechurched. Those are people who were committed to the church. But pain and mistreatment from Christians ended their ability to connect to a church as they understood church.

He knows of a Knoxville man who grew up in a missionary family. That man was really hurt while in a church. He told Dever he could never go to a Sunday church service again. But the dechurched man goes to a Hope Community.

At the same time, Hein-Carter knows many people who identify with the LGBTQ+ community are moving to Knoxville. She also meets Knoxville residents who've been hurt by the church. Many times, people see no need for church shaped by a Bible Belt culture.

"What we're doing is incredibly different from what established churches do here," she said. "There's no barn anymore," expanding Dever's metaphor about barns and silos.
What is Hope Church doing?
In August, Hope Church Knoxville started its first Hope Community. With four groups now, the communities, not the Sunday morning gathering, are the church.

"We've just kind of flipped the emphasis. We have Sunday gatherings, but we emphasize the weekday, life-on-life meetup," David Lemay said. "We want to see the modern church flipped inside out."

He and his wife, Joy, and their three kids moved from Detroit to help Hope Church Knoxville serve Christ. They met the Devers in the assessment process and decided to join Hope Church instead of planting their own church.

Hope Communities are small groups in a home close to where all the people live. About 60 to 70 people attend a Hope Community somewhere around Knoxville.

In his Hope Community, Lemay gets blown away by people who will never go to church on a Sunday.

"They have showed up every single week on a Wednesday and talked about life struggles and where they're at with their faith and how they're trying to grow," he said. Those people tell everyone else, "I'm surrounding myself with you people so I can grow closer to Christ."

On a Sunday morning, there is a gathering in a building. Only about 40 people come on Sundays. People become members of a Hope Community and then may end up at the Sunday morning gathering.

However, the reason for the gathering and the path to gathering are distinctly different from Knoxville's established churches. That's by design to put relationships before religious behavior.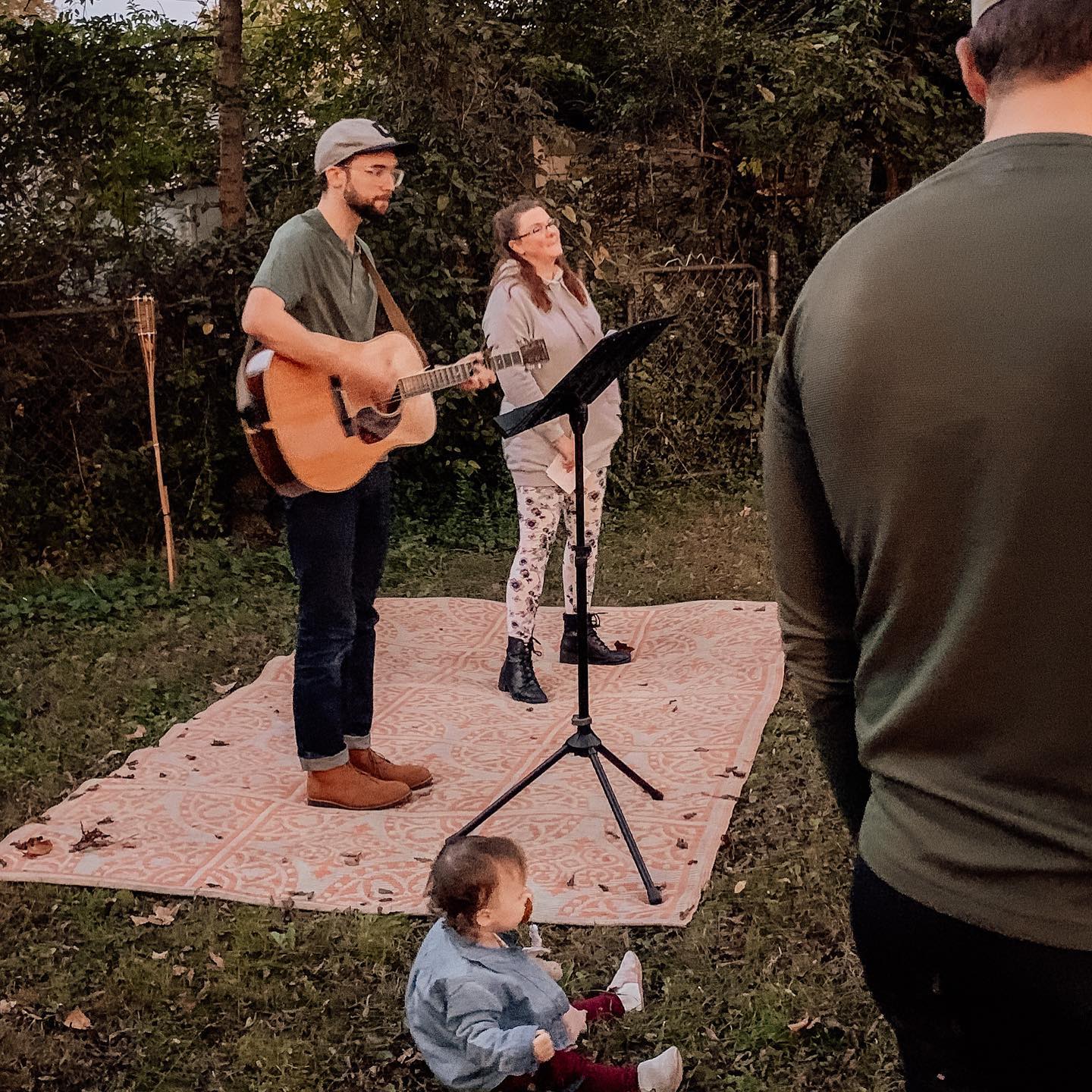 The form or structure on Sundays varies widely. There is teaching and worship every other week. Dever preaches about once a month.

Some Sundays, other people preach, or the group only prays and worships in song. Other times, Hope Communities gather over coffee and doughnuts to become more interconnected.

In coming Sundays, Hope Church Knoxville will have Hope Talks, an experience like TED Talks. People from Hope Communities will share for five to seven minutes about how God is using their gifts, passions and professions to form them and their immediate community.

Lastly, Hope Church Knoxville has missional initiatives. These are activities formed through intentional relationships centered around serving others.

For example, the church raised $10,000 for Austin-East High School, where several shootings have happened in recent months. That amount is 30% of Hope Church's annual budget. But there was no priority for the organization to receive the money instead of the community.

People at Hope Church value tithing and giving. But the money is seldom going toward organizational expenses. Hope Church Knoxville doesn't have much of a budget and doesn't have a building.

"We need to be able to imagine a church that doesn't have property, professionals or programs," Dever said. "Otherwise, the church can only exist where there is money to have property and professionals."

He added the church is growing in places that don't have professionals, properties or programs. Meanwhile, the church is shrinking in places where the culture and traditions enable property, professionals and programs.
Related: Converge launches five-year church planting goal
Converge has a goal to plant 312 churches by 2026. The Devers strongly recommend Converge's church planting assessment and pray their Hope Communities someday develop other people to start new churches.

Another missional initiative for Hope Church Knoxville is a movie-lovers gathering. Using social media for planning, a member of Hope Church Knoxville hosts movie lovers in the backyard. Therefore, people are connecting with the church for no other reason than to watch movies for fun. They may not even know the church is among them.

Lemay said people are deepening physical and digital friendships to include their faith. Some people in his Hope Community love online gaming. Those people are committed to expressing their faith by having intentional conversations while gaming online. They pray for people; they go deep, talking with people about addictions, life struggles and meaning.

"In those moments, people are very open to letting their guard down," he said. "We're not trying to go on mission but to make it such a lifestyle where we no longer think about it."

With the missional initiatives, Dever said they don't even try to measure how many people are impacted. The goal is to keep building connections for people to Jesus and his way of life.

"We're the ones being a missionary. We need to be the ones that get uncomfortable," Dever said. "We need to be the ones who cross barriers to take the church to people."

That's why, when one family found neighbors wouldn't drive a short distance to the family's Hope Community, Dever just encouraged the family to gather people in their apartment. The Devers have experienced this too: Neighbors come to their backyard but won't drive to a gathering a couple of miles away.

"The door is being opened to the kingdom," he said. Hope Church Knoxville is a family of organic, Jesus-centered communities. These people desire for their neighbors to know Jesus, his mission, and how he invites everyone to participate in the mission.

Regarding the mission of Jesus, Dever leads a six-month training cohort. He just finished doing the first cohort with 10 people.

The cohort trains Hope Communities to think, love and serve like missionaries. A new one will start soon.

"It means you approach the people first as learners, as people you've been sent to," he explained.

He has only been leading Hope Church Knoxville for 18 months. Still, he doesn't hesitate to ask Hope Community leaders a tough question: "What would you do if I had to get a full-time job?"

Hope Church Knoxville responded to the unemployment, the pandemic and the cultural disruption by avoiding a big budget altogether.
Related: Being the church every church planter needs
"We haven't spent a cent on marketing," he said. Converge has been supportive, Devers said. He saw support for freedom, theological diversity and differences of opinion throughout this journey.
He isn't trying to figure out the future about how he's funded as a pastor. He knows new churches have a long road to self-sufficiency, even without a pandemic or many people who are unemployed.
That's why he emphasizes Christ giving his mission to everyone, not just professionals. Further, he sees the mission developing through relationships, not ministry programs with budgets and metrics.
At Hope Church Knoxville, Catie Hein-Carter is experiencing church beyond her imagination and categories for church. She and her husband are often perceived as the wise couple. They're in their 30s while most everyone else is in their 20s. However, she knows she's far from the expert.
"Church is beautiful, but church is flawed. The church we've come to know is not the Acts church. It's not the church Jesus had envisioned or was part of," she said.
"What we've been learning about church is we are called to love our neighbors, love God. We are called to teach and grow others as we have been taught and grown ourselves through Christ."
Our communities need more gospel-centered, community-reaching, Bible-preaching, multiplication-minded churches. Converge's 10 districts have committed to planting 312 churches before 2026. Find out how you can help make this a reality.
---
Ben Greene, Pastor & writer
Ben Greene is a freelance writer and pastor currently living in Massachusetts. Along with his ministry experience, he has served as a full-time writer for the Associated Press and in the newspaper industry.
Additional articles by Ben Greene