Hold off or hit the gas pedal?
Ben Greene
Pastor & writer
Church planting & multiplication
---
Word has always traveled fast in a small town.
On March 1, Mike Curtis moved to Eldora, Iowa, to work toward a September launch of Free Grace United. He had already launched two other congregations as part of the Free Grace United family of churches, originally formed by senior pastor Eric Dykstra and his wife Kelly. Twenty-one congregations currently share the same vision while having interdependent local leadership. As a result, Curtis saw no reason to rush.
"We were moving to a city where we didn't know anybody," the Minnesota native said.
From the start, Curtis felt compelled to begin building relationships. He's been having lunch at the Firehouse, one of the town's few bars and restaurants, or meeting people at the American Legion.
However, the tight-knit Iowa town of 2500 seemed to be moving faster.
"By day two, people already knew we were in town," Curtis said.
So, he called Dykstra, and they talked: should the team hold off or hit the gas pedal?
"Let's just do this," Curtis said after that conversation.
Six weeks later, Free Grace Eldora opened its doors to a new place to worship and hear the good news of Christ. They were hoping 75 would show up; 117 came. The church baptized four people in the first four weeks.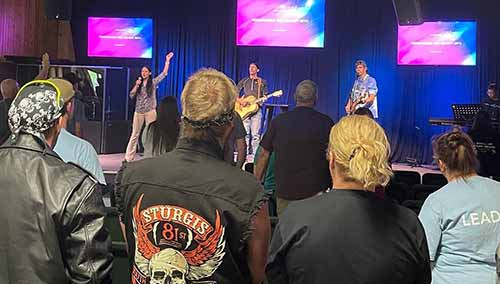 Building a foundation
Initially, 12 people moved from Minnesota to Eldora, where the Free Grace United ministry had purchased Pine Lake Camps, a 49-acre facility that has served roughly 500 kids each summer since 1956.
Jacqi Glenn, Free Grace's director of development, said one couple met pastor Dykstra before they even knew who he was or knew of a new church.
One day, Dykstra drove to get his oil changed; only he accidentally pulled into the wrong business. Through that mistake, he met a couple who had been praying for a way to get more involved in the church.
They heard about Free Grace starting a church in Eldora and joined the team.
A community interest meeting drew 22 people, while 45 attended a pre-launch worship gathering.
Related: America's next great mission field is rural America
Soon, volunteers stepped forward in children's and worship ministries. One of them is a woman who came on Easter, looking to be baptized. Soon after, she joined the worship team.
"She's really seeking what the Lord wants for her life," Glenn added. "It's been incredible to watch God at work, the doors that he's opened that we typically think we have to work hard to open."
Connecting with people by valuing relationships
Even as the town wasted no time spreading the word, Curtis and his team focused on relationships first. They're comfortable letting spiritual growth happen as it does in a family.
"I want people to know me as a person and then come to my church and hear the gospel preached," he said. "It's like my family. I'm going to preach the gospel to them, but I don't want to annoy them."
Instead, he goes to the town's bars and restaurants and the leagues-only bowling alley. Not far from the town, there's a river, lake and water park that offer outdoor activities. Curtis said the team is clear in their motives, even as they transition to new homes and ways of life.
Curtis' journey into making disciples began when he gave his life to Christ 14 years ago at Free Grace United. He thought he was a Christian until his wife challenged him to pray. But Curtis saw how little influence Christ possessed in his heart when his first thought was how stupid prayer was.
However, Curtis spoke to God and quickly discovered his grace. He began volunteering, working in kids' ministry and later planting two churches before Eldora.
Related: Where do churches begin if they want to see more evangelism?
Free Grace Eldora's strongest desire is salvations
Now, Curtis, and the Free Grace United ministry as a whole, are more passionate than ever about sharing the gospel.
"Whenever we move into a city, we make it a point to reach people who are lost, who are from God," he said.
A second priority for the new church is baptism, which Free Grace church celebrates across its extended community. Last year, more than 160 were baptized across their family of churches.
"To us, that's evidence that somebody has given their life to Jesus," he said. "One of the best ways, the biggest evidence somebody has given their life to Jesus is they get baptized."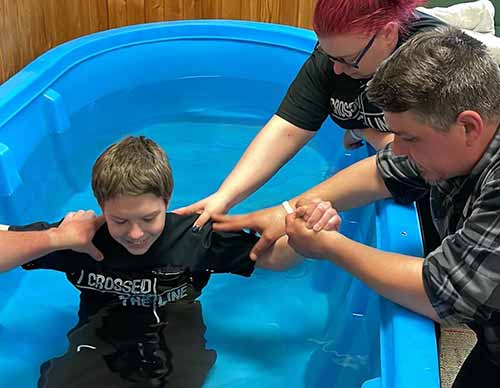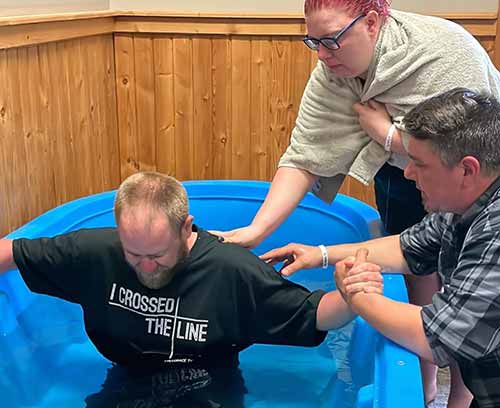 He said they're not trying to make churches with lots of people. They don't count hands raised during gospel presentations or analyze attendance. Instead, they focus on people who've publicly professed their faith through baptism.
"We just want to see life change," he added.
A third mission is to grow the ministry even further. There are Free Grace United locations in Minnesota and Iowa, as well as in Kenya and Pakistan. Curtis said the goal is to start 10 churches in Iowa and, ultimately, 100 overall by 2040.
Related: Converge's 10 districts want to deploy 312 church planters by 2026. It's happening!
"We're about multiplying ourselves and discipling one another to go start churches," Curtis said. "We'll plant churches in bars, movie theaters, restaurants, wherever we can. Planting churches is a big mission of ours because we believe that the church of Jesus Christ is the only hope in all the world."
Curtis now serves as the director of church planting in Iowa for Free Grace United. Launch teams in Albia and Chariton have planned September openings.
"We're all on the same mission, "he said. "We know what we're trying to accomplish. [We're] trying to apprentice pastors [and] plant more churches."
Grace for future generations
A passion for the Eldora church is serving children. That's not surprising since one of Curtis' earliest volunteer roles involved kids.
Moreover, a crucial part of this is continuing to offer Eldora's children a fun environment for building their faith at Pine Lake Camps. Free Grace Eldora worships at the site and will continue the camp ministry at the newly purchased center, seeing it as a benefit to the community.
"It's always been a kids camp and will continue to be a kids camp," Curtis said. "Our hearts are to reach kids who are far from Jesus, to preach the gospel and see kids come to Christ."
At the beginning of each year, Dykstra encourages the church to deepen their faith through a specific phrase or word. This year, the message was "Children matter to God."
Related: The roar of a family
He reminded the church that Free Grace United aims to "think three," meaning they have the perspective that there are three generations with an opportunity to know Christ. For every believer, there's a generation above them, a generation around them and a generation younger than them.
"Kids are a huge deal to our church," Curtis added.
Free Grace Eldora offered the only Easter egg hunt in town this year and 30 kids. Curtis said many people seem to travel to other towns for church or haven't found a church in Eldora. In some cases, that's because a church has died or doesn't offer children's ministry.
Our hearts are to reach kids who are far from Jesus, to preach the gospel and see kids come to Christ.
Mike Curtis, Free Grace United-Eldora campus pastor
Whether continuing the camp ministry for children or offering Sunday activities to children and special events throughout the year ― 30 kids showed up to an Easter egg hunt, the only such event in the town ― the Free Grace Eldora team wants to provide people a way to stay in the town for spiritual growth and worship.
Eldora has committed residents who love their American Legion bar, Firehouse restaurant and leagues-only bowling alley. It makes sense, then, that this small, rural community could also have a vibrant church that offered grace and truth to people of all generations.
All Free Grace churches motivated by one purpose
Free Grace United chose its name as a community set free from guilt because of grace. Moreover, the churches are united around one mission and vision, no matter what town they're in or how they worship.
"We're not just here to be a Christian club," Curtis said. "We're always reaching out and seeing people give their lives to Jesus."
Converge's 10 districts have committed to deploying 312 church planters before 2026. Read more inspiring church planting stories and learn about the goal to send out 312 church planters in five years.
---
Ben Greene, Pastor & writer
Ben Greene is a freelance writer and pastor currently living in Massachusetts. Along with his ministry experience, he has served as a full-time writer for the Associated Press and in the newspaper industry.
Additional articles by Ben Greene