Kansas City church focuses on places where love has left
Ben Greene
Pastor & writer
Church planting & multiplication
---
Neighbors can be challenging to love. Dogs from across the street poop in your yard. The loud music at night. The heavy walker upstairs.
Greg and Kate McKinney, who co-pastor a new Converge MidAmerica church, wouldn't mind such challenges in loving their neighbors. Demonic forces frequently mess with the Kansas City couple when they try to obey Christ's teaching.
While preaching on loving neighbors at an Arkansas church, Greg McKinney said, "You cannot love that which you are against or that which you are above."
Several hours later came the enemy's attack: A neighbor of the McKinneys broke into their home.
At 4 a.m., Greg and his wife, Kate, suddenly woke up. One of their very own neighbors was breaking in, seeking to steal.
Greg, who's never punched anyone in his entire life, has an uncle who teaches mixed martial arts. Although Greg never trained, he picked up different headlocks, chokeholds, arm bars and such.
Confronting the neighbor, McKinney wrestled the man down. But the neighbor broke free and tried to escape.
During the madness, the neighbor crashed through a window. Unlike TV fight scenes, real windows don't break in a shower of shattered fragments. Instead, large triangles of sharp glass gravely wounded the man.
Within seconds, McKinney grabbed the man in a chokehold, the glass also cutting the pastor up as the two fought and struggled.
When the melee ended and police arrived, an ambulance transported Greg to the hospital. He needed several staples on his chest to close the severe cuts.
Kate and Greg spent lots of time with their children in the following weeks. The family committed to calling out lies and praying against spirits of doubt, fear and worry.
"We had to learn very practically to have the Spirit of God invade our house," he said.
After their home was invaded, McKinney said he received meal after meal after meal from the church where he worked.
The McKinneys met the arrested man's family. They still wanted to love those neighbors. But Greg said the family received little support, not a lot of calls and not a lot of love.
We're going to love our neighbors
In June 2019, the McKinneys moved to Kansas City, Missouri, to live in the Troost Avenue community. When Martin Luther King Jr. was assassinated in 1968, Troost burned. Many of the community's buildings still aren't reopened or cleaned up.
Three months after Greg, Kate and their four children moved in, someone fired 21 gunshots in a neighbor's home. Some of those bullets took a life.
Related: Join us! The power of an invitation
"Everyone in the neighborhood was distancing themselves from the family" connected to the shooting, he said.
Rather than leave things the same, the McKinneys brought coffee and doughnuts to the isolated family.
"To this day, even though they never come to church, they call me pastor," he said.
Why does Glory Church emphasize neighbor love?
The McKinneys chose loving neighbors as a core value when Glory Church started last year.
Davitta Hanson was invited to Glory Church through Facebook Messenger. She still lives in her family home and has two children. She knows why loving neighbors is so important.
Related: Clean hands, clear vision and community concept: how new churches are reaching their neighbors
"I love the fact we are going to change a community by changing families because it starts with the family," she said. "The areas that we target are places where love has left. It's empty, it's hollow and people have no hope."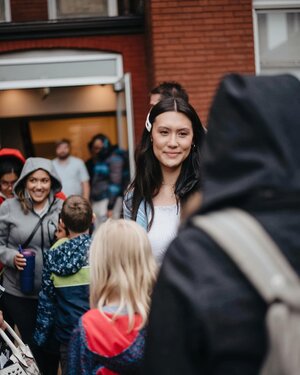 Ministering family by family, house by house is integral to Glory Church's influence, Jess Turner said. She moved from Arkansas to help start the church. When the pandemic hit, the church rapidly adjusted to living out its mission in groups of 10 or less.
"Let's grow this church in groups of less than 10," she said for how leaders viewed the pandemic as an opportunity. "When a group would get to 10, then we had to split that group in half and fill that group up again."
Why are families central to Glory Church?
Several years ago, while at the Arkansas church, the McKinneys took a two-week vacation. Greg had been working for five years without any vacation.
On a beach in Florida, they enjoyed their kids playing with kids whose parents spoke different languages. Moreover, there was a truly intergenerational feel as retired people mingled around.
Kate looked at Greg and said, "Our church one day would look like this."
They weren't really planning to start a church. His ministry goals were to be a youth pastor as long as possible, then become a sex therapist for marriages.
Moreover, they weren't doing ministry together as a family, serving others out of the faith within their home and hearts.
That moment on vacation sparked prayers for a ministry from their family for other families.
The McKinneys had a spark of clarity but a silent God
The McKinneys prefer serving people who have a hardened view of the gospel or believe lies about Jesus. And Greg loves uniting people who are vastly different.
As they prayed through diverse cities and googled place after place for perspective and direction, God was silent. That silence lasted at least a year.
During God's silence, Greg was frustrated. He didn't know what to do. He was talking to a mentor when another spark came.
The mentor said Greg was making it too complicated. He should just believe God has called him to be a pastor. He encouraged Greg to just pick a place and go pastor in that city.
Not long after, Kate said there's a city they've always loved: Kansas City.
What Troost needs, what Glory Church wants
Davitta Hanson remembers when Troost Avenue had the Palace Theatre, J.C. Penney's and all sorts of stores to keep you intrigued. There were still a few white families in the neighborhood then.
A lack of neighbor love has devastated the community of homes and businesses around Troost Avenue. Now, the block of Troost near the McKinneys and Hanson's homes has a large pink building that gives away free clothes. Gay prostitutes work some of the corners. Many buildings are still damaged from the 1968 riots; few have reopened.
"Kansas City is a hot mess," said Hanson, comparing the Troost area to a desert.
Related: Former cage fighter turned church planter now fights for people the church has hurt
The city is renovating Troost block by block, sometimes gentrifying and making life harder for longtime Troost residents. Still, Troost Avenue has a Black-owned coffee shop, small restaurants, thrift stores and lots of barbershops.
Within 3 square miles of their home, the McKinneys said extraordinarily rich and poor residents call Kansas City, Missouri, home. So, the church's activities align with the community, even when that's out of step with common church planting guidelines.
"We launched the church with $40,000 instead of hundreds of thousands," he said. "I couldn't muster up spending a lot of money on production when we have people in our neighborhood who can't even get dinner."
He acknowledged this is different from "church planting 101," where organizations value metrics on volunteers, events and fundraising. Further, McKinney said he is a perfectionist who wants to make everything awesome.
To which, Kate said, "the people don't need us to be awesome." Bells, whistles and expenses on seamless videos and great coffee aren't what the community wants.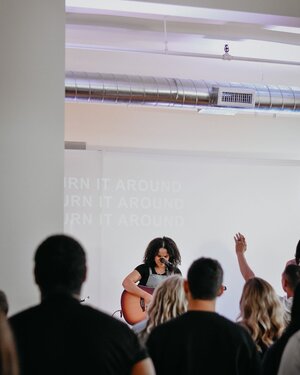 Kate said a book by Jess Connelly, who co-pastors with her husband at a South Carolina church, has been instructive. Seeing another church shy away from being a production-heavy and metric-heavy church has helped them.
"In the urban core, they don't have a perception of what it should be," compared to Arkansas, she said. "It's so freeing because people can just come, be who they are and not have expectations of what church should or should not be."
What Jess Turner sees, again and again, is people responding to the gospel, not the glitter.
"It's the gospel that is drawing people in, and that's why they're staying, rather than just a fancy worship center."
Meeting Miss Margaret
Miss Margaret, an 80-year-old woman who lives near the McKinneys, shared her heart with the couple.
"I have been praying that godly families would move here," she told them.
Even though most neighbors thought he was a cop, Greg and Kate knew they needed to live in Miss Margaret's community.
So did Jess Turner, even with the culture shock. She wants to build relationships with people born and raised in the community. In turn, she's seen community leaders, nonprofit volunteers and others join the church. They grasp that Glory Church helps the community.
Hanson said a man with three children came to their outdoor Easter service in a public park. "I see God working and changing people's lives where they're feeling included instead of excluded," she said.
That includes people who have experienced anything but the power and love that comes from knowing Jesus Christ.
"We have had multiple occurrences with the demonic," Greg said. "Troost is so enslaved."
In their community, people are hungry for a change in their lives. They're open to spiritual conversations. But, for many neighbors, any spirituality will do. The people turn to tarot cards, witchcraft, new age spirituality, demonic practices, Satanist worship services or drugs and alcohol.
"You have to be a little bold, and a little brave and a little awkward sometimes and invite them in," Jess Turner said of her neighbors.
A new church offering a new life
Kate McKinney understands how independent many Kansas City residents can be.
If they're wealthy, they don't want any help. If the residents have some needs, they want to receive help outside of a relationship or any lasting connection.
She sees Kansas City as a place where residents are wounded by faith and religion. But they're still open to believing in God.
So, she and Greg teach people from 2 Corinthians chapters four and five. Those chapters talk about people changing from one degree of glory to another. The people are being transformed by seeing the glory of God.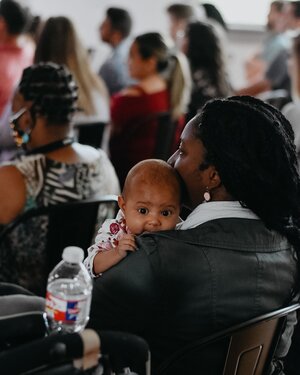 But she and Greg are quick to encourage people: The growth is a matter of moving from one degree of glory to the next.
"We're huge on that process," she said. "We're believing God changes us from one degree to the next."
Moreover, when people are changed, homes and families start to be changed. Whatever the difficulty, Turner sees again and again Glory Church is loving its neighbor.
"The church is not confined by four walls. The church is in homes," Turner said. "People know Jesus now that didn't before, and that's because people at Glory Church have a heart to love."
Our communities need more gospel-centered, community-reaching, Bible-preaching, multiplication-minded churches. Converge's 10 districts have committed to planting 312 churches before 2026. Find out how you can help make this a reality.
---
Ben Greene, Pastor & writer
Ben Greene is a freelance writer and pastor currently living in Massachusetts. Along with his ministry experience, he has served as a full-time writer for the Associated Press and in the newspaper industry.
Additional articles by Ben Greene