Focused and fearless: Unleash conference unleashes church leaders
Ben Greene
Pastor & writer
Church planting & multiplication
---
Jaleith Gary, an executive assistant and administrator at Calvary Fellowship in West Hartford, Connecticut, has experienced spiritual warfare, discouragement and weariness in ministry. However, she gained hope and wisdom during the Unleash conference January 26-27 in Orlando.
"God is so much bigger than our foresight and so much greater than our insight," Gary said outside Converge's national headquarters.
Gary's been in ministry for 10 years. She joined the Calvary staff a year ago. Since Calvary plans to start a new church, Gary has plenty to figure out.
The conference reminded leaders God is building his church, especially when life and leadership come with confusion and challenges. In addition to focusing on details for the new church, Gary's perspective recognizes God's greatness. Unleash gave her strength, faith and focus for the next adventure at Calvary Fellowship.
"What I learned at this conference is to not be complacent and not to be defeated if things don't go according to plan," she said.
The event, focused on growing every ministry and leader in churches, featured five keynote speakers and more than 30 workshops for senior leadership and leaders and volunteers in children's ministry, student ministry, worship and creative arts, hospitality and guest services, missions outreach, women's ministry, church planting and multiplication and communications. Attendees also met representatives from several organizations that work alongside churches to grow ministry locally and around the world.
More than 700 people came together in Orlando for the event, including ministry leaders from 36 U.S. states, the U.S. Virgin Islands, Estonia, Japan, Lao People's Democratic Republic (Laos) and Mexico. In fact, more than 30 pastors from Mexico attended. Another 100 people joined online. In addition, a pre-conference workshop for chaplains was held the day before Unleash, with about 25 chaplains attending in-person and approximately 50 more participating online.
"What's great about Unleash is it helps every leader – whether a pastor, a staff member or a lay leader or volunteer – grow in their role and help their ministry make a gospel impact in their community," said Lee Stephenson, Converge's executive vice president of Church Planting. "People came to Unleash and learned from one another. Much of that happened during the workshops and main sessions, but a lot of that also happened through conversations during breaks and meals. We heard over and over again how refreshing and rejuvenating Unleash has been."
Converge Great Lakes regional president Ken Nabi concurred with Stephenson as he shared how pastors and church planters from the district connected and saw the bigger picture beyond their own church and community.
"Unleash offers a unique opportunity for churches within a district to connect in person," Nabi said. "Converge Great Lakes organized a time for most of the attendees from our district to grab lunch and meet in one of the tents so they could connect.
"A small-town pastor and his wife, an urban multicultural pastor and some of his leaders along with a current church planter and a prospective planter all gathered together to connect, encourage and share. Relationships were made stronger and spontaneous networking occurred. And it occurred not only within our network gathering but every vendor afforded opportunities for pastors to see a wider movement and realize they are part of something worldwide. This is what it means when we say better together."
Stephenson delivered a brief message during one of the main sessions, celebrating how God has worked in and through churches across Converge's 10 districts to plant more churches over the past two years and encouraging the ministry leaders in attendance not to take their foot off the pedal when it comes to starting new churches.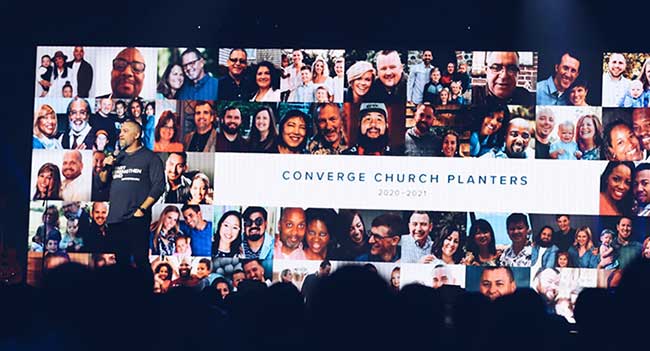 Since the districts came together two years ago and committed to deploy 312 church planters before 2026, 54 new Converge churches have been launched, including 43 in 2021. Stephenson said there is a greater opportunity to reach those who don't know Jesus with the gospel than at any other time in our history, but doing so will require commitment.
"Americans are facing the biggest mountain this generation has ever faced," Stephenson said. "Our biggest problem is that our communities are growing and there aren't enough churches to preach the gospel of Jesus."
"Our time is now. It's time to make a difference. It's going to require us to pray real prayers and reach a new level of obedience. There's going to be a cost and a sacrifice required. But when God says, 'Go,' we can't say, 'No.'"
Related: Learn about the 312 church planting goal and new churches launched.
Plans get disrupted but God always leads us back
Like most churches, COVID delayed and disrupted the plans of Restoration Church in Levittown, Pennsylvania. Restoration leaders managed crisis after crisis. They were focused and faithful and kept serving through the challenges. That left them worn down at times, but God never stopped working.
"I'm in what has been an exhausting season," said Restoration pastor Ross Manders.
The Pennsylvania church sent five staff members to Unleash for a shared experience before launching a new season of ministry.
"It was valuable to be inspired and to keep going and to rely again on God's Spirit to move us and reignite a passion for his work," Manders said. "We feel unleashed to bring hope to the world and redemption and restoration to our community through the gospel."
The chaos that began in 2020 delayed a capital campaign for Restoration. But Unleash reset the team's perspective because God encouraged them to restart the capital campaign.
Related: Starting and leading a capital campaign (Unfiltered church planting podcast episode)
"It's time to get intentional," Emily Manders, the church's executive director, said, noting the capital campaign workshop inspired the team.
Unleash equips different generations, ministries
Cesar Ramirez came to Unleash with other leaders from Casa Church, a Memphis congregation that launched in September.
Ramirez, a 27-year-old defender for the Memphis Americans of the National Indoor Soccer League, sat with Jerry and Deb Schommer. Barbecued chicken, cornbread and baked beans surrounded them as the Schommers shared about the Minnesota church they started and served for 23 years.
Ramirez listened with excitement. Then, he shared about his experience of joining Pastor Roberto Rodriguez's core team.
Related: Memphis church plant discipling many, aiming to plant more churches
As he kept attending Unleash sessions, he found resources for Casa's ministry plus strong support through the speakers.
"A lot of times we're coming heavy with so many questions," Ramirez said. "All these workshops we're going into are really helping us and encouraging us to keep going, keep pushing, keep striving and not lose sight of the goal."
Veteran pastor Paul Johnson, who has been one of the major catalysts of Converge's church planting movement for more than three decades, not only attended Unleash but also led a workshop about raising up staff and volunteers. He said the conference made a spiritual impact on his staff from Woodridge Church in Medina, Minnesota.
"God does miracles when we pray," Johnson said, reflecting on pastor Kevin Queen's keynote message. "Praying together as a staff creates the right environment for God to move."
Johnson said his staff will be presenting what they learned at workshops in future weeks "so the impact will continue for months."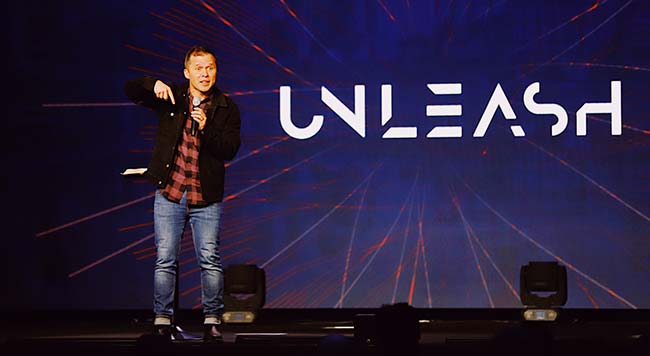 Ministry leaders regaining a lost perspective
Last year, Matt Lennander became the contemporary worship director at Calvary Church in Roseville, Minnesota.
Ryan Leak, the first of five keynote speakers during Unleash's main sessions, helped Lennander manage the strain of ministry. Leak said leaders feel pressure to go viral every time they sing, speak or serve.
Instead, Leak told ministry leaders to have the courage to be ordinary. Hearing that gave Lennander ― who's been in full-time ministry for just eight months ― hope.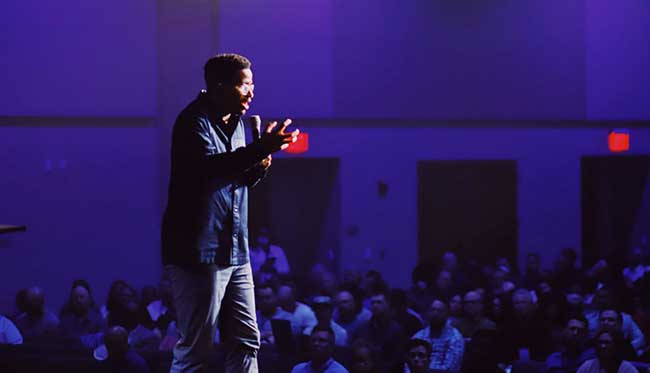 "We've fallen into the trap of hurry and productivity and speed from the world," Lennander said. "I've got to get this done. This needs to be done. I don't have anybody to do this. Sunday's still coming. It's always coming. So many things around Unleash have helped me as a new ministry leader reset perspective."
Related: Staying emotionally healthy as a pastor: When you're tired and worn (video)
Chip Anthony, serving in operations and youth ministry at Calvary Fellowship, found refreshment at Unleash.
"It's been such an up-and-down season," he said of ministry in Connecticut.
Calvary Fellowship is a portable church, so volunteers help Anthony unload and reload all the worship equipment every week. But Anthony still remembers the second Sunday of September.
He and a key volunteer, Nate, were unloading the equipment trailer that day. There was some negativity stirring in Anthony's heart. But on that September day, Anthony chose to get positive, and he's been grateful about that choice for months.
Then, on Unleash's opening night, God reaffirmed Anthony's stand. He heard keynote speaker Chad Moore, lead pastor of Sun Valley Community Church in Arizona, say, "We infect others with our negativity. Negativity is viral." Anthony realized that a positive attitude continued to bless people.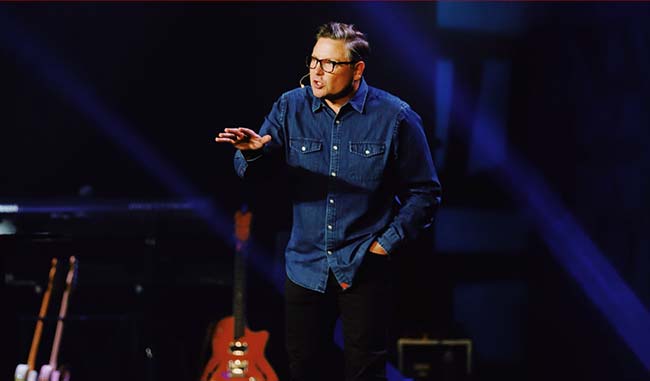 Unleash is a gift of rest, renewed relationships to ministry leaders
A sudden rain Wednesday left the lunch tables and chairs soaking wet. But Anthony saw Converge staff dry off tables and chairs for hundreds and hundreds of church leaders.
"This whole thing, for me, it's a time of refreshment," Anthony said. "There's nothing to worry about. I don't get a lot of that back home in the role I'm in. It feels good."
Lt. Col. Dale Marlowe, an Air Force chaplain serving at the Pentagon, also appreciated a break from the battles of ministry.
"Unleash is a respite in the midst of spiritual, physical and psychological battles," Marlowe said. "It's too easy to get isolated and worn down. Unleash helps us revitalize our relationships with God and others."
For Marlowe, a gathering of chaplains at Unleash gave him strength for his calling.
"Being able to share challenges and changes that we've faced in the last two years helped share the burden of navigating the uniqueness of chaplaincy," he said.
Related: A Glimpse into a Converge Chaplain's Ministry
Hearing Ryan Leak speak on authenticity in ministry boosted Marlowe's strength and conviction.
"The pressures within the chaplaincy to perform or provide ministry across diverse and pluralistic settings can too often conflict with personal convictions or styles," Marlowe explained. "Ryan's exhortation to be authentic was a solid reminder of our need to trust God from start to finish."
Larry Baker, the pastor of Anastasis Fellowship, a recent church plant in Reading, Pennsylvania, said Unleash was his first Converge conference since joining the movement. Baker's time in worship impacted his heart.
"When I went into the worship service, I encountered God," he said. "You know when you're going through a hard day. Especially for pastors, you're focused on your sermon, you get through worship. I'm just being real. The last two days, I really encountered God."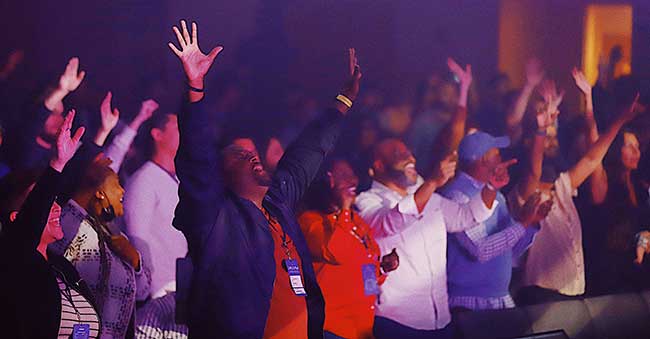 Moreover, breakout sessions strengthened Baker for the ministry he's doing right now. Specifically, a discipleship breakout session helped Baker distinguish between values, behaviors and strategies alongside mission statements and church purposes. Such reflection influences short-term projects like a website and long-term leadership decisions about the church's most foundational elements.
With spiritual warfare, changing cultural realities and ever-shifting connections to a pandemic, Unleash offered rest and resources to pastors like Baker and all church staff and leaders. The conference helped God's servants regain strength in the Lord and rebuild focus on sharing Christ with those who need him.
"There are 14 million people in Pennsylvania and South Jersey who don't know Jesus," Baker said. "There are over 80,000 people in the Reading area. We're praying that God will give us the people in the greater Reading area."
Larry Baker and Anastasis Fellowship are committed to reaching their community with the life-changing gospel of Jesus Christ. Reading, Pennsylvania, is no different than any other location in the United States and abroad: In every community, there are people who don't know Jesus' unconditional, unending love. And many communities ― even here in the U.S. ― do not have a Bible-believing, gospel-preaching church.
God has called us to unleash his gospel. People are waiting for us to tell them about the one who gives hope and a future, who laid down his life so they could truly live and who can change an entire family's trajectory for generations to come.
As Stephenson asked, "If we don't go, whose story won't be changed?"
Let's go.
Converge is a movement of churches working to help people meet, know and follow Jesus. We do this by starting and strengthening churches together worldwide. For over 165 years, we've helped churches bring life change to communities in the U.S. and around the world through church planting and multiplication, leadership training and global missions. Learn more about Converge and check out resources for pastors, churches and missionaries.
---
Ben Greene, Pastor & writer
Ben Greene is a freelance writer and pastor currently living in Massachusetts. Along with his ministry experience, he has served as a full-time writer for the Associated Press and in the newspaper industry.
Additional articles by Ben Greene