Choosing the Father's business over the family business
Ben Greene
Pastor & writer
---
A naturally agreeable life path existed for James and Jenna Roberts: They could work at family businesses and live close to the Southern beaches they'd visited for many years.
From outside Jenna's Raleigh-area home, she and her family went to the North Carolina beaches throughout the year. James was raised a bit farther south, and his dad regularly went offshore fishing near Savannah, Georgia.
As James and Jenna committed to Christ in their teens and grew into their faith in their 20s, both felt a shift in their hearts. Over time, they sensed Jesus' heart for the world's least-reached people. Then, after they finished college and considered how to start a career, the Lord showed the couple he also has a family business near the beach.
"It's kind of like a taste of home," James said of Togo. "Just add an African twist."
The global workers arrived in Aného in July 2022 as part of Converge's 6 Degree Initiative. Their heart's desire is to disciple youth and develop leaders through camp ministry. In Togo, 70 percent of the people are under 30 years old.
The Robertses regularly see the South Atlantic Ocean while driving on Togo's international highway, six degrees north of the equator. The coast of their childhood along the north Atlantic Ocean differs plenty from the shores of the South Atlantic Ocean. They see plenty of natural beauty out in the Gulf of Guinea.
The couple regularly sees something else throughout Togo and neighboring Benin.
"As you approach the area, you realize just how much of a dark history it has," James added.
The start of slavery 400 years ago and living in the birthplace of voodoo put the Robertses on a life path that's no day at the beach. Nevertheless, they're humble and excited to join Christ's family business instead of their own.
"That could easily have been the safe choice," Jenna said of working for her family. "God called us to something. The fact that we're now here is because of God's grace."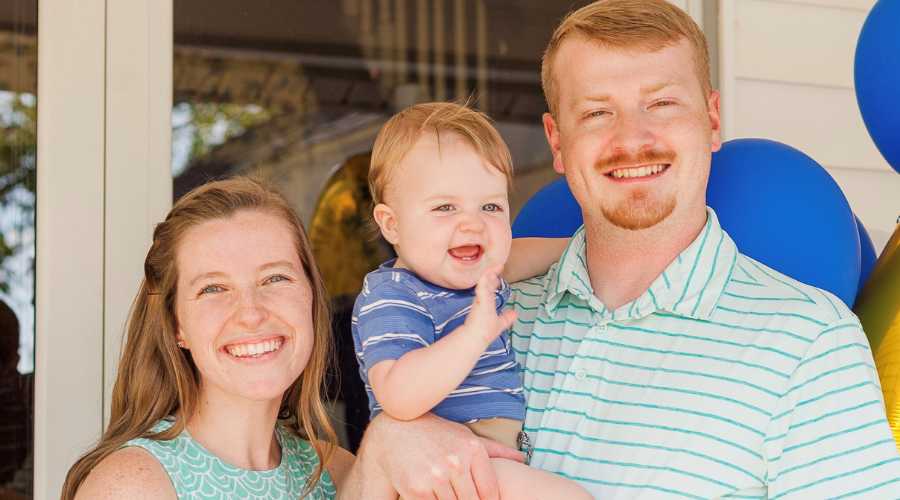 A mountain camp stokes missions passion
Camp ministry has formed Jenna and James since they met at Snowbird Wilderness Outfitters, a camp in western North Carolina. First, they were teenagers learning to follow Christ. Then they were summer staff before later serving as full-time staff. In all, they worked at the camp for five years.
Snowbird's emphasis on foreign missions motivated the two to serve on short-term international trips. As a result, James and Jenna both went to Honduras, and she also served in Central Africa.
Related: Snowbird also helped Dallas Bozeman become a global worker in Togo.
Overall, the couple was willing to go anywhere there were unreached people. A vision trip to Togo to see the camp ministry among youth confirmed the 6 Degree Initiative was the right fit. That's how they could serve youth and offer others the life of Christ through camp ministry.
"The thing about Togo that drew us in was not only this big, huge need for these unreached people groups to hear about Jesus," James said. "But also what drew us is the potential for leadership development for pouring into the youth of Togo."
Loving people until they're leading
Togo's youth are becoming disciples despite the unChristian ways around them, and they can reach their people for Christ. The Robertses said the ministry of the 6 Degree Initiative team is increasingly empowering the locals to do the work of Christ.
"We see the work that God's already been doing throughout this entire project," James said. "We have our young Togolese leaders, our national leaders who are the ones who are really leading these camps."
Those national leaders, Jenna explained, are going into villages, inviting kids to a camp and then using what they've learned to teach stories, lead small groups and share the gospel.
"For a majority of these kids in these unreached villages, they've never heard anything about Jesus before in their entire lives," Jenna said.
Christ's family business is also making progress among adults. They see Christ at work in their children and hear God's good news as adult disciples build relationships with the Togolese.
Such wonderful fruits of ministry in Togo only require a little, whether among kids or adults. Most of these camps happen in a large, open sandlot. Some gatherings happen in villages where a church has just started, while others occur in communities without a church.
"Most of our team's church plants use camp as an outreach opportunity," she added.
Related: Simple message in Togo: God is the hero
According to Togolese custom, village chiefs grant permission for a youth ministry event in their community. Therefore, sites are often chosen because a young leader known by the 6 Degree Initiative team speaks to his home village chief. Other times, the group selects a village with no gospel presence and serves that community with the chief's permission.
At these camps, kids have time for worship, learning Bible stories and memorizing Scripture. During lunch, they rest under shade trees. Then it's back to connecting to God and learning more about Jesus.
"God's using [camp ministry] to impact lives," Jenna said. "A large amount of time is set aside for sharing about Jesus and giving the children time to respond in small group settings."
They're being faithful and seeing fruit
In the summer of 2022, the Togolese believers and American global workers teamed up to create five summer camps for 450 kids. In all, 217 kids talked with a leader about the gospel and gave their lives to Christ.
"That was a miracle to be able to see that," James said. "We have such a passion for camp, and we know that God uses it to draw students to himself."
At one camp, he said several people threatened the youth leaders for inviting kids to the camp. Such challenges discouraged the Togolese young adults and youth leaders. But, the next day, they told James and other global workers that they wouldn't quit.
"It shows the perseverance of these young leaders to say 'it's hard, but it's worth it. We're being obedient to what God is calling us to do,'" James said.
At that camp alone, 30 kids trusted Christ in the days after the threats and opposition. Seeing God's grace save them from the darkness of voodoo and forever change their family trees drives the Robertses to keep doing camps ministry wherever possible in Togo.
"What place needs to hear about Jesus?" he asks. "What place needs a church? Let's go. We've got to be obedient."
Converge is asking God for a gospel movement among every least-reached people group – in our generation. Learn how we are playing a role in accomplishing the Great Commission and how you can be involved.
---
Ben Greene, Pastor & writer
Ben Greene is a freelance writer and pastor currently living in Massachusetts. Along with his ministry experience, he has served as a full-time writer for the Associated Press and in the newspaper industry.
Additional articles by Ben Greene