England's unbelief, diversity draw couple to service
Ben Greene
Pastor & writer
---
In "Christmas with the Aliens," a children's holiday pageant in a British school transforms adventurous extraterrestrials into ardent disciples.
Katye and Will Lowery recently watched their son's class perform the sometimes orthodox, sometimes not Christmas story.
"It's a really, really strange combination," she said about the play's merger of Christian faith and intergalactic evangelism.
Their son's class's significant diversity of cultures and faiths adds to the play's curiosity. More than a million people from 100 countries and nationalities, including 300,000 Muslims, live in Birmingham.
At the same time, 500,000 city residents — enough to fill Times Square in New York — check the box as Christians. Therefore, the Converge global workers explained that the alternative play about Christ's birth somewhat intersects with Birmingham's identity.
Several British schools have produced this particular holiday pageant in the last 10 years. So, perhaps the story of unbelieving, far-from-home creatures who meet God's children and become disciples is not so strange to England's second-largest city.
Coming to learn, returning to serve
Katye and Will moved to Birmingham in 2018 as apprentices with the Alliance for Transatlantic Theological Training. Through AT3, American disciples become apprentices in British churches that minister in a post-Christian context.
"We don't see a lot of success in outreaches," he said of some evangelism methods that may not apply as readily to their community.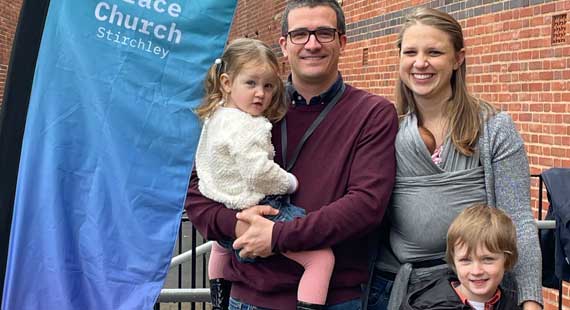 While that might sound discouraging, the discovery imparts a discipleship lesson: Birmingham and its culture fit the Lowerys' identity and gifts. Will has a 'massive heart' for nominal Christians since he once named Christ as savior without following Jesus. Katye has a heart for Muslim women that developed after she served in the Middle East.
Birmingham offers both Lowerys opportunities to serve according to their passion and personality in God's perfect plan. For example, the two find Birmingham — where people develop trust slowly — a reasonably natural microculture for ministry.
"It is so relationally driven," Katye explained. "That's who we are and how God has wired us."
AT3 and the churches within its network generate an additional dynamic of kingdom unity. The British believers haven't just agreed to train American believers; for several years, they've welcomed apprentices to come and stay as fellow laborers in the harvest field.
Consider Ken and Emmy Lippold, who moved from the United States to Liverpool 10 years ago to help a church. During that time, British leaders helped him realize transatlantic collaboration could achieve spiritual goals in both places. So he started AT3 in 2015.
The Lowerys started preparing to return to Birmingham after they left in 2019. In June, they returned with Will now serving as AT3's coaching manager for more than 20 apprentices in England and Scotland. The organization is Converge's partner in starting and strengthening churches in the U.K. and Ireland.
Related: Converge's U.K. and Ireland Initiative is building a foundation for faith.
"We're excited to have him on the team in this capacity," Daniel Shin, AT3's executive director, said. Shin has known Will since Will's high school days in Arizona.
But Shin and AT3 aren't the only ones happy to have the Lowerys serving in Birmingham. He said the pastor of Grace Church in southwest Birmingham neighborhood Stirchley considers the couple valuable partners. So much so that the church chose the Lowerys as deacons when they returned last year. In response, the Lowerys embrace an opportunity to strengthen and develop new members of Grace so these believers will continue on mission on their own.
"It's a lot more about training people to be faithful followers of Christ and share the gospel in relationship," Will explained. "We're really excited about British-led initiatives where churches are working together."
The church may be small, but God is mighty
Katye, through her ministry among Muslims and education at Moody Bible Institute, understands that global workers in some places may not see fruit for a very long time. For Birmingham, where people from all over the former commonwealth live, some estimates number evangelicals at less than one percent of the population.
Many people in the United Kingdom, plus the ethnic groups connected to newly-arrived residents like college students, are skeptical of organized religion or Christianity, Katye said. In addition, family and societal pressures sometimes reinforce a barrier in Muslims' hearts to only see Christ as a prophet, not the Lord of all.
Not that God is failing to overcome the darkness with light. Last year, Will learned six Iranian college students came to faith through a church in Birmingham's center. One of those six new believers speaks Persian and English, so he translates while an AT3 apprentice disciples the new believers.
Related: Another couple with AT3 and Converge shared Christ in a British city center.
"I'm just overwhelmingly confident that God's preparing to do something really incredible in the city of Birmingham," Will said. "I can see it by watching what God's doing on college campuses and in different churches."
Another developing work of God happens in the homes of British believers and the Lowerys. Grace Church Stirchley values these home gatherings so British people with questions about faith and the church can safely consider Jesus. Katye said these home gatherings encourage her as people encounter the risen Lord.
"If they didn't grow up in a Christian home, that's one of the major opportunities for them to really ask questions, to meet a Christian, to have the opportunity to explore some of that and be exposed to Christianity," she added.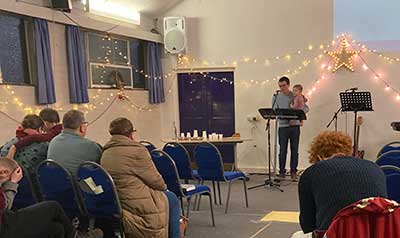 Laying a faithful foundation
For some in Birmingham, a Christmas message might include more aliens than angels. Perhaps people even think creatures from a far-distant galaxy are more easily convinced than those who live, work and play in the industrial hub.
Whether the journey toward Christ comes slowly or is pressured by persecution, prayers for everyone to know the Father are being answered. Americans like Will and Katye Lowery have humbly joined the skilled, loving service of British believers to bring many sons and daughters to glory.
"It feels a lot like building a fire," Katye said. "There's just a lot of things that we see that continue to be put in place."
Converge is asking God for a gospel movement among every least-reached people group – in our generation. Learn how we are playing a role in accomplishing the Great Commission and how you can be involved.
---
Ben Greene, Pastor & writer
Ben Greene is a freelance writer and pastor currently living in Massachusetts. Along with his ministry experience, he has served as a full-time writer for the Associated Press and in the newspaper industry.
Additional articles by Ben Greene