"You either change cities through the church or you don't"
Ben Greene
Pastor & writer
Church planting & multiplication
---
New England, sometimes remembered for tremendous revivals centuries ago, is becoming a place where many hear God speak through his church.
Vox Church started in December in Branford, Connecticut. The Latin word for voice inspires the church's name because of John 5:25. "The day is coming and is now here when the dead will hear the voice of the Son of God and those who hear will live."
"Jesus decrees that those who are spiritually dead are now changed by hearing the voice," pastor Justin Kendrick said. "We are living in that era, the day where the dead hear the voice of the Son of God. That is our overarching prayer as a church ― that God would speak to this region in this time and the dead would live."
Thus, God shows the Northeast that his church remains a place for people to hear God. The spiritual landscape is mottled by ignorance of the Bible, slavery to sin or disconnection from God and his people, especially after church scandals. But nothing is too difficult for Christ.
"New England is the least-churched region of the United States," Kendrick said. "But that's not its history. The history of this region is one of spiritual life and renewal and spiritual awakening. So, I really felt my assignment was specifically to give myself for these people and this place and to believe, in one generation, the gospel could fundamentally change it."
Kendrick knows the center of Vox Church's vision is discipleship. The church strives to make disciples who form intentional community and obey God's mission: to fill New England with passionate Christ-followers.
"We have a grace to lead people to Jesus," he said. "The people in our church bring people far from God every single week. A week doesn't go by when dozens and dozens of people don't open their hearts to Christ."
Related: What is God doing in Boston through a different form of church?
'Let's stay for the whole thing'
Years before Vox Church existed, Kendrick was a teenager, sitting in church with his dad and older brother. Divorce had impacted the Kendrick family, but Justin's dad started going to church.
Kendrick and his brother often asked their dad to leave worship early at a New Haven area church. Like many New Englanders, Roman Catholic masses made Protestant services seem long. So they'd regularly ask their dad to leave early, usually before the sermon started.
Eventually, their dad said to the boys, 'Let's stay for the whole thing.'
"It was then that I first heard the gospel, that I could be forgiven," Kendrick said. "I opened my eyes to Jesus in a blink. I wasn't on this extended spiritual search. Faith in Christ was an instantaneous, transformational event."
The next three years or so were slow but steady spiritual growth. In that phase of Kendrick's life, a pastor created a tremendous spiritual experience for the young man. The pastor challenged Kendrick to ask God for a vision.
Kendrick made that request. Then, God began to speak very clearly. God talked with Kendrick about becoming a preacher and seeing New England shift into a spiritually vibrant place.
"That vision of seeing a changed New England resonated," Kendrick said. "At 16, I wrote down my vision and what I felt like God was leading me to do."
Related: How God helped another hurting teenager become a pastor
Christ's vision and college visits
Even so, he took college tours to other states, thinking he would leave the Northeast for Bible college. Instead, while riding a double-decker bus in Chicago, the Holy Spirit sent a surprising yet similar message.
"I want you to go back to New England, and I want you to learn how to make disciples," Kendrick heard that day.
A few weeks later, Southern Connecticut State University offered him a scholarship. He threw the offer letter in the trash. However, his mother encouraged him to give the school a chance. He prayed and the Lord steered him there for a degree in social work.
After college, Kendrick toured as a worship leader and speaker for seven years. Such a ministry is how the Lord had led him to make his teenage vision a reality. However, while opening for Casting Crowns in Virginia, Kendrick's heart sensed God in motion.
"I'm standing on the stage. I'm looking out at the crowd, and something shifted," he explained.
His wife Chrisy played keyboard just a few feet away. However, she had no idea God was working in her husband's heart on the stage.
"I walked over to my wife when the show was over and said, 'We're done,'" he said. "I think we need to go home and start planting churches."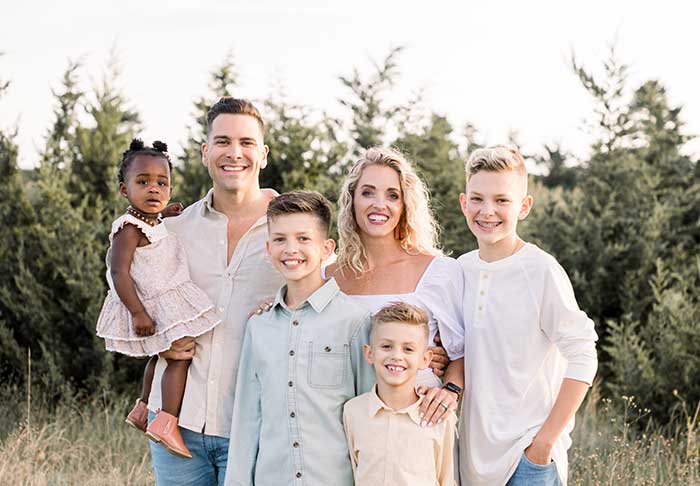 Say it again, Lord
The Kendricks didn't act quite that fast. Instead, they spent the next eight or nine months processing God's call, their current ministry opportunity and their responsibilities. Plus, there were fears and concerns and questions about starting a church.
"I was really, really hesitant," Kendrick said. "It took another eight or nine months before I said 'yes.'"
Meanwhile, God was patient and steady in his call to the Kendricks during their discernment.
For example, a friend from Delaware called while they recorded a worship album in Nashville. During a break in recording, Justin was praying in the parking lot, pacing and processing his burden to plant churches.
The friend had a simple message from a particular Scripture: "Be strong and courageous and do it," Kendrick's friend told him.
"Does that mean anything to you right now?" the friend asked Kendrick. "That was one of maybe nine or 10 sovereign interruptions where God just arrested my attention and made it laser-focused clear that he was calling me to actually do this."
How will New England change?
Kendrick's passion for new churches has two sources: he's a starter, including a business at 15, another at 19 and a nonprofit at 21. The second source of his passion: reading, rereading and rereading (again) the book of Acts in 2009-2010.
"Each time I read the book of Acts, a simple theme continued to emerge and captivate my attention," he said. "It was always God's plan to change cities through the church."
God's work in Rome, Corinth, Ephesus and other cities convinced Kendrick of the church's value. Yet he didn't exactly see that truth confirmed in the spiritual communities around him.
"I hadn't seen the local church as a dynamic, expanding force," he said. "I had seen it as a good group of people, a committed community, but I hadn't seen it as an agent for real transformation. But I consistently came to the conviction that the local church is God's Plan A. There is no Plan B. You either change cities through the church, or you don't."
Related: How can churches grow stronger to fulfill God's plan?
Along the way, the Kendricks realized a church in each of New England's 10 largest cities would offer the gospel within 15 minutes of roughly half of New England's population.
"This vision began to stir in my heart for the planting of churches," he said. "Never in the history of the church has anyone had an opportunity to simultaneously reach that percentage of the population through the local church."
Related: A Converge church aims to reach much of the Sunshine State
However, New England has legitimate challenges to widespread spiritual vibrancy.
Kendrick said most New Englanders' knowledge about God comes from Roman Catholic churches marked with scandal and abuse.
"There's a very low trust in the church and really an ignorance of the gospel," he said. "Shockingly, Bible literacy is the lowest in the country in the most educated, most affluent part of the country. People think they know, but they've actually never encountered Jesus."
That spiritual ignorance motivated Chrisy and Justin and nine friends to meet once a week in the fall of 2010. They wanted to discover God's will for a new church near New Haven, Connecticut.
Starting church in the house of the devil
By Easter, they were ready to start with a worship service at Toad's Place, a famous little nightclub in downtown New Haven. Snoop Dogg, the Red Hot Chili Peppers and U2 have all performed there.
The disciples went around New Haven, stapling posters about the Easter worship service to elm trees all over town. "Homeless. Rebel. Jesus" read some of the signs.
Proclaiming Jesus as a homeless rebel who loved everyone would be radical for people shaped by global businesses, investment firms and Ivy League schools.
Related: A Knoxville, Tennessee church is taking an unorthodox approach for the Bible belt.
Moreover, the worship service at a bar on Yale's campus would catch conservative, well-educated New Englanders off guard.
"You can't have church at Toad's," Kendrick quipped. "It's the center of revelry. It was like having church in the house of the devil."
Get those posters off our trees
Before the believers could surprise the community, the town surprised the church. The city of New Haven called: Attaching objects to the elm trees violated city regulations. So, the disciples had to take all posters down immediately.
However, before the posters came down, a student reporter at the Yale University paper saw a poster and wrote a story. Then, other media noticed, and so did many in New Haven.
On Easter morning, people packed Toad's Place, curious to see Jesus followers celebrate the resurrection of a homeless rebel. Kendrick said that the Hartford Courant, CNN and USA Today sent staff to the worship service.
"This was very unorthodox to the community," Kendrick said. "We were like going to see a purple cow. From that moment, we realized that we stepped into a profound favor that we had not earned."
Yet, by the fall of 2011, the church started meeting every week. Several months later, they created a second campus in Bridgeport. They have nine locations in Connecticut and Massachusetts, including Branford, Connecticut, which launched in December.
"We're now in six of the 10 largest cities [of New England]," he said. "The more I look back on our story, the more I realize he did everything. I think the Lord did everything. Everything that's grown was really grace."
Located seven miles from New Haven, Connecticut, the new Branford campus serves as the home of Vox Church's central offices and its broadcast location for its online campus. It is strategically located within a short drive of many New England cities and towns.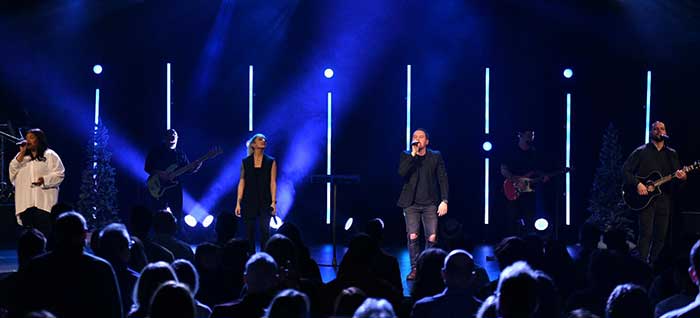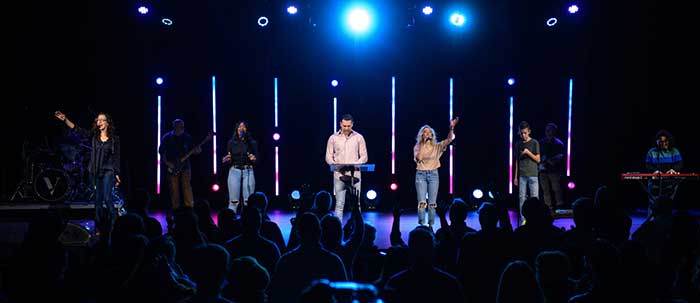 A liberator from the slavery of success
God is working in New England despite a success-oriented culture bent on status, education and affluence. Kendrick said the church thoughtfully introduces the gospel to New Englanders: Christ is the liberator from enslaving sin.
"Showing sin as slavery is eye-opening for this culture," he explained. "The rejection of God is the idolization of something else. As soon as I do that, the thing that's supposed to liberate me enslaves me."
In addition, the truth of grace has traction for New Englanders. Striving for success in a performance-oriented region has exhausted and defeated many of them.
"We have found that message to be rocket fuel in a culture trying to prove their value through accomplishments," Kendrick said. "Jesus offends them in some ways but liberates them in others. When he is seen for who he is, it's magnetic."
Related: A California church is also serving exhausted people.
Vox Church's vision is to start 400 churches throughout New England by 2045. However, the passionate pursuit of one purpose remains: be disciples in an intentional community who obey God's mission to share the good news.
"I'd rather have 100 churches of 200 people than a few churches of 20,000," Kendrick said.
The dead will live as the Son speaks
Just as Jesus said in John 5:25, the day continues where people hear the voice of the Son of God and live. Vox Church reveals the hope of humanity – local churches – to New Englanders who've lost touch or lost confidence in God and his people.
What God does didn't end with the Acts of the Apostles. His works are now reflected everywhere God's people gather as the church.
"God has been calling a generation and a region back to himself. For us, the planting of churches is the natural outworking of gospel centrality, community and mission." Kendrick said. "The most effective way to reach my brother is to plant a church closer to him."
Converge's 10 districts have committed to deploying 312 church planters before 2026. Read more inspiring church planting stories and learn about the goal to send out 312 church planters in five years.
---
Ben Greene, Pastor & writer
Ben Greene is a freelance writer and pastor currently living in Massachusetts. Along with his ministry experience, he has served as a full-time writer for the Associated Press and in the newspaper industry.
Additional articles by Ben Greene