A different channel to share God's love
Ben Greene
Pastor & writer
Church planting & multiplication
---
Dereck and Becca Jackson started Earthen Vessels Community Church as two Massachusetts microchurches to put the gospel at the center of friendships.
"That's where it begins with us," Dereck said. "We believe Jesus cultivated righteous relationships and, in those conversations, he was presenting the gospel."
Earthen Vessels launched in July and held a special celebration on August 21. It began in 2021 as a small group that eventually became two microchurches.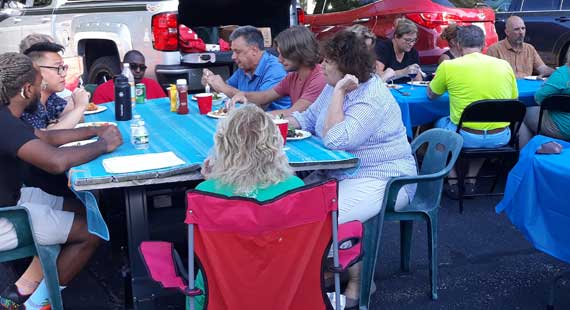 "Now we're going with no intention of stopping," he said. "The Lord wants us to impact this region with the gospel of Jesus Christ."
Becca grew up in Foxborough, Massachusetts, not far from Walpole and Sharon, where the microchurches meet. She sees many people in the area who don't know Jesus or read the Bible, even if churches created a religious background for towns near Boston.
In addition, people near Earthen Vessels who feel vulnerable or have spiritual questions sometimes hesitate to attend Sunday morning church services. So the Jacksons started Earthen Vessels Community Church for people who might not visit other forms of church.
"We're cultivating relationships where people feel comfortable to ask questions," he added.
Related: Converge strives to deploy 312 planters by 2026 so the gospel extends to more places.
A transition from traditional church creates a worthy alternative model
Paul Linehan met the Jacksons at Trinity Community Church when Dereck was Trinity's assistant pastor. He sees the Jacksons as a humble couple who love everyone that walks in the door.
However, getting people to walk in the door of a church in Massachusetts, Linehan explained, often requires courage or healing from church hurt. Therefore, he said that microchurches create a new, inviting way to reengage people.
"This is to make it easier or remove some of those stumbling blocks in people's way," he added. "I think God starts big things in very small ways, with just someone who's willing to open their home for friends to meet together and share conversations."
Linehan kept in touch with the Jacksons after Linehan and his wife moved to be closer to their children and grandchildren. When he heard from Dereck about the vision for Earthen Vessels, Linehan was intrigued.
"I like that, in a small group setting, it engages folks in a more intimate way," Linehan said. "That was a great model for church."
Related: In Boston's urban core, another family is starting microchurches.
The Jacksons had a following, so they started making disciples in an alternative way
Utilizing their relational foundation, the Jacksons realized they had a following of people who wanted community and input from the Lord in a new format for the region.
"These people, for the most part, recruited people to come to those groups," he added of the Earthen Vessels microchurches.
The church's name reflects the good news of Christ who dwells inside clay pots, as Paul once described the people of God.
"I should not be ashamed of the cracks, the holes in my jar," he said. "I should let Jesus pour through the broken places."
As the microchurches and relationships came together, Jackson lightheartedly told people, "I'm just a cracked pot."
Related: Converge's Compass Ministry helps pastors glorify God, even with imperfections.
A ministry vision born of God's work in America's poorest zip code
The Jacksons first met by serving together at the Center for Urban Mission in Birmingham, Alabama's Metropolitan Gardens housing project.
Becca moved to Dereck's hometown in August 1995 to serve Christ in what was then the poorest zip code in America. He served at the center after feeling a call to Christian ministry.
She and her roommates pooled tiny salaries to serve their neighbors in Christ's name. At the same time, Dereck shared his car with her to go to ministry activities. Now married for 22 years, they've shared in the adventure of leading churches and ministries in Alabama, Illinois and Massachusetts.
Small groups where honest conversations happened have been pivotal for both of them because they could study God's word and see their lives transformed. But, along the way, they discovered large churches with a traditional format are not the only way to make disciples.
In the two microchurches they currently lead, each gathering includes a discussion on a topic such as wisdom. Then, gradually, the Jacksons direct the conversation to allow God's word to illuminate the interaction.
"I believe that's what God wants us to do with the word of God," he said. "It should confront us, make us question what we think. We want to create environments where people are not simply told about the Bible but engage it."
Related: Kevin and Brooke Llanos saw their Bible study become a California church plant.
One of many channels to reach people with God's love
Paul Linehan has appreciated the way the Jacksons minister to people. He said people experience more of a conversation with the Jacksons and less of a sermon from them.
"This is just an opportunity for folks who may have some hurts and issues with traditional church structures to find a way to meet Jesus," Linehan explained. "This is only one channel of many different channels that people can find Jesus."
While living in Birmingham, Dereck Jackson took a mission trip to South Africa. His experiences there showed him the power of service and conversation about identity, life and faith, natural ― but strategic ― influences he still has today.
"We are a microchurch; that comes out of our experience," he said. "Jesus was hanging out with folks through the week, telling them about his father."
Finally, he said Earthen Vessels plans service projects later this year with churches and ministries in New England. Service like that is a part of discipleship for them and others, plus a legacy they inherited from their parents. Both learned as children that serving others is part of serving the Lord.
God has given the Jacksons another ministry: racial unity
The Sankofa Journey, a ministry of Earthen Vessels, exists so people can have gracious and honest conversations about race within their circles of influence. At first, the Jacksons talked about racial unity in backyards and on porches with neighbors.
Even when the pandemic shifted the interactions online, dozens of neighbors found a community that expanded participants' horizons, an exchange that was both challenging and safe.
"When we did discussions on race, people kept wanting more," Becca said.
Related: Hope for a racially divided nation
A year and a half ago, the Jacksons started leading discussion groups with Norwood residents as the town prioritized diversity, equity and inclusion. Dereck has also served on a town board for preventing substance abuse.
"The gospel affects cultural competency," he said. "That's been cool for people to see the connection of the gospel with partnership, unity and progress."
Many of the spiritually curious in Massachusetts feel like they have few options
Intentional conversations arising out of the mix and mess of life have influenced the Jacksons since they moved to Norwood a decade ago. They realized through friendships that people wanted some of what the church offered but didn't know where to get it.
There's got to be a place where people can discover, learn and explore, and feel safe doing it," he said. "In this season, here's the place."
Such an opportunity is not easy to generate in New England, where many who don't know Christ only recognize his people as loud, angry individuals on TV. In response, Becca explained, the curious, questioning people feel fear and avoid Christians.
"When people are already questioning or have already had their own trauma, it's hard for people to want to embrace [church]," she said.
The dynamics around his earthen vessels don't daunt Jesus
Even so, the Jacksons see Christ at work as conversations happen in the community connected to Earthen Vessels. Within the microchurches, people talk openly, grow together and learn how to be disciples who make disciples.
"In this time, post-COVID, I understand why many people don't want to go to church," he said. "They were just showing up, waiting for something to happen to them. That's not how it works."
That journey isn't accomplished, they said, because books, programs or systems are foolproof or because people show up for a corporate gathering.
"What changed my heart and my mind is interactions outside the corporate gathering," he added.
Relationships, the Jacksons said, are how Jesus does what he does as the builder of the church. Christ is using people who are hard-pressed but not crushed.
There are tools like Sunday services, books or programs that God uses. But the Jacksons love to gather with people who have a treasure in jars of clay. Then, people know the power is from God in their relationships, not their tools.
"We're all just clay and he's the one that makes us worthy," he said. "You can just be who you are, talk about what you know and what you've experienced. It's all about helping regular folk be what Jesus wants them to be."
Converge's 10 districts have committed to deploying 312 church planters before 2026. Read more inspiring church planting stories and learn about the goal to send out 312 church planters in five years.
---
Ben Greene, Pastor & writer
Ben Greene is a freelance writer and pastor currently living in Massachusetts. Along with his ministry experience, he has served as a full-time writer for the Associated Press and in the newspaper industry.
Additional articles by Ben Greene