Couple serving Filipino students in 'retirement'
Ben Greene
Pastor & writer
---
Bob and Debbie Long moved to the Philippines after Bob turned 65 in 2014.
The Chicago-area transplants weren't seeking warm weather. They weren't even trying to get away from a particularly frustrating stretch of seasons for the Cubs and Bears.
"This is a retirement package for us," Bob quipped.
The couple married in 1978 and had no idea then they'd start a cross-cultural ministry when most people begin a less-active phase of life.
"We both were heading in the same direction," was all they knew, Bob said of that decision 44 years ago. However, where they started ultimately led them to serve students at Baptist Theological College in Cebu City.
Ana Maria Macarat, a student who graduated two years ago from BTC, said Bob's ministry to her has made her ministry to youth vibrant and effective.
"He taught me how to make disciples," she said. "That's all I need to reach out to my own people using my own language. He taught me things that fuel my ministry right now."
She became a youth pastor after graduation. Seven students came at first to her ministry, but she now has 30 students.
"I applied all the strategies I learned from him, and it works," she said. "I dreamed of being a youth worker because I was inspired by Bob's ministry before he became a missionary."
Declaring God's power to the next generation
Bob is BTC's campus pastor, overseeing students' discipleship and the chapel, plus he teaches a few classes each semester. Debbie also teaches a class and tutors students in English.
What he's learned in the last eight years is how many of his students started their lives on child sponsorship programs offered by Compassion International.
"We're dealing with the poorest of the poor from nine different islands," he said. "But they're probably the brightest of the bright in their churches and communities."
Psalm 71:18 has inspired the Longs' service for decades as they helped young people grow into tremendous men and women of God.
"Even when I am old and gray, do not forsake me, my God," the verse says, "till I declare your power to the next generation, your mighty acts to all who are to come."
God's strength continues to inspire and inform their ministry so they can keep giving hope and imparting wisdom for life and faith. Bob and Debbie know what the Lord can do, even when his students may seem short on resources and lacking earthly reasons for optimism.
"Our whole life has been around the next generation," he said. "They're going to go back to their homeplace and teach in their schools and churches."
A language slip-up accompanies a ministry moment
Before Bob and Debbie can fill up students' hearts with faith and love for Christ, the Longs are offering them something else: sloppy joes. Eating sloppy joes has become a tradition of sorts for Filipino students invited to the Longs' home.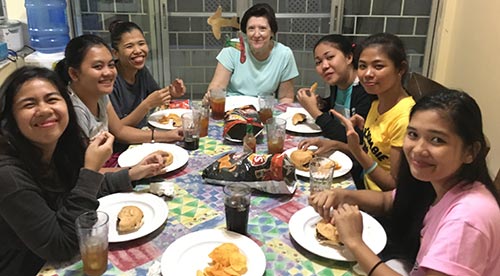 "We would spend a couple of hours eating and asking questions," he said.
Those sloppy joes did more than fill stomachs. Through all those conversations and connections, the Longs formed a deeply relational connection with students who now minister in many places.
Sarah Laurencio Rosauro worked for and lived with the Longs for two years during school and after she graduated. Now she serves on staff with Compassion, plus she's a teacher and her husband pastors a church.
"The Longs are two of my mentors [with] whom I can easily share my struggles and victories in life and ministry," she said. "They are just a message away. I know they are praying and rooting for me."
"We are preparing the next generation of leaders to go out," Bob said. "We're the behind-the-scenes people that are helping them and preparing them and motivating them."
The presence of seminaries doesn't mean the country has no spiritual needs
About 80% of the 110 million people in the Philippines identify as Roman Catholic. The rest identify as evangelical, Mormon, Jehovah's Witness, Muslim or members of a cult prevalent among the Filipino community.
Naturally, the longtime youth workers discern a trend among the younger generations: Many young adults don't truly hold Catholic convictions. Instead, Bob said many are becoming anti-religious or even atheistic through the influence of social media.
At the same time, many Filipinos want to move to Paris, the United States, South Korea or other places. One in 10 Filipinos works outside their home country in various industries around the world.
Running down a dream
In their 60s, Bob mentored a second-generation Filipino American who was a youth leader. That experience opened Bob's heart to helping Filipinos follow Christ.
Bob and his Filipino American friend dreamed of going to the Philippines to train youth workers. However, Bob's friend had an accident that left him paralyzed.
Because of that, Bob decided to make one trip to honor his and his friend's dream. He didn't expect anything more from the 2012 trip besides a few days helping a Sonlife ministry member.
'Could I hang around with you?'
Before leaving for the Philippines, Bob emailed Randolph Velasquez, Sonlife's Filipino. Velasquez wanted to be with Bob for his seven-day trip training youth leaders. Bob asked Velasquez to do some training so that the Sonlife materials would be adapted for a Filipino context.
Related: Converge's Office of Biblical Diversity can help you apply convictions to your context.
People kept asking Bob when he was coming back. When it was time for Bob to leave, Velasquez had a simple message for the man in his 60s, still wondering what God had next.
"You probably think we're being polite, kind, good Filipinos," Bob remembers Velasquez saying. "But the reality is, I think you need to look at coming back."
So Bob went home and talked to Debbie about how God might be leading them. Perhaps the dream based on his friendship would be a reality after all.
Then, as they prayed and went to Converge's Missionary Discovery & Assessment for potential global workers, the options and the opportunity became clearer.
"God just kept bringing Filipinos across our path," he said.
Bob met a Converge global worker, Dennis Nordine, who served at Baptist Theological College and Cebu Graduate School of Theology for 31 years. Nordine invited the Longs to come and serve at the school.
"We just really liked it, and it made a lot of sense," Bob added.
It's time to replace military investigations with ministry
While the Philippines might have been a new development, serving youth and equipping leaders to make disciples of youth is the Longs' passion.
Since they were married four decades ago, their direction has always been youth ministry. Debbie had already served in youth ministry, sharing Christ and making disciples among high school students.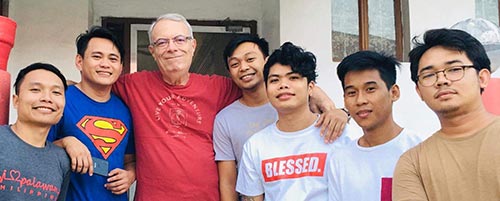 Bob's work in the Department of Defense related to security clearance investigations of military personnel who may have access to top secret information. That role placed Bob on many high school campuses, routinely investigating 18- and 19-year-olds by talking with those who knew them well, like parents, teachers and coaches.
"God kept using that to show me the needs on the high school campus," Bob added.
So, he quit his job to finish a degree he'd started years before at Dallas Theological Seminary. Then, after he graduated, he worked as a full-time youth pastor for four different churches for about 20 years. Debbie volunteered in youth ministry while working full-time in other jobs.
While some churches thought people in their 40s couldn't excel at student ministry, the Longs had the opposite experience. After Bob turned 45, a Chicago Converge church hired him.
"It was the most-fruitful youth ministry out of the four we ever had," he said.
They had passionate students who wanted to grow and make disciples. God nearly quadrupled the group's size from 40 students to 150 students, plus there were 50 more students in a junior high ministry.
"They weren't coming because I was the cool young guy or best speaker in the world," he said. "They came because our students were inviting their friends."
Related: The power of an invitation.
At that church, Bob and Debbie implemented what they'd learned through Sonlife: train and develop student leaders who would reach out to their peers.
"What I did best was train and build student leaders and then send them out," he said.
Such a skill would come in handy for their retirement package.
Youth ministry was a nationwide problem
First though, when Bob was 52 years old, Bob and Converge MidAmerica leaders noticed many youth pastors only stayed at a church for a year or two before leaving. Bob thought coaching, mentoring and caring for those student pastors might increase their longevity in the Lord's service.
So, Bob and Debbie shifted gears and raised support to work for the region. Not much later, Converge's national ministries also wanted someone to provide youth ministry leadership. So Bob became the national director of student ministries. He'd keep this ministry going for 12 years until he took that trip to the Philippines with Randolph Velasquez.
After that trip, once the Longs agreed to move to the Philippines, Converge's choices for global workers offered a two-year commitment, a four-year ministry or a career calling. Bob and Debbie thought they'd do two years and then maybe finish out after another two years.
Instead, they've been in the Philippines for eight years and have no plans to leave any time soon. The Longs have found themselves in one more chapter of youth ministry, a perfect fit for them, even if they never thought retirement meant being next-generation pastors again, especially in the Philippines.
The Longs feel called to continue this ministry as long as the Lord will allow so that students become disciple-makers who make disciple-makers.
"We've got a huge young population that no one really knows how to deal with," Bob said. "There are not a lot of Filipinos that have had the youth ministry background that I've had. They need somebody to help them think through how that would look here."
Such support is exactly why Sarah and her husband, Jomel, are grateful the Longs' retirement package meant moving to the Philippines. Bob's lifelong ministry to the next generation means a steady relationship of hope and help for many BTC students.
"They could have just stayed comfortably in the U.S.," Laurencio said. "But they chose to come here to do what God has called them to do. They trusted that God has a great plan for them."
Converge is asking God for a gospel movement among every least-reached people group – in our generation. Learn how we are playing a role in accomplishing the Great Commission and how you can be involved.
---
Ben Greene, Pastor & writer
Ben Greene is a freelance writer and pastor currently living in Massachusetts. Along with his ministry experience, he has served as a full-time writer for the Associated Press and in the newspaper industry.
Additional articles by Ben Greene
---