Compelling thought leads to a new church for a new community
Ben Greene
Pastor & writer
Church planting & multiplication
---
One of the easiest things to find in Liberty Lake, Washington, is a new home, school or recreation building. But the same truth doesn't hold for new churches in the town of 12,500 near the Idaho border.
There's a city park that's three years old. And a school that's four years old. Sam Kraemer explained that the oldest homes near that school are 10 years old. Some area homes were finished just days ago.
But only a few churches are within a 20-minute drive around Liberty Lake, a growing community where many residents have moved from Spokane. He said driving on I-90 in eastern Washington reveals just how much brand new housing is built every month. Harvest Liberty Lake is within walking distance of the developing area.
"That's one of the reasons why church planting became such a compelling thought for me," Kraemer said. "Let's plant right next to where I'm living."
And so he did. Harvest Liberty Lake Church officially launched at Selkirk Middle School September 17.
Related: A Converge church in California found their school a perfect place for worship.
Eastern Washington town is becoming a place to live, play, work — and worship
Liberty Lake has historically been the kind of town where people lived but didn't work or play. Instead, they'd head to Idaho for recreation or Spokane for some of the more urban or suburban experiences.
Now, though, the city is growing as people move east along I-90 in the Spokane Valley. With them has come development in Liberty Lake that establishes the town as a place to live, work and play.
Harvest offers people one more blessing in the growing town: a place to worship. He said the core team includes many people who are glad for a church in their community. That makes it easier to invite neighbors, friends and coworkers rather than trying to convince them to drive 20 minutes.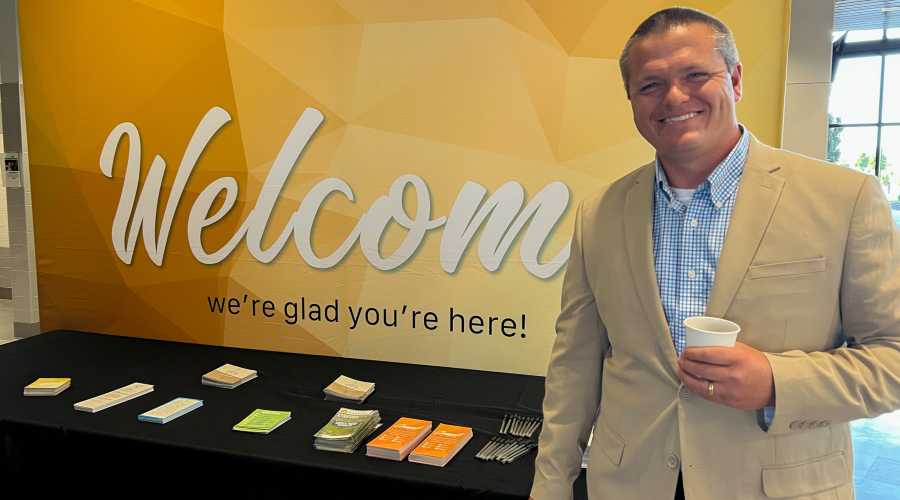 Kraemer said the area has traditional Christian values and a robust evangelical population. He said Liberty Lake residents, most of whom have pleasant homes, good jobs and what seem to be stable families, tend to have one of three approaches to faith.
First, there are Christians who would like a church in town. Second, there are a lot of "nones" — people who don't affiliate with any religion. Finally, the town also has a high population of people who identify as Latter-Day Saints.
"All of them present challenges to reaching them with the gospel," Kraemer said.
Value for personal evangelism creating harvest potential
Harvest has shaped its ministry around being a community-minded church so that doors may open to people without religious affiliation. The church has planned acts of service and will volunteer in community events, like movies in the park or the town Christmas light show.
"We're hoping to be a physical presence here," Kraemer said. "We are a church that values personal evangelism."
Related: Converge President John K. Jenkins has tips to maximize a church's community impact.
That value helps the core team choose the approach to making disciples that best fits each individual's personality and relationships with those who don't follow Jesus. Kraemer said they're creating a culture of evangelism from day one.
This is a strategic time for a new church, a congregation that can put down roots and have a spiritual impact for decades as the city grows. Like the town around them, filled with new places and sites, Kraemer believes a new church offers unexpected ministry potential in an area that needs more churches.
"Our tagline is a new church in a new community for new people," he said. "The plan is just to be involved to build relationships and see what arises as a result."
Converge's 10 districts have committed to deploying 312 church planters before 2026. Read more inspiring church planting stories and learn about the goal to send out 312 church planters in five years.
---
Ben Greene, Pastor & writer
Ben Greene is a freelance writer and pastor currently living in Massachusetts. Along with his ministry experience, he has served as a full-time writer for the Associated Press and in the newspaper industry.
Additional articles by Ben Greene