Cloudy with a chance of grace
Ben Greene
Pastor & writer
Church planting & multiplication
---
A white cloud makes a motivating mirage for Dan Flugum as he ponders the spirituality of his neighbors in south-central Iowa.
This metaphor of meteorology comes to him because people weave faith and Midwestern self-reliance together. He said church attendance and morality lessen the light of the world here, similar to dark clouds of wickedness elsewhere.
"Around here, there's a white cloud," he said. "It's the religiousness that has basically come between you and God."
Dan, his wife, Angela, and their children moved to Albia (pop. 3721) from Minnesota in June 2021. The culture of their previous church in Minnesota stirred their hearts, even as they visited several churches in Albia. Ultimately, they decided to start a Free Grace United church to share more of Christ's love.
"We realized the need for a grace-based church in this area," Dan added.
Which reality about the church wins — the lack or the longing?
So, on a Monday night early in 2022, Dan called Eric Dykstra, Free Grace's founding pastor. First, Dykstra heard the high school teacher say he and his neighbors needed a church of grace and truth. Then, the pastor asked where the Flugums believed such a church should start.
They said Albia and a core team soon began prayerful, strategic reflections toward a new church. Helpfully, Dan and Angela had been part of a team that started a Free Grace United ministry in Minnesota.
After several months of planning, Free Grace Albia launched September 11 with Dan as pastor. They now worship on the town square beside Bluff Creek Archery, a few restaurants and a basement barber shop. Over the holidays, Albia's downtown transforms into a stroll of Victorian-era experiences around the small town.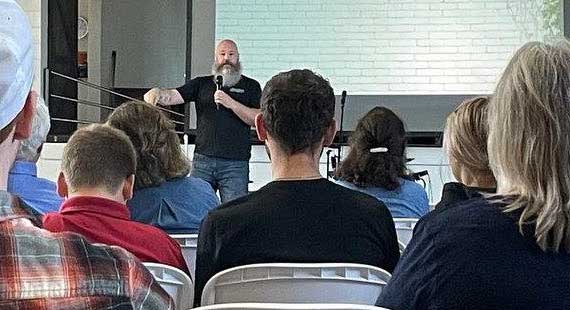 Related: Small towns are a frontier in making American disciples.
Some neighbors think they might be crazy
During this past year's holidays, Angela asked someone how the church could help with the town festival. Dan said the person looked at Angela with surprise, not expecting that the new church would want to help.
Free Grace Albia regularly asks what the community needs instead of following that trend, Flugum said. Ultimately, they want an everyday, all-week partnership with the town. Nevertheless, Free Grace Albia still runs into a microcultural challenge from time to time.
Iowans can be concerned about imposing on other neighbors. They usually operate from a hard-working, ingenious mindset. When believers speak of grace or seek to help, some natives can get a little restless.
"They want to be responsible for their own lives," he said. "Grace is not something that they're used to."
Related: Hold off or hit the gas pedal? Free Grace leaders had a big decision to make regarding another recent campus launch
He often finds out after the fact that a man cut down all his trees or built a garage by himself. Eventually, it comes out that someone nearly died or almost set a tractor on fire. Flugum acknowledges he has had the same independent mindset. But a God who came to do what humans could not stirs Flugum to keep telling the story of a savior who came from glory.
"What I really love is teaching people," he said. "Our hope ― and our heart ― is that there are a lot more grace-based churches."
They expected one church, but God had other plans
The goal of Free Grace congregations is growing to reach 100 churches in 40 years. They are well on their way, Flugum said. Worshipers gather weekly at more than 20 Free Grace locations in Minnesota, Iowa, Wisconsin, Bangladesh, Kenya and Pakistan.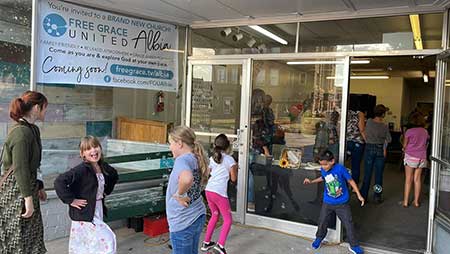 But no one expected a second Free Grace near Albia anytime soon. However, in early 2022, Emery McDonald invited the Flugums to his small group in Chariton. After that meeting, the connection between First Love Ministries and the Flugums started to grow deeper, McDonald said.
By the summer 2022, the small group decided to become a Free Grace United church. They asked Dan Flugum to be their pastor. He agreed, and Free Grace Chariton started on September 11, the same day the congregation in Albia first worshiped.
Related: God changed a living room Bible study into a church.
Dan preaches in Chariton on Sunday mornings and Albia on Sunday nights. Mason Flugum, 20, serves both congregations as program director to oversee the music, sound and video elements. Laynie Flugum is in the worship band and her sister, Lilah, helps with kids' ministry and production. The youngest Flugum, Elliette, hands out bulletins and makes various contributions as the needs arise.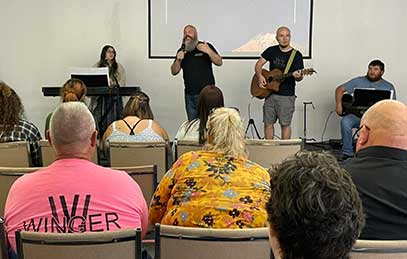 McDonald, Flugum and others see two groups living under the white cloud in Albia and Chariton. Some people go to churches that strongly emphasize obedience, while others feel like they can't follow all those rules and quit attending. For those people, Free Grace puts the love of God at the church's core, Flugum said.
"People are just trying to figure out how a grace-based church even feels," he said. "The concept is so new to them."
Hope is coming to the hurting
The humility and hard work of the core team in both towns bear fruit, as God gives graciously. However, McDonald said he sees lots of despair among his neighbors. High gas prices, expensive food and other challenges rob people of joy.
But a church of grace, McDonald explained, means the people of Chariton — both those who've gone to church and those who won't — have access to hope.
"We just want to be a place where they can come and feel the presence of the Lord and have their lives changed because of him," McDonald said.
Since the Chariton church started last year, Flugum said some believers are beginning to trust God again despite church hurt. He also said a marriage is on the path to restoration.
Related: Church hurt is widespread, but a Pennsylvania church embraced the challenge.
In Albia, about 75 percent of the people who attend Free Grace are under 25, Flugum said. He recognizes the work of God: something is drawing young adults and teenagers to the new congregation.
After four months of leading two churches, the Flugums are starting to see something else above south-central Iowa. Instead of a cloud that keeps people from seeing the light of Christ, the Flugums see gospel opportunities. All around them, there is hope the fields can become white with harvest.
"We want people to hear grace," he said. "We want people to know about grace. We're unwavering in that."
Converge's 10 districts have committed to deploying 312 church planters before 2026. Read more inspiring church planting stories and learn about the goal to send out 312 church planters in five years.
---
Ben Greene, Pastor & writer
Ben Greene is a freelance writer and pastor currently living in Massachusetts. Along with his ministry experience, he has served as a full-time writer for the Associated Press and in the newspaper industry.
Additional articles by Ben Greene