Church plant emerges as North comes South and old meets new
Ben Greene
Pastor & writer
Church planting & multiplication
---
When Reid Williams or Josh Frasure eat at The Trestle, a restaurant in one of South Carolina's oldest towns, the menu is a little less chicken salad, a little more chicken marsala.
Born and raised in Conway, Williams said his mom worked at a centrally-located dental office. She could never go to the grocery store without recognizing someone. That won't be Williams' future.
"I can go to the grocery store in the heart of Conway and not see a single person I knew as a child," Williams said. "Conway used to be a small town, but it's not anymore."
The riverside community has been revitalizing for years. You can get sushi one night, charcuterie the next and gelato for dessert. Chuck Norris memes liven up The Trestle's Facebook account alongside apple pie cheesecakes and fresh bread.
Such new ideas or alternatives are increasing as many of the town's roughly 23,000 people embrace what happens when East meets West, North comes South and old meets new.
Even God's doing a new thing
God's paying attention to Conway's changing nature so he can continue to make his name known. Harvest Church had its first public worship September 11, with pastor Joshua Sorrows saying the Lord's words in Isaiah 43:18-19 guided him, his wife Sara and the core team.
"Forget the former things," the verse reads. "Do not dwell on the past.See, I am doing a new thing!"
Sorrows took that to heart, so Harvest's core team founded a church upon an alternative path to faith and obedience for neighbors. They include transplants from the north or dechurched and unchurched people who are closed off to more traditional churches.
Five people came to faith in Harvest's first worship service. Two people were baptized September 18, and more were scheduled for the coming weeks.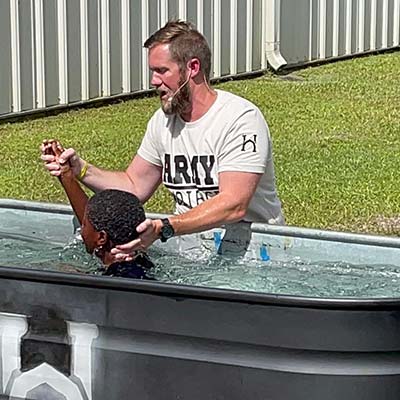 Monica Bailey, a lifelong Conway resident, affirms God's new direction inside a church to reach those outside the church, especially in a changing town.
"Sometimes, we can begin to believe that manmade tradition is in God's word, and that's not always the case," she said. "For me, this has been a huge change — but a good change."
A church chooses agility over power
Sorrows said the core team excels at connecting with neighbors and living as disciples. For example, Harvest Homes small group leaders host block parties, fall festivals or neighborhood cookouts instead of larger events at the church.
"They've got more of a chance to make an impact," he said of Harvest Homes leaders connecting in their immediate community.
Harvest Homes seek to be the church's front door, offering immediate expressions of church, including encounters with God. Sorrows compares the groups to Winston Churchill's choice of fighter jets over bombers to defend against the German military.
During the Battle of Britain in World War II, the British fought back with quickly reproducible, incredibly agile fighter jets instead of choosing bombers that took months to build. That approach inspires Sorrows.
"That's how [Churchill] turned the tide," Sorrows said. "We want to take the ministry out of a centralized area and decentralize it and allow our Harvest Homes to connect with the people they're going to see week in and week out."
Related: A Tennessee church started for more of the Bible Belt's de-churched.
Harvest lives as a family of freedom
Since May, nine Harvest Homes have been watching messages together and discussing God's word. The church's key action steps are to trust Christ and get baptized. Next, the church equips believers to serve, give and form a community as they multiply disciples.
Harvest wants to reach its community and grow the kingdom by making disciples who make disciples. So they have four traits, Sorrows explained, which he's identified through his studies at Biola University.
He noted that gospel-centered churches meet their neighbors' felt needs and communicate the gospel in culturally relevant ways. Third, a church that reaches people is a church that invests in prayer, he said.
Related: Download a daily prayer calendar for churches, global workers and more.
Lastly, he said churches must multiply key groups like leaders, servants or Bible studies. Building an army rather than an audience, as Sorrows puts it, animated the core team in frequent Friday-night meetings since March.
"Harvest is a church where we expect you to serve when you come," Williams said. "We're going to help the ones who want to go and grow."
Frasure has been coming to Conway on and off for 20 years. The Ohio native regularly came on vacation as a boy to visit his aunt and uncle.
Last year, he moved there with his wife and five children for work. Since then, he's grasped how different Harvest is from most churches or the traditional culture he first encountered two decades ago.
"There's so much freedom," he said of being among Harvest people. "Harvest is a family, and everybody has the same mission to get more people to heaven."
There's one gospel for all that may come
Sorrows said many of their neighbors are de-churched or unchurched. In early September, for example, two families told Sorrows they hadn't been to church in over five years. But those two families came to Harvest's first service.
"We feel like there's such a great need in our community for a church that has a little bit of a different expression," Sorrows said.
For the Northern transplants and the traditional Southerners, for the de-churched and the disciples, Sorrows said a relational gospel stirs hearts.
"He's inviting you into this relationship with him," Sorrows said of God. "I think it speaks to people in the Southern culture and people coming out of Catholicism."
The gospel moved five people who surrendered to Christ as Lord September 11. In addition, those five are African Americans or Hispanics, even though most in Conway are white. Bailey points out how different Harvest looked during the first service.
"Even on day one, as I looked around, I thought it was so awesome to see such a diverse group of people," she said. "We saw every age group. We saw several different races represented. We saw people who were traditional, all dressed up with dresses and their suits and ties on, and people with shorts and a ball cap and flip flops. This is more representative of what I think it will look like in heaven one day."
Related: Converge's Biblical Diversity staff help congregations generate cross-cultural ministry.
The future's so bright, I've gotta pray
An unfolding future is arising in Conway — a bit more craft food and, God willing, a lot more disciples. Conway is a changing place with new murals appearing on brick stores, a restaurant going into the old fish warehouse and diverse shops and restaurants.
So, Harvest leaders formed a distinct identity for the church, with subtle but significant alternatives for their neighbors. For example, Sunday moments at the church include good coffee because coffee subconsciously speaks to people, according to Sorrows.
"If you go into a church and you just get regular restaurant coffee, you get regular coffee like everywhere," he said. "But if they come to church [and] they have something that smells good, tastes good, it's an experience for them. It says we sought the best for you because we're really glad you're here."
Williams noted that the shift toward a new future is deeper than chicken marsala instead of chicken salad, especially at Harvest Church.
"Your past doesn't matter to us," the 34-year-old Conway native said. "Harvest church prioritizes relationships over religion. We want to be in church with you."
Therefore, Harvest Church is proclaiming the gospel in a town shaped by tradition and transplants, Bailey said.
"It's a tremendous opportunity," she said of the town's present moment. "We get out there and work; we find people who need to know who Jesus is."
Converge's 10 districts have committed to deploying 312 church planters before 2026. Read more inspiring church planting stories and learn about the goal to send out 312 church planters in five years.
---
Ben Greene, Pastor & writer
Ben Greene is a freelance writer and pastor currently living in Massachusetts. Along with his ministry experience, he has served as a full-time writer for the Associated Press and in the newspaper industry.
Additional articles by Ben Greene