BGC Canada leaders train at Converge
Mickey Seward
Contributing writer
---
Converge president Scott Ridout led a two-day leadership training for representatives of longtime Converge ministry partner Baptist General Conference of Canada this week in Orlando, Florida.
"We (BGC Canada churches) are trying to bring our movement forward so that we're working in missional alignment," said BGC Canada president Kevin Schular. "We are in a conference family, but we're not always rowing in the same direction. We're all doing good things, we're all serving in the Lord and doing the Great Commission, but we're not all at the same point. This training is one way to help better align us. That way, we're all pursuing things together, rather than each of us doing good – but separate – things."
Converge and BGC Canada served under the same Baptist General Conference umbrella before officially splitting in 1981. Schular said there had been little connection between the two organizations in the past four decades, outside of missionary work.
Expanding our partnership
"We wanted to focus on Quebec, which is an unreached people group, and the leaders (in Canada) at that time felt we could do it better if we had a Made in Canada BGC expression. So there was a very peaceful and gentle parting. We still had good relationships, but we didn't have much contact with each other until Scott spoke at our annual meeting last year. He did a great job and won the hearts of our leaders.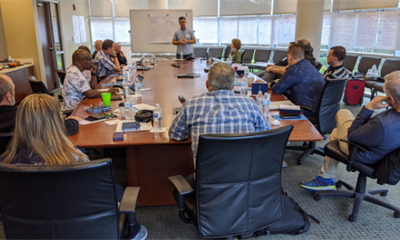 "After he spoke at our meeting, we wanted to come down to Orlando and be a part of his teaching. He's been leading us these past two days, and we appreciate him taking the time out of his schedule to invest in us.
"We do think we're going to be better together," Schular said. "Better together with Converge, but also better together in our own country doing ministry, advancing the gospel and planting churches."
Schular mentioned sending potential Canadian church planters to Converge's Church Planting Assessment Center in the future.
"That is the kind of thing we are looking to plug into together, and there may be other opportunities for partnership and being better together," he said.
A very secular society
The need for evangelical church planters in Canada is crucial. Schular said recently-released statistics show that 60% of Canadians never go to church and 20% attend just once or twice per year, usually on Christmas or Easter. Those numbers are in stark comparison to post-war 1946 statistics that show nearly two-thirds of all Canadians were in church each week.
"Canada is becoming a very secular society," Schular said. "But we as a church recognize that. When the church is pushed to the margins, it can do some excellent work from there. As BGC Canada, we feel like if we can do good works, that will create goodwill, which will then open the door to sharing the good news.
"We have to be much more relational now than in the past. People aren't going to church anymore, so they don't hear the message in church. We have to go and make an impact. But we can go and do good works and never quite get around to telling people about Christ. We don't just want to clean up the garbage in the city, we want to do that and also want to explain that Christ is here to clean up your life. Those two things have to go together.
"A lot of Canadians have no church memory. They don't pray in school. They don't know what Christmas or Easter are. Not long ago, a young couple came to my church and heard about heaven. They came to me afterward and said, 'Hey, you know, this sounds like a great place. Where is it? Can you save up to go there? What do you do? How do you get there?' They had no concept of heaven or that there's an afterlife. That's what we're dealing with."
Refusing to run
Despite the obstacles, Schular said BGC Canada districts and churches are filled with excellent leaders who understand the country's current political and cultural landscape and refuse to run away from the job God has set in front of them. He is excited about how those leaders are asking how they can be used to make a gospel impact, bring people to Christ and see them grow in faith. He mentioned that there are pockets of Canada where churches are growing.
"That's one of the reasons we are here working with Scott," Schular said. "We were talking with him today about how we can take what's being done in the individual local church and replicate that throughout the entire Baptist General Conference of Canada. It's daunting, but it's exciting. We really appreciate Scott and Converge opening their doors to us this week."
---
Mickey Seward, Contributing writer
Mickey Seward is a freelance writer and editor. He served as Converge's director of communications from 2017-23.
Additional articles by Mickey Seward