Converge thanks Dr. Harold D. Lewis Sr. for his service as vice president of Biblical Diversity
---
Dr. Harold D. Lewis Sr., Converge's vice president of Biblical Diversity, has resigned from the role effective July 31, 2023. Since joining Converge in September 2018, Lewis has been instrumental in advancing Converge's commitment to promoting biblical diversity.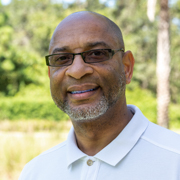 As the first vice president of Biblical Diversity in Converge's 170-year history, Lewis made significant contributions during his tenure. Under his guidance, the Office of Biblical Diversity worked closely with Converge's 10 U.S. region offices, fostering an environment that encourages, empowers and equips churches to champion biblical diversity in their communities.
"In his five years with Converge, Dr. Harold Lewis has made an enormous difference in tackling issues that needed to be addressed for many years within our movement," said Converge executive vice president of National Ministries Dr. Michael Henderson Sr. "He has provided a tremendous amount of courage serving as a sounding board for people who did not understand biblical diversity, and a champion for persons wanting to see us move into the depths of biblical diversity. We will forever be indebted to Dr. Harold Lewis for his work with Converge."
Lewis and his small team successfully organized and facilitated numerous education and training workshops, programs and events across the United States. He also led the development of valuable resources that have supported churches in their efforts to embrace and promote biblical diversity.
Lewis led the formation of Converge's Diversity Advisory Council, which helped advise, assist and advocate for the mission and vision of the Office of Biblical Diversity across the Converge movement. Additionally, the Office of Biblical Diversity has collaborated closely with Converge's Español, Filipino, Haitian and Vietnamese ethnic ministry teams.
During his Converge tenure, Lewis earned the prestigious Certified Diversity Professional status from the Institute for Diversity Certification.
According to Converge president John K. Jenkins Sr., Lewis's impactful legacy will continue to inspire and guide Converge's ongoing commitment to biblical diversity.
"Converge is committed to the biblical value of diversity and looks forward to continuing the work started by Dr. Lewis and his team," Jenkins said.
Converge expresses gratitude to Dr. Harold D. Lewis Sr. for his efforts and impact as he helped equip Converge and its churches to influence biblical relationships by reaching people of all colors, cultures and classes with the gospel of Jesus Christ.
---
Converge, National
Converge is a movement of churches working together to help people meet, know and follow Jesus. We do this by starting and strengthening churches together worldwide.
Additional articles by Converge