Agnostics, taco-lovers, dirt-bikers follow Jesus in rural Minnesota church
Ben Greene
Pastor & writer
Church planting & multiplication
---
Deb, a woman in her 50s, attended church for the first time in her life earlier this year.
Deb was an agnostic, open to a higher power somehow influencing her life. She was seeking a new way of life through Alcoholics Anonymous.
A friend invited her to the newest location of Eagle Brook Church in Ham Lake, Minnesota. After worship, she stayed for Closer Look, a gathering for visitors to learn more about Eagle Brook.
As part of her journey, Deb was also doing devotions on her deck, according to David Nithang, the Ham Lake campus pastor. She was looking around at the skies, trees and birds when she said to herself, "There is a God."
"This Jesus they're talking about, I'm accepting him," she later told Nithang.
Nithang marvels, "She received salvation doing devotions by herself at home through nature."
Deb was one of 44 people baptized at the new campus July 11. She invited her husband, brother and sister-in-law and AA sponsor, who aren't Christians, to come. She's also volunteering in the church's cafe and plans to join a small group in the fall.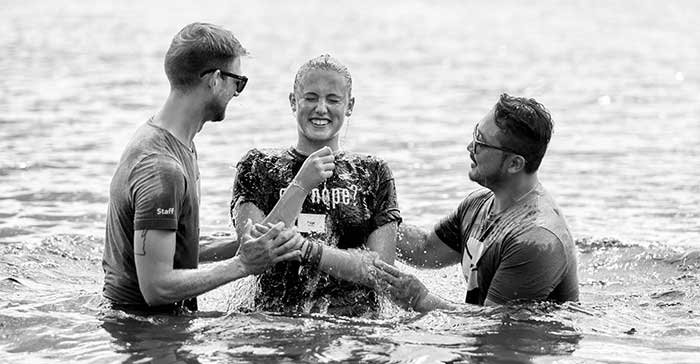 "Those are stories we hear week in and week out," Nithang said.
Eagle Brook has spiritual momentum
Beyond the 44 baptisms, God continues doing even more. Two weeks ago, dozens of people came forward at a healing and anointing service to be prayed over and anointed as James 5 teaches. And more than a dozen children were dedicated at a recent Ham Lake worship service, Nithang said.
Nithang noted the church's database of new families who bring children continues to grow. He said they have had about 50 new families coming to Eagle Brook for the first time.
Leah Van Gorp, the pastor of campus operations, said the church is seeing an openness to faith, even though the church started just as the pandemic eased.
"There are a lot of people who have drifted away from church and are coming back to it after being out of a church rhythm," she said. "Eagle Brook's approach to sharing the gospel with people brings a sense of relevance to it. It can really help people give it a second chance."
'Going after the lost'
Eagle Brook churches seek those Jesus wants to save. Several years ago, the church started planting multiple campuses so everyone in the Minneapolis metro area could be in church in less than 20 minutes.
Even with that goal accomplished, Jesus' motivation for leaving the 99 to go after the one still drives the staff. They regularly reflect on Luke 15, where Jesus speaks of a lost coin, a lost sheep and a lost son, Nithang and Van Gorp said.
Related: New churches are one of the best ways for people to know Jesus and become disciples. Converge has a goal of planting 312 churches by 2026 for precisely this reason.
Senior Pastor Jason Strand, who preaches to all 10 campuses on Sundays, recently spoke of this priority.
"It's always been about the one person who needs Jesus in their life," he said. "It's all about that one person who needs to know who they are in Christ, who once was lost but now has been found, who now has the grace and the mercy and the love of Christ that they live with every day."
To turn that motivation into action, Eagle Brook speakers and leaders carefully craft how they teach the faith.
"There's immense intentionality with language we use that is relevant," Nithang said. "We're using language that everyday people can understand."
Such an expression of the gospel, such a way of doing ministry, makes the life and teaching of Christ accessible to many. And, as Strand told the church in February, doing more and better ministry in a digital space is a commitment.
"We want church to be a place where you can get connected in online groups. We want it to be a place with pastors who care for you," he said. "Church is not a podcast. It's not just information to consume."
Related: Hope dealers – Illinois church launches online
A move toward online ministry began in 2017 when Eagle Brook built a broadcast center. Now, church leaders are incredibly grateful and confident when it comes to reaching people online. The broadcast center was an essential ministry tool during a pandemic that altered worship, discipleship and community for more than a year.
Most people now attend church for the first time online, Strand said.
"That was God's provision for this pandemic for the gospel, for the mission to move forward," Nithang added.
He said if you had told anyone the church would grow during a pandemic, they would have thought you were crazy. Yet that's what happened. Online worshipers are even gathering in a bar in Wisconsin to worship on Monday nights through Eagle Brook's broadcast center.
"God isn't just calling us to reach the twin cities for Christ. He's calling us to the Midwest and beyond," Strand preached to the church.
A gift only God could give
In February, Eagle Brook senior pastor Jason Strand told all 10 campuses of a work only God could do.
Strand was having lunch at Famous Dave's with his mentor, Jimmy Jones, a native Texan and pastor of Horizons Church in Ham Lake. Jones had been Strand's first supervisor when he was starting in ministry.
When they were nearly done eating, Jones shocked Strand with news he was retiring. Then he shocked Strand again with an idea: Horizons' building could become the next Eagle Brook campus.
Related: Multisite, merger, fostering, adopting – what's in your church's future?
As Strand told the congregation, this was an act God did that wasn't even on their radar. Strand and the elders of Eagle Brook have a vision for the next five years. But no one saw this opportunity coming.
Because the two churches shared DNA, values and mission, the boards and congregations voted yes to transfer ownership of the building. Thus, the Ham Lake campus could open for Easter this year.
Eagle Brook aims for discipleship
Although seeker-friendly experiences help many enter Ham Lake's campus, the ministry ultimately aims for discipleship, guided by the model of Jesus.
"It reminds me of how Jesus picked his 12, and they turned the world upside down," Nithang added. "Our church is a model of how Jesus did that."
He said the church has such a powerful vision culture that people become owners of that vision as the church develops people.
"Everybody on [Ham Lake's] lead team started as volunteers," Nithang said.
He had twenty years of vocational ministry experience before he came on staff at Eagle Brook. Two and a half years ago, he was sitting at a Caribou Coffee when someone else shared Eagle Brook's vision culture with him.
"I had never heard something so clear on what God's heart is, why the church exists and how we're going to accomplish that mission. I want to be a part of this," he said.
Seeing God's heart on earth as it is in heaven
In early July, Toni Singer, who leads the guest service team at Ham Lake's campus, met a visitor who identified as transgender.
Such a conversation in church could create tension in Ham Lake. The town of 16,000 is close to the suburbs and 30 minutes from Minneapolis. But the community leans toward a rural and conservative culture compared to the suburbs and Twin Cities.
Ham Lake's website says the city is a place with convenient country living. That lifestyle is helped, according to the website, by minimum one-acre lots for homes. Many descendants of the original pioneers and farmers from Scandinavian countries still live in Ham Lake.
Sometimes, the town's history interacts with America's present in amusing ways.
In May, a less conservative group of Americans pitched an uncommon idea to the Ham Lake community. People for the Ethical Treatment of Animals wrote the mayor to suggest the town become Yam Lake. They even said they would give yams to town residents. In a light-hearted response in the city newsletter, Mayor Mike Van Kirk said 1000 free pulled pork sandwiches would be given away at a summer festival.
Related: $12 bacon inspires Virginia church's vision
Van Gorp said Ham Lake has young families and people in their 70s and 80s. There's a wide range of backgrounds, vocations and socioeconomic levels in the town.
Still, "it feels like a small town here," Van Gorp said. "We like the suburbs, but we like it with a little more space."
People in town ride dirt bikes all over the place. When they want a good taco, they go to Hermanos, a food truck at a BP gas station. The worship team has gone for tacos almost every Sunday since the Ham Lake campus opened 14 weeks ago.
On the Sunday when Singer connected with the visitor, she learned the guest wanted to serve with the church. That's positive, Nithang said, revealing how God has helped the church relate to its neighbors when there are so many diverse worldviews.
"We want to make sure this person feels welcome here," he said.
Eagle Brook believes every person has a story. Deb had a story. People worshiping at a bar on Monday nights have stories. At Eagle Brook, every story matters to God and the Ham Lake campus.
Recently, Nithang said a lesbian couple with two children wrote the church. They were thinking about visiting but weren't sure how that would go.
"Yes, of course, you can come here," Nithang said. "You would be welcome here."
While welcoming all people through the virtual or literal doors of Eagle Brook is a high priority, the church's ultimate value is to exist to bring people into relationship with God through Jesus Christ, to draw them into a Christ-centered community, and to help them grow in their faith.
The Ham Lake campus invites everyone into Jesus' presence, those who eat ham and those who prefer yams.
Eagle Brook's Ham Lake campus is one of 312 congregations Converge's 10 districts committed to plant before 2026. Read more inspiring church planting stories and learn more about the goal to plant 312 churches in five years.
---
Ben Greene, Pastor & writer
Ben Greene is a freelance writer and pastor currently living in Massachusetts. Along with his ministry experience, he has served as a full-time writer for the Associated Press and in the newspaper industry.
Additional articles by Ben Greene