Story
Ken and Debby Milhous, graduates of Bethel University and Gordon-Conwell Theological Seminary, have been serving as missionaries since 1994. Ken grew up as a missionary kid in Japan, speaks fluent Japanese, and has been involved in Japanese ministry for almost all of his life. Debby grew up in Minnesota and spent a year in Africa as a teenager, experiencing cross-cultural transition. She has been involved with Christian Japanese groups since meeting Ken in 1984. After seminary, Ken and Debby were led to begin full-time ministry among Japanese living in the United States. The Milhouses are reaching out to Japanese, primarily in the Boston area, through the Boston Japanese Christian Church (BJCC), a mission outpost church, which they started in 1995. Thousands of Japanese people live in Boston and surrounding communities. Most come only for several years to study in universities, do research in those institutions and in hospitals, or for other endeavors. While here, they are open to new experiences; yet they want a connection to something from home, so a Japanese-language church is strategic for reaching them. Besides Sunday worship, children's ministries and weekly Bible studies, conducted mostly in Japanese, the Milhouses spend time sharing the love of Christ, and assisting individuals and families in the cross-cultural situation of life in the U.S. Their ministry has regular entry-point ministries, including a weekly English conversation class, which Debby teaches. Since most of those to whom they minister are here temporarily and will eventually return to Japan, Ken and Debby follow up with those who return, sending them back to become part of the church in Japan, and encouraging them in their faith. By doing so, their ministry helps to strengthen the church in Japan, as evidenced by a number of people who came to faith in Boston and are now active leaders in their churches back home. Ken also spends part of his time serving in leadership for Reaching Japanese for Christ (RJC), as a member of the board, on the network council and planning committees, as well as an interpreter and speaker at RJC conferences. RJC is a networking and equipping organization for Japanese outreach, helping current practitioners of Japanese ministry, as well as future missionaries, connect with and learn from each other, enhancing their ministries.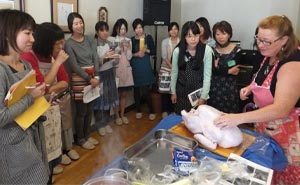 U.S. Ministries – Japanese //
The annual Thanksgiving cooking class is one of the significant entry-point outreach events for our ministry.
Personal ministry funds
Donate to a missionary to help provide specific tools and equipment needed to advance local ministry.
Live out your faith today. Help take the gospel to the ends of the earth.