Story
Bill & Kathy have been serving in Dakar, Sénégal since 2008.
Bill is the leader of the Metro SenWest Initiative, and is also part of a 3 agency team reaching out to predominantly Muslim university students through teaching English as a foreign language.
Kathy teaches high school art at Dakar Academy, where missionary children make up 80 percent of the student body, enabling their parents to serve all over West Africa.
Sign up to receive Bill and Kathy's email newsletter
.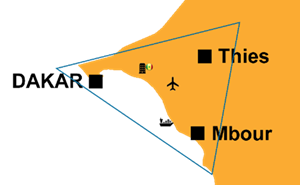 West Africa //
-West Africa // - Sénégal's growing urban triangle,

from the capital city of Dakar east to Thies and then south to Mbour, are home to

a new international airport, a coming deep-sea port, and a rising new government city

.
Personal ministry funds
Donate to a missionary to help provide specific tools and equipment needed to advance local ministry.
Live out your faith today. Help take the gospel to the ends of the earth.