Story
Minneapolis and St. Paul, Minnesota, known as the Twin Cities, make up one of the most diverse populations in North America due in large part to the state's historic open-door policies towards refugees and immigrants. One third of the population is 1st or 2nd generation immigrants, with large communities representing, in particular, least-reached peoples from the Horn of Africa and South Asia.

The North America Field's From Scattered to Gathered (FS2G) Initiative with its pilot venture in the Twin Cities is asking God for at least 5% of each of the least-reached immigrant people groups to become Christ followers, gathered into reproducing Kingdom communities, and having gospel impact back in their countries of origin.

This initiative creates at least two pathways for the local church: a leadership development pathway for x-cultural workers identified and trained from their own communities; and an engagement pathway to direct participation in strategic disciple making of least-reached immigrants. This project will ultimately provide the nations next door access to Jesus and his gospel, a movement of disciples making disciples, and the multiplication of indigenously-led, culturally-relevant kingdom communities.
Project objectives
To raise awareness in the local church of the rational for missions to least-reached immigrants.
To help local churches identify the least-reached peoples living next door.
To advise local churches on how to be strategic and contextual in making disciples from among the least-reached.
To assist local churches in identifying and training FS2G champions and x-cultural workers.
To provide ongoing just-in-time coaching of church leaders and x-cultural workers.
To facilitate the forming of kingdom partnerships and coalitions of churches in order to enhance effectiveness.
To ignite a disciple making movement among every least reached people in the Twin Cities.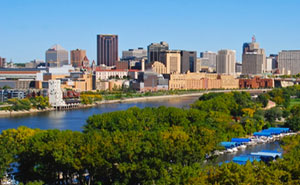 Minneapolis/St. Paul, MN //
Straddling the Mississippi River, the Twin Cities of Minneapolis and St. Paul, Minnesota, are home to a diverse mosaic of immigrants from around the world. Nearly one out of three residents living in the Twin Cities are first- or second-generation immigrants from places like Somalia, Bosnia, Cambodia, Iran, India, Nepal and Tibet.
Live out your faith today. Help take the gospel to the ends of the earth.