Story
Tom and Lee Castor joined Converge International Ministries after serving with the Baptist General Conference of Canada for many years. Tom and Lee have done pioneer mission work in the subarctic of Canada, church planting in a restricted access country in SE Asia, and story development work in West Africa. Lee is a musician and has taught English as a Second Language in Canada and Vietnam. Tom is an experienced writer who did his undergraduate work in Biblical Studies and English literature and has a graduate degree in linguistics. For more than a decade he pastored Grant Memorial Church in Winnipeg, Canada. Tom and Lee founded Clear and Simple Media "to put tools into the hands of grassroots church planters worldwide that are linguistically simple, theologically clear, and biblically faithful that build their capacity to disciple and train new believers."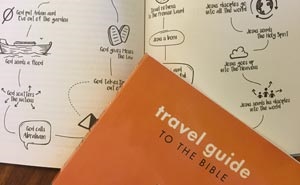 Canada //
Over 500,000 Clear and Simple Media books are in print and distribution in more than 40 languages worldwide.
Personal ministry funds
Donate to a missionary to help provide specific tools and equipment needed to advance local ministry.
Live out your faith today. Help take the gospel to the ends of the earth.